These green powders are great and have many benefits. They have become so popular in the health and wellness industry that I knew I needed to share with you. Always check ingredients and find products that are organic. As a supplement that's derived from real foods, the best super greens powder is a simple way to promote a wide range of health benefits. When people start including these in their diet, they may have questions about the benefits of super greens. If you're not sure what super greens can do for you, read on to learn more.
As an Amazon Associate I earn from qualifying purchases. When you use the links on this page to make a purchase I may get a small commission and you may get a great bargain. It's a win-win all around. Support my page and I can continue to provide great tips, recipes, reviews and lifestyle advice. Ask me how by clicking here!
Do Super Greens Help You Lose Weight?
The simple answer to this question is yes! Super green powders are high in fiber, which is usually lacking in the typical diet. Because your body has to put in extra work to break down fiber, it's going to help your metabolism stay robust, promoting increased weight loss. Fiber also helps to fill your stomach, so you won't feel as hungry.
Super green powders also contain a good source of plant protein. Having adequate protein intake promotes healthy muscle tissue growth and also promotes weight loss. Since your body needs both protein and exercise for weight loss, make sure that you're getting some physical activity in your day, as well as taking your super super green powder.
What are the Benefits of Taking Super Greens?
There are many potential benefits of taking super greens. In fact, we don't know the full benefits that people can experience. Because they're loaded with vitamins, minerals, and other compounds, super greens promote a variety of benefits. There may be others, but these are just a few:
High in phytonutrients– one of the key benefits of having supergreen powders is that they are high in phytonutrients. Naturally derived from plants, phytonutrients provide antioxidants which may prevent certain chronic diseases and prevent aging.
Promote good digestion- supergreen powders also contain digestive enzymes. These help your body break down nutrients so that your body can absorb vitamins, minerals, and other essential compounds. If your digestive system doesn't make adequate enzymes, supergreens can help.
Promote healthy skin- supergreens are a good source of chlorophyll and Vitamin C. Both of these nutrients promote good skin growth, which may be especially beneficial if you have wounds or any skin damage.
Promote healthy blood pressure- many people struggle with blood pressure but some studies have found that people who had just one serving of supergreens saw a significant decrease in high blood pressure.
Supports healthy bone health- supergreens are high in Vitamin K, an important nutrient for bone health. That combined with calcium may help promote healthy bones and teeth over time.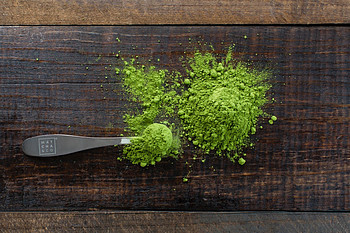 Do Super Greens Help with Inflammation?
Super greens are packed with a number of nutrients that reduce inflammation naturally. Their vitamins, minerals, proteins, and enzymes are easily absorbed in the body. Their high concentration of chlorophyll and antioxidants play an important role in reducing or preventing inflammation.
The blend of nutrients in supergreens are a great way to deal with chronic inflammation or to prevent inflammation in the future. Since inflammation can occur from many sources such as lifestyle factors, certain diseases, or just stress, using supergreens is a great way to prevent or manage inflammation.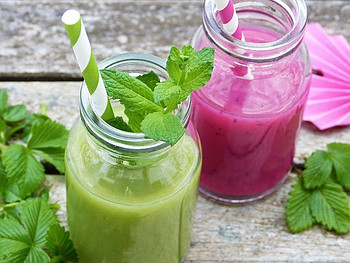 What is the Best Brand of Super Greens Powder?
3 Best Organic Super Greens Powders
Find out the 3 best super greens powders to help improve your health.  I've tested some of them and I have picked my favorite, Super Greens from YourSuper!  Read more to learn about all of the fabulous options available.
More micronutrients. Are you struggling eating enough green veggies every day? You are not alone! Simply add one spoon of the Super Green Mix to your water, smoothie or breakfast. This mix makes it easy to get your greens every day – even when life gets busy!  Super Green superfood powder is high in chlorophyll and micronutrients such as Vitamin  A, K, C, Calcium, Potassium, Folate and Iron.  Be sure to use discount code healthyfoodie for 15% off.
Check Best Price Here >>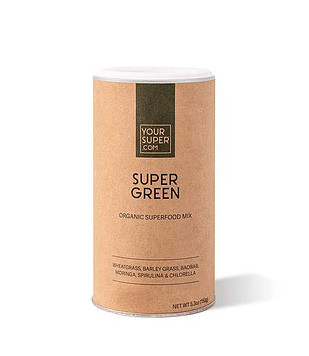 Super Green Powder can also be found in the Detox Bundle from YourSuper.
---
2. Garden of Life Organic Green Superfood
Garden of Life Raw Organic Perfect Food Green Superfood Juiced Greens Powder – Original Stevia-Free, 30 Servings Per Container – Non-GMO, Gluten Free.  Superfood supplement: This greens powder is packed with raw organic greens, sprouts and vegetable juices for raw energy.  Whole food supplement: Our whole food greens supplement provides naturally occurring antioxidants, enzymes, amino acids, essential fatty acids, and dozens other phytonutrients.  Immune system support: This superfood supplement supports healthy digestion, detoxification, a healthy immune system, and already healthy blood sugar levels and metabolism.  Digestive support: Our greens powder is bursting with live probiotics and enzymes for digestion support.  Vegan greens: this superfood powder is vegan, certified organic, and dairy free, with no whole grass fillers and no preservatives.
Check Best Price Here >>
---
3. Amazing Grass Green Superfood
Amazing Grass Green Superfood: Super Greens Powder with Spirulina, Chlorella, Digestive Enzymes & Probiotics, Original, 30 Servings per Container.  The most popular blend thoughtfully combines our alkalizing farm fresh greens and wholesome fruits and vegetables with nutrient-rich superfoods for a delicious way to feel amazing every day.  Supports overall health and immunity.  2 full servings of fruits and vegetables. More organic greens than any other greens blend.  Certified Organic by CCOF, Gluten Free, No Sugar Added, Plant Based, Non GMO, Kosher.  Add one scoop with 8 oz. or more of water, juice, or smoothie recipe for a quick breakfast or snack drink. Use when baking to give your cakes, muffins, brownies, or cookies for alkalinity, digestive and immunity support.
Check Best Price Here >>
---