Where would we be without fruits and vegetables? Produce is an essential part of a well-balanced diet! That's why it's so important to take care of the earth and the soil. Composting is a way to make sure you are doing just that while helping to reduce your food waste! Electric indoor composting helps to make this process much easier and much more efficient so I made a list of the best Electric Indoor Composter on the market.
| # | Preview | Product | Rating |
| --- | --- | --- | --- |
| 1 | | Vitamix FoodCycler | Best Overall |
| 2 | | Farmhouse Kitchen Compost Bin for Kitchen Counter | Budget Friendly |
| 3 | | Bamboozle Food Compost Bin, Indoor Food Composter for Kitchen | Simple Design |
| 4 | | BelleMark Kitchen Compost Bin | Rustic Look |
| 5 | | Gladson Nexus 13G Food Waste Compost Bin | Slim and Basic |
As an Amazon Associate I earn from qualifying purchases. When you use the links on this page to make a purchase I may get a small commission and you may get a great bargain. It's a win-win all around. Support my page and I can continue to provide great tips, recipes, reviews and lifestyle advice. Ask me how by clicking here!
How Does an Electric Composter Work?
So what is compost anyway? According to epa.gov, compost is "organic material that can be added to soil to help plants grow." A large portion of the compost that people make are food scraps from the kitchen.
When we throw this food waste away instead of composting it, it can release harmful methane emissions into the atmosphere. Therefore, having a good indoor electric composter can be helpful not only to you but to the environment as a whole!
The way that these electric indoor composters work is by breaking down food waste, typically by drying, grinding, and cooling it. Each composter is unique and may take a different amount of time or use a slightly different process in order to get the indoor compost completely dry and sterile. Nevertheless, the concept remains the same. Drying the compost includes heating it to around 160 degrees as the compost is turned to make sure it is aerated and thoroughly sterilized. Heating the compost is meant to reduce its volume and kill any pathogens while it is ground in order to break the food down into even smaller particles. This helps it to mix into the soil and to act as an efficient fertilizer. The food scraps are then cooled to room temperature so that they are ready to be recycled into your garden!
Are Electric Composters Good?
Composting at home can be a messy and time-consuming process. Outdoor composting requires you to keep a moist pile in your yard that can start to smell overtime. Likewise, keeping a bin for compost indoors can result in the odors leaking into the rest of your house and attracting bugs or rodents. An electric composter, however, accomplishes similar tasks in much less time and without the same mess. Indoor electric composters, like the Vitamix FoodCycler that I reviewed in a previous article, is small and portable making it easy to store in your kitchen. They are also much more user-friendly than having to manage a large pile of compost in your backyard!
Electric composters are also created to get rid of the methane emissions making them great, environmentally-friendly ways to take care of your food waste and tend to your yard or garden. Most of these products also allow you to add just about any food scraps to the compost pile! This includes things like dairy products, meat, processed foods, and in some cases even bones. All of these food scraps can be processed in a small fraction of the time that it would take someone who is using more traditional composting methods.
What Can You Do With Indoor Compost?
Not only is composting a great way to reduce the volume of your food waste, but your indoor compost can have a variety of uses. For one, it can be used as a fertilizer for your yard or garden. Once the electric composter is done with its cycle, you can take the compost and spread it over your grass or garden to add extra nutrients into the soil. Indoor compost can also be mixed into potting soil to make it all the more effective for encouraging plant growth. When you add compost to your lawn or garden you are helping to keep moisture and adding necessary minerals to the soil. This gives your unwanted food waste a new purpose and can be extremely helpful for anyone who is looking to grow their own produce at home!
Do Indoor Compost Bins Smell?
One of the major selling points of an electric indoor composter is that it is odorless. Traditional methods of composting can create awful smells and can even result in the production of harmful chemicals. Typically, indoor compost bins are left to build up for over a week's worth of food scraps and must be moist at all times. This can cause them to create an unpleasant odor that, as I mentioned before, can escape from the bin and travel throughout your house.
Electric composters do away with this problem, as the heating/drying process is carefully designed to remove the odor and other harmful gases as the compost is turned/ground into fine pieces. Even without an electric composter, another way to make sure your compost doesn't stink up your house is to look for a bin with an air-tight lid and/or a high quality filter. In some cases, you may have to replace the filter occasionally. Nevertheless, a good filter is essential in making sure odors don't take over your house and help to keep fruit flies and rodents away as well!
Best Electric Indoor Composter
Finally! A quick and easy way to reduce and recycle all of your food waste. Electric and indoor composters are a win-win for both you and the environment! This list of the Best Electric Indoor Composters will help you to choose which one will work best for your home and kitchen needs!
I selected each of these composters based on their high quality and efficiency! For anyone seriously considering an electric composter for their kitchen, the Vitamix FoodCycler is my personal favorite! I highly recommend checking out my article "Vitamix FoodCycler Review – A Simple Indoor Composter" for more information!
---
The Vitamix FoodCycler is a great addition for those people wanting to eliminate waste in the landfill. The composted material from the Vitamix FoodCycler FC-50 can be used as a nutrient-rich fertilizer to add to your garden. Simply toss food scraps into the bucket, press the start button and you're done. Food waste breaks down to a fraction of its original volume. Store the recycled composted food in an airtight container and then mix with garden soil for a nutrient-rich fertilizer. Cleanup is easy and the bucket is dishwasher safe.
Pros: Free Shipping, easy to use, eliminate waste
Cons: Small bucket, long process time, filters need changing
---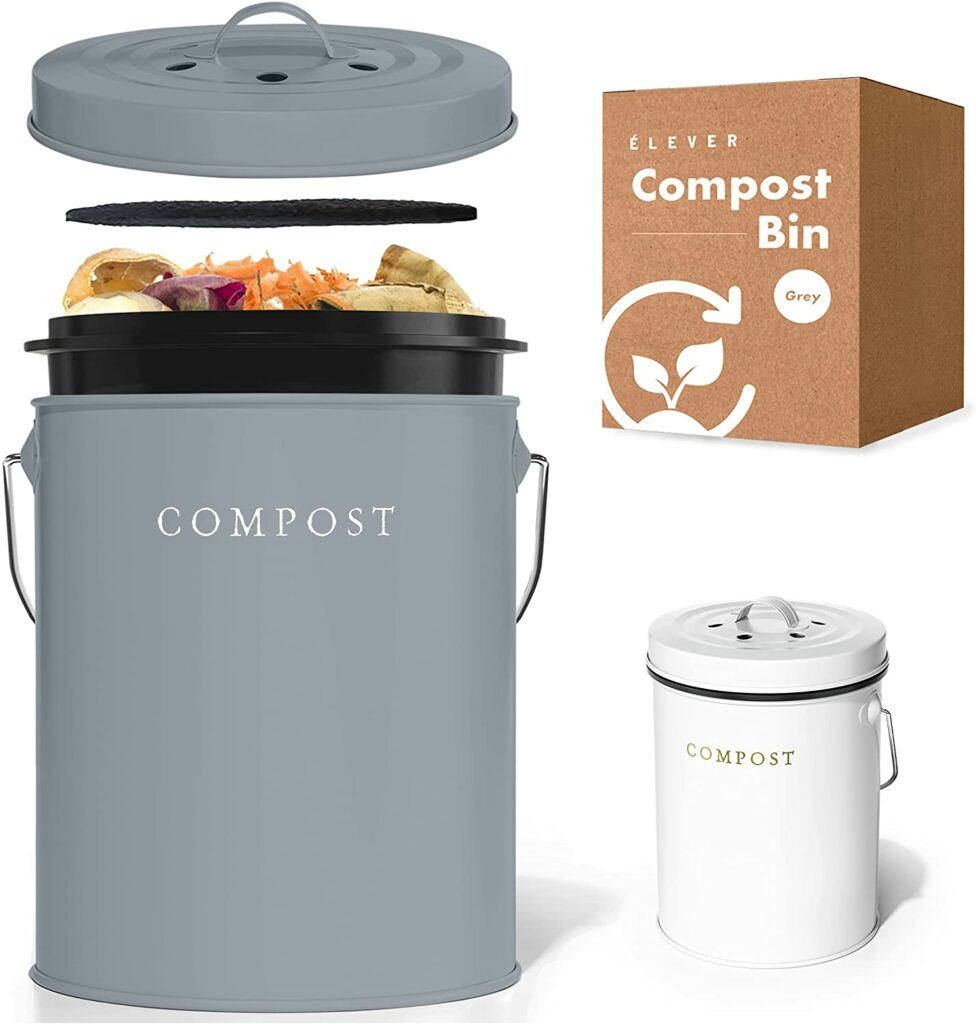 The Farmhouse Kitchen Compost Bin is about 1 gallon with an inner bucket that holds about a few days worth of food waste. The white bucket comes with an air-tight lid and is stainless steel so it can be stored neatly on your kitchen countertops or anywhere in the open. The filters are carefully designed to prevent pests or odors while the bucket walls smooth to prevent liquid build up. The inner plastic bucket is dishwasher safe, the filters are reusable after a wash as well.
Pros: Eliminates waste, traps odors, washable charcoal filter, inner bucket
Cons: Small bucket, long time process, filter needs changing, not electric
Check Best Price Here >>
---
This compost bin, by Bamboozle, is made entirely of biodegradable substances and is dishwasher safe with an attractive bamboo handle. The carbon filters are meant to prevent odors from escaping the bucket and can be reused after a wash. This composter allows food scraps to be cleanly stored until converted into compost that is ready to be returned to the soil. The container and lid are dishwasher safe and replacement filters are available for purchase.
Pros: Dishwasher safe, carbon filter on lid, bamboo handle
Cons: Filter needs changing, lid is difficult to wash, small bucket, not electric
Check Best Price Here >>
---
BelleMark Kitchen's Compost Bin includes a rustic looking bin made of Acacia wood that houses a stainless steel 1.6 gallon bucket. This compost bin can sit attractively on your countertop and is rust-proof with a secure steel lid that prevents any lingering odors or pests. The inner compost pail is easily removed and dishwasher safe.
Pros: Attractive, easily cleaned, holds more waste
Cons: No filters, not electric, long time process
Check Best Price Here >>
---
The Gladson Nexus 13 G Food Waste Compost Bin is a slim plastic bin that holds up to 13 gallons of compost. The bin has a gray flip lid to seal in odors and prevent rodents or bugs. It is marked with a green label to set it apart from general waste bins. Some additional features are a bag-holder system with an easy to open front door for quick and efficient bag replacement and no heavy lifting.
Pros: Holds more waste, flip lid contains odors, bag holder system
Cons: No filter, takes up a lot of space, not electric
---
There are plenty of great options when it comes to indoor composting! Whether you choose electric or otherwise, recycling your kitchen scraps is a great way to take care of your food waste and put it to good use. I hope my list of the best Electric Indoor Composter is helpful so that you can start your own indoor compost! I love my Vitamix FoodCycler and I use it frequently.
Check out my video below showing how to use it:
To conclude, you might be asking "Is composting healthy?" I think so! And according to epa.gov there are benefits of composting: Enriches soil, helps retain moisture and suppress plant diseases and pests. Reduces the need for chemical fertilizers. Encourages the production of beneficial bacteria and fungi that break down organic matter to create humus, a rich nutrient-filled material.
Related Articles: