Why do some people think composting is hard? Well I'm here to clear up this misconception and explain clearly how to compost in a bin. Compost is the best soil conditioner, fertilizer and soil amendment you can use. It's simply taking any organic material tossed into a bin with added oxygen and water. This creates a compost sometimes called "black gold" and has many benefits for the earth and for a garden. Some examples of organic material would be kitchen scraps from leftover food, small twigs and leaves all shredded into small pieces. According to EPA.gov the food scraps and yard waste makes up 28% of what we throw away in the trash. Making compost helps keep these materials out of the landfills.
Why compost?
When we compost we are helping the earth and preventing the release of methane production. Methane is a potent greenhouse gas that is a main contributor to global warming. When we use the composting substance and add it to our garden we are organically supporting the soil and therefore helping the garden grow.
Composting Benefits:
Soil Conditioner
Good for the environment
Diverts waste to the landfill
Compost Basics for How to Compost in a Bin
The composting pile will thrive with a good balance nitrogen (greens) and carbon (browns). Organic materials like eggshells, hair, fingernails and pure cotton can also be added . Never compost meat, dairy, bones or pet feces. The three basic ingredients for composting are browns, greens and water.
Wet/Greens are grass clippings, fruit scraps, vegetable scraps and coffee grounds.
Dry/Browns are hay, twigs, dead leaves, paper napkins, newspaper and branches.
Water with correct amount combined with the browns and greens.
A healthy compost pile should have much more carbon than nitrogen-2/3 carbon versus 1/3 nitrogen
With the proper balance the compost bin will not have a bad odor-too much green will make it smell
As an Amazon Associate I earn from qualifying purchases. When you use the links on this page to make a purchase I may get a small commission and you may get a great bargain. It's a win-win all around. Full disclosure.
How to Compost in a Bin
Making a compost bin in a plastic trash can is more economical that buying a composter which range from $99-$150. Here are some directions for how to compost in a bin. You will need the following: plastic trash can with lid, 3 bricks, 1/2 inch drill bit and a drill.
Choose a trash can or plastic container with a lid that is at least 3 x 3 and store on top of the 3 bricks for aeration
Drill holes in the bottom and lower sides of the container for aeration reasons
Create a base using shredded newspaper or dry leaves (carbon) about 1/4 full
Add cow manure which is good for the soil because cows eat grass (don't add pet feces)
Add dirt to make the container 1/2 full
Add cutup food scraps or paper products, ex. fruit, veggie scraps, stale crackers or bread, coffee grounds and paper coffee filters, tea bags and tea, dead plants and flowers, eggshells, hay, grass clippings.
Be sure to cover greens with browns to prevent pests and odors
Then finally add water until the pile is damp, if the water drains through too fast then start over and add a burlap to the base
Repeat layers until the compacted pile is at least 3 ft high and mix at least once per week
Keep the lid on to keep pests out and free from too much rain water
Look for steaming. A hot steamy compost pile is good and means a large community of microscopic organisms are working hard to make compost
When it resembles soil more than debris and is crumbly then it is ready. Be sure to take out the large pieces that have not decomposed
It's now ready to use!!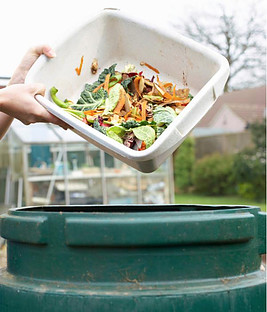 During the composting process, fungi, bacteria, and other microbes feed on the organic material. The microbes use the carbon and nitrogen to reproduce and grow in the composting pile.
Roll your compost bin around the yard once per week to keep the contents mixed
Be sure add water and aerate compost pile thoroughly
Compost is a living soil amendment!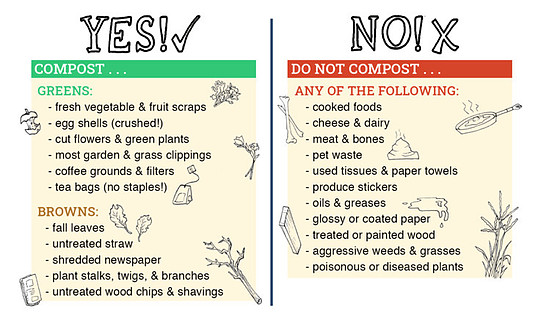 Can you use USED coffee grounds directly in the garden?
The answer is yes possibly but with much care and caution. Used coffee grounds have a neutral acid level of 6.5-6.8 after they are used to make coffee. They are high in nitrogen and have small amounts of phosphorus, potassium and trace minerals. For those reasons coffee grounds can be beneficial for the garden. What you can do is lightly sprinkle on top of the mulch but don't only use as a mulch or bury under the mulch. The coffee grounds can form a mat when they dry out and prevent the soil from absorbing any water. In addition the nitrogen has to be converted by microorganisms so that the plant can achieve the benefits. It also can contain small traces of caffeine which can deter plant growth so the best way is to add the grounds to the compost pile. If you are going to add directly to the garden be sure to only use for plants that thrive in acidic environments.
As you can see there is alot to learn about composting that can be very rewarding. A favorite quote of mine is THE MORE WE KNOW, THE MORE WE GROW.   Now you can garden indoors, learn more here in my article how to indoor garden.
Are you interested in composting indoors?  Check out this FoodCycler from Vitamix and see how easy it is to compost indoors.  Check out the FoodCycler here.
Learning how to compost in a bin can be so much fun. Make it a family event and watch the black gold transform and supplement the garden. If you have had an experience with composting please leave a comment and share your experience.