Wow…a sweetener that is healthy for you. I'm so excited that I had to share as soon as I learned of it. I'm sure you may have heard of it since some of you are superfood pros. It's called Lucuma! So what is Lucuma? All the way from South America specifically from Chile, Peru and Ecuador. It kinda looks like a mango and is a staple of the Incas. The super fruit grows on a tree in the Sapotacease family and the official name is Pouteria lucuma. Pronounced loo-ku-mah.
As an Amazon Associate I earn from qualifying purchases. When you use the links on this page to make a purchase I may get a small commission and you may get a great bargain. It's a win-win all around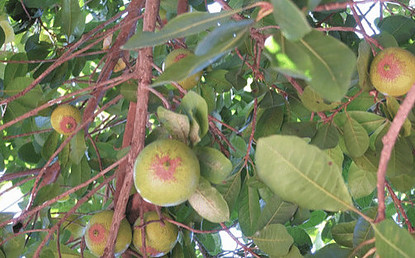 What Does Lucuma Taste Like?
It has also been known as Gold of the Incas and is sometimes referred to as the egg fruit due to its shape. It's been eaten by the Peruvians since 200 A.D. but was first reported in Ecuador in 1531. The flavor is similar tasting to a caramelized sweet potato fresh out of the oven. It can be described as also having a maple or butterscotch flavor and has a mealy dry texture. In Peru its mostly used as an added flavor to juice, milk, ice cream or shakes. I would love to try it fresh from the tree but it is hard to find as a fruit in the US! For now I can sample a trace of it mixed in certain superfood powders from yoursuper.com specifically Mellow Yellow, Chocolate Lover, Muscle Power, Energy Bomb and the new powder available now, Plant Collagen.  Plant Collagen is a new powder from yoursuper consisting of Tocos from Thailand, Pea Protein from Belgium, Tremella from China, Lucuma from Peru, Vanilla from Madagascar, and Aloe Vera from China.  Lucuma is also available in 100% powder from select health food stores or Amazon.
Nutritional Facts of Lucuma Pulp
There is limited nutritional information available however there are some known nutritional benefits. Powerful rich source of antioxidants, fiber, vitamins, beta-carotene and minerals. Beta-carotene converts into vitamin A in the body and is good for vision and eye health. It helps to strengthen the immune system and promotes healthy skin and mucous membranes.
Based on 3.5oz/100g
Carbs=1.5%
Fiber=1.3%
Protein=1.5%
Vitamins:
Thiamine (B1)=1%
Riboflavin (B2)=12%
Niacin (B3)=13%
Vitamin C=3%
Minerals:
Calcium=2%
Iron=3%
Phosphorus=4%
Potassium=10%
Water=64-72%
The pulp from the super fruit also contains inositol, citric acid, succinic acid, sucrose, glucose and fructose.
Lucuma is often used as a low-glycemic sweetener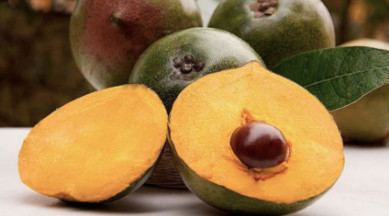 What is Lucuma Good For?
7 Health Benefits of Lucuma
Better than most sweeteners-there are more nutrients than table sugar and half of the carbs. Also contains insoluble and soluble fiber. Soluble fiber helps with gut bacteria and insoluble adds bulk to your stool helping food move through your gut.
Help with blood sugar control-great alternative to sugar helping diabetics control blood sugar.
Contains variety of antioxidants-can help protect against cancers such as colon, cervical, ovarian, liver and esophagus cancer.
Promotes heart health-due to the beneficial polyphenols that could protect from high bood pressure and heart disease.
Added to cooking, baking and smoothies-the powder can be added to a smoothie or in a baking recipe.
Anti-Inflammatory-can help with wound healing. Try a smoothie recipe with lucuma powder, cinnamon and ginger to aid as an anti-inflammatory.
Helps support eye health and stronger, plumper skin
Rich in polyphenols and carotenoids which are the two groups of antioxidants known for cancer fighting, heart health and anti-inflammatory health benefits. According to healthline.com, Polyphenols are micronutrients that we get through certain plant-based foods. They're packed with antioxidants and potential health benefits. It's thought that polyphenols can improve or help treat digestion issues, weight management difficulties, diabetes, neurodegenerative disease, and cardiovascular diseases. And also according to healthline.com, Carotenoids are pigments in plants, algae, and photosynthetic bacteria. These pigments produce the bright yellow, red, and orange colors in plants, vegetables, and fruits. Carotenoids act as a type of antioxidant for humans.
Try using Lucuma instead of sugar
More nutritious than popular unhealthy sweeteners
Is Lucuma a Superfood?
Lucuma Ice Cream is a specialty superfood that could be found in Latin markets. Here's a recipe for the favorite from Peru:
3/4 cup evaporated milk
1/2 cup sugar
4 egg yolks
1 teaspoon vanilla extract
1/2 cup frozen lucuma puree (defrosted)
1 cup heavy cream
Heat milk just before a boil and do not let boil. Beat sugar and egg yolks until light and voluminous. Add heated milk slowly beating well as you stir. Add vanilla, lucuma puree and heavy cream. Mix well until combined completely. Chill in refrigerator for 4 hours. Churn in an ice cream maker or alternately freeze in the refrigerator for 4 hours stirring once per hour.  Enjoy!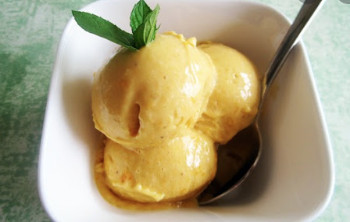 I'm so glad I recently learned about what is Lucuma the Gold of the Incas and have had an opportunity to share it with you. Please comment below if you have tried it or if you know where to buy the fruit.
26 villages in Peru are named after Lucuma
As an Amazon Associate I earn from qualifying purchases. When you use the links on this page to make a purchase I may get a small commission and you may get a great bargain. It's a win-win all around. Full disclosure. The information contained in this website is for educational and informational purposes only and is not intended as health or medical advice. Always consult a doctor.
I'm so glad you're here!
Let's Be Friends!
Get your FREE healthy lifestyle checklist. Make healthy living a habit!