Finding the perfect home workout can be fun and benefits of the elliptical machines are plentiful!!  Since sometimes outside exercise isn't ideal I've decided to invest in an elliptical machine. This could also be helpful for those that can't run or absolutely don't like running. Since I have never owned an exercise machine and I'm relatively new to using one I wanted something at a good price point that was also available to ship immediately. There were many options but not all of them were available to ship. At home exercise is a demanding option right now and many were sold out.  I will outline those benefits and provide a review on the Schwinn A40 which is the one that I chose.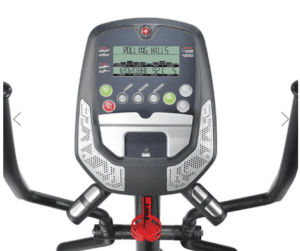 Benefits of the Elliptical Machines:
Low Impact-your feet never leave the pedal footplates so it's like walking in midair and much easier on the body.
Less stress on joints-due to no impact the motion of the machine provides less stress and strain on your body overall
Natural foot and leg motion-the articulation footplates adjust to the angle of the elliptical stride
Total Body Workout-sometimes referred as a cross trainer the elliptical  combines an upper and lower body workout when used properly.
Improve Mobility-if you have had surgery or an injury the elliptical is great for slowly regaining motion
Improve Balance-by standing straight up on the machine and not moving you can safely work on targeting the core muscles.
Benefits of the Schwinn A40:
High Speed
Smooth Quiet Ride
Comfortable heart rate hand grips
Articulation footplates with 17.5″ stride
Quick Start option
Media Shelf and water bottle holder

6 preset exercise programs: 

rolling hills, 

ride in the park, 

fun rides, 

pikes peaks, 

pyramids, 

challenges

8 intensity levels of magnetic resistence

Easy to read console which tracks time, distance, and calorie goals
Ergonomically placed moving handlebars
Warranty information: 3 year frame, 1 year mechanical, 1 year electrical, 60 day labor warranty
Price varies depending on demand at the time. Click image below to get the cost and watch price changes to get the best price.
Conclusion:
The benefits of the elliptical machines make it a great option for most people.    It's important to be sure to distribute the resistance between the upper and lower body when using the machine.  This will allow for the most thorough workout to burn more calories.  An important note regarding the benefit of use of elliptical over treadmill is that with elliptical there are less moving parts to worry about.  A treadmill usually has a motor, belts, rollers and bearings that can burn out causing more maintenance than an elliptical machine.
Please comment below if you have any experience with elliptical machines.
As an Amazon Associate I earn from qualifying purchases.  When you use the links on this page to make a purchase I may get a small commission and you may get a great bargain. It's a win-win all around. Full disclosure.