Not all kitchen tools are created equal. And, when it comes to everyday cutlery like steak knives, it's important to make sure you're working with high quality. J.A Henckels is very widely talked about for their kitchenware – especially their knives. Because of this, I took a look at the Best Henckels Steak Knives for 2023!
As an Amazon Associate I earn from qualifying purchases. When you use the links on this page to make a purchase I may get a small commission and you may get a great bargain. It's a win-win all around.
Are Henckels Knives Good Quality?
First things first, there are a few different types of Henckels knives. There are the Zwilling J.A. Henckels sets that can be identified by a two man logo as opposed to Henckels International that typically has one man on the logo. Although the two manufacturers are owned by the same company, there are some differences in the manner in which the knives are made.
For one, Zwilling produces most of their knives in Germany where they are usually forged from high-carbon German steel. These knives are considered higher-end and come with a lifetime warranty. Henckels International produces most of their knives out of China with German steel. More often than not, these blades are stamped and less-expensive than their high-quality counterpart.
Which Knives Are Better: Henckels or Chicago Cutlery?
When choosing your perfect steak knife set it is extremely helpful to know and understand the distinctions that make different knife sets unique and desirable. For example, manufacturers like Henckels and Chicago Cutlery both produce knives that are very similar in a number of ways. But understanding their differences makes it much easier to decide which brand works better for your kitchen.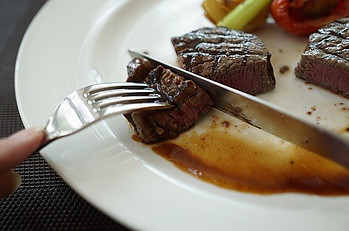 For one, J.A. Henckels International knives are generally stamped from high-quality stainless steel while Chicago Cutlery knives are typically forged from high-carbon stainless steel. Knives that are forged are generally less flexible and have a thicker bolster to protect your fingers while cutting. Stamped knives, on the other hand, are stamped out of a continuous sheet of metal making them not as well-balanced with a thinner bolster.
Although they tend to be stamped, Henckels blades are generally stronger and harder than Chicago Cutlery because of the different type of steel that they each use. Henckels has a lighter blade while Chicago Cutlery blades are designed to be stain and rust resistant. Upon comparing the two, it is also evident that the 15 degree angle of a Henckels blade gives it a thinner edge which is why it is sharper than a Chicago Cutlery blade that typically has a 26 degree angled edge.
In terms of price, Henckels knives are typically priced higher than Chicago Cutlery knives. While both brands come with a unique set of pros and cons, J.A. Henckels knives seem to be preferred for a more high-quality option while Chicago Cutlery knives are great for a slightly cheaper option with similar features.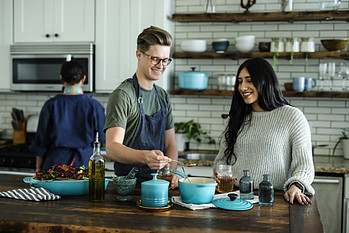 Which Henckels Knife Set is the Best?
There are several knives that can be considered the "best" Henckels knife set for different reasons. One widely talked about set, however, is the J.A. Henckels 8-Piece Stainless-Steel Steak Knife Set that is packaged and stored in a wooden gift box.  You can learn more about this knife set here.
This particular knife set comes with 8 stamped stainless steel knives in a premium gift box that is great for presentation and safe storage as well. Each knife has a 4-inch serrated blade that is carefully angled to protect the wrist from straining while in use. The serrated edge makes it a bit more likely to tear through meat instead of producing a clean cut, however, it is known to stay sharper for a longer period of time than a straight edged blade.
When looking for the best set of steak knives to suit your specific needs, I think it is very helpful to create a list of features that you want the most as well as things that you might want to avoid. This 8 piece set is great for a good variety of reasons, but it may not be exactly what you are looking for. For this reason, I put together a list of the Best Henckels Knives for 2023!
Be sure to also checkout my article Best Steak Knife Sets
6 Best Henckels Knife Sets for 2023
The list I have here is a mixture of Zwilling Henckels knives and Henckels International knives, both forged and stamped. Although there are a variety of options, each knife set is high quality and easy to use!
---
1. Henckels Solution 8-Pc Steak Set
The Henckels Solution set of steak knives comes with 8 4.5" serrated blades stamped from high-quality stainless steel. Because of this and their traditional black, triple-riveted handles, these knives are lightweight while still maintaining good strength and durability. These knives are from
the J.A. Henckels International manufacturer out of India.
Pros: Serrated, more knives, triple-riveted
Cons: May rust, difficult to sharpen, slightly jagged cuts
Check Best Price Here >>
---
2. Henckels Dynamic 4-Pc Knife Set
A Henckels International knife set crafted in India, these four stainless steel knives are stamped with a sharp serrated edge. The blades in this set are satin-polished and carefully honed to maintain their sharp edge and precision. The black handles are triple-riveted, making it easier and more secure to use the lightweight knives.
Pros: Serrated and straight-edged, triple-riveted, dishwasher safe
Cons: May rust, difficult to sharpen
Check Best Price Here >>
---
3. Henckels International 8-Pc Steak Knives
This set of 8 forged steak knives are stainless steel with a serrated edged blade that keeps its sharpness for longer. The handle is sleek and appealing while maintaining a comfortable grip. These 4.5" blades are specifically designed for cutting through meat and chicken with balance and precision.
Pros: Serrated, more knives, forged, dishwasher safe
Cons: May rust, difficult to sharpen, slightly jagged cuts,
Check Best Price Here >>
---
4. Henckels Classic 4-Pc Steak Knife Set
The Henckels Classic 4 piece set of steak knives is a straight-edged set of razor-sharp blades that is forged from German stainless steel. The four knives are crafted for durability and balance while the sharp, straight blade is perfect for making clean, precise slices through finer cuts of meat.
Pros: Straight-edged, triple-riveted, forged, dishwasher, easy to sharpen
Cons: Less sharp, smaller handles
Check Best Price Here >>
---
5. Henckels Statement 4-Pc Steak Set
Stamped from high-quality stainless steel and made in China, the Henckels 4 piece Statement steak set includes blades with a serrated edge. These knives are honed to maintain their sharpness for longer. They are lightweight but durable with a triple-riveted handle and topped
of with a polished steel end-cap for security and display purposes.
Pros: Serrated, triple-riveted, stainless-steel end cap for display
Cons: May rust, slightly jagged cuts, difficult to sharpen
Check Best Price Here >>
---
6. Henckels Modernist 4-Pc Steak Knives Set
The Henckels Modernist set has four 4.5" forged knives blades with a thick, sturdy bolster for balance. The design of the stainless steel handles are lightweight and comfortable with a stainless end cap and the blades are serrated so they stay sharper longer. Each steak knife is made of high-quality German stainless steel.
Pros: Serrated, polished end cap, forged, dishwasher safe
Cons: Difficult to sharpen, slightly jagged cuts
Check Best Price Here >>
---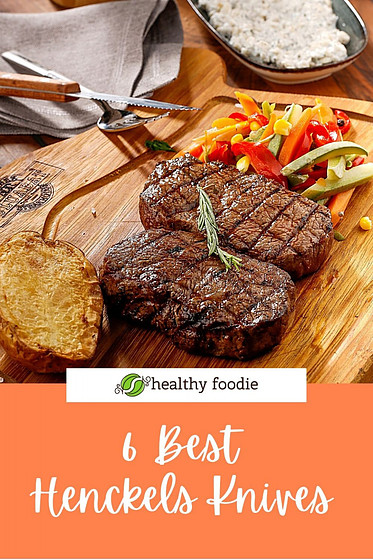 J.A. Henckels has so many great quality knives so you can't really go wrong with one of these options. The list above contains knives from several of the different categories and details how each blade is unique from the last.
Figuring out what your specific needs are when it comes to the tools in your kitchen is very important in determining whether you prefer stamped or forged, serrated or straight-edged, or handles with or without rivets. Hopefully, this list of the Best Henckels Steak Knives will help you to get all the details and make the best choice for you!