If you're like me, you're always looking for great new kitchen tools to add to your collection! One thing in particular that I've been hearing about lately are ceramic kitchen knives. With metal knives being such a common household item, not many people may own or know much about ceramic blades. This specific type of kitchen cutlery, however, has proven itself to be very useful!
Find the perfect match for your needs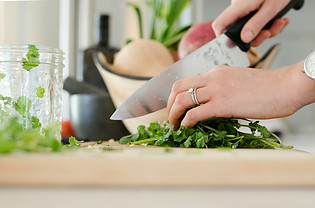 Why Use Ceramic Blades?
Generally, ceramic knife blades are made of a tough substance called Zirconium Dioxide Ceramic, making them much tougher than our everyday coffee mug. These tools are then heated to harden the blade and must be sharpened on a diamond-dust coated grinding wheel. Another added feature of a ceramic blade is the fact that it does not rust and cannot be corroded by various food substances such as salts, acids, and even some juices.
For these reasons, ceramic kitchen knives are great for cutting bread, fruit, vegetables, and boneless meat. The thin shape and the sharpness of the blade makes it good for peeling and cutting very thin slices of fruits and vegetables. After doing some research, I've discovered that, although these knives are great options to have in your kitchen, they should not be seen as a replacement for metal or steel knives. The ceramic of the blade is a strong substance, however, these knives are more susceptible to breaking and chipping so they should not be used on frozen foods or for cutting bone.
What is the Advantage of a Ceramic Knife?
Ceramic knives have many advantages- some that steel knives do not have. One of the many benefits of using ceramic kitchen knives is that they keep their sharpness for an extended period of time; typically longer than steel blades do. Because of the difference in material, metal blades tend to become dull in less time/uses than a ceramic blade would. For this reason, a steel kitchen knife would require a bit more regular maintenance and sharpening than a ceramic knife would.
Good quality ceramic knives are also generally cheaper than good quality steel knives and do not transfer metal ions to the food that is being cut. When steel knives leave ions on sliced fruits (like apples), this can cause oxidation to happen faster which is why the fruit becomes brown. The cleaner cut that the ceramic knife makes helps the food to remain more fresh for a longer period of time. In comparison with a metal knife, ceramic blades do not leave the same slight taste of metal that steel blades can.
What are the Pros and Cons of Using a Ceramic Knife?
As I mentioned, there are many pros to using a ceramic knife when working in the kitchen! Some of these may include:
Pros
Lightweight and easy to use
Stay sharper longer
Sharpness allows for choice cuts
Do not rust or deteriorate from acids, salts, or juices
Won't bruise soft fruits or vegetables
Although these can be really great knives, there are a few things you should be aware of before purchasing and using a ceramic blade.
Cons
Should not be used for cutting frozen foods or meat with bones
Potential for chipping and breaking
Must be hand-washed and stored separately
Difficult to sharpen at home
Too lightweight – might not work as well
Should not be used on stone, glass, ceramic, or metal chopping board
Taking all of these facts into consideration, here is what I discovered to be the 8 Best Ceramic Kitchen Knives!
The 8 Best Ceramic Kitchen Knives
Healthy Foodie's Top Picks of the 8 Best Ceramic Kitchen Knives for 2021
All of the following ceramic kitchen knives sets are great quality and can be purchased for a great price at many retailers!
Here are some positively reviewed ceramic kitchen knife sets:
As an Amazon Associate I earn from qualifying purchases
---
1. Kyocera Advanced Ceramics – Revolution Series 3-Piece Ceramic Knife Set 
This is a three-piece set of ceramic kitchen blades that comes with a 6-inch Chef's Knife, a 5-inch Micro Serrated Knife, and a 3-inch Paring Knife. Kyocera's blades are made of ceramic material produced in Japan and, therefore, maintain their lightweight, balanced design as well as a sharp edge for an extended period of time. Because of their size, these knives are delicate on soft fruits and vegetables while still delivering a quality cut. You can purchase these blades with black or white handles.
Pros: Lightweight; razor-sharp; well-balanced; rust-proof and resistant to acids
Cons: Slightly more expensive; can break and chip; not to be used on frozen or hard foods
---
2. Cuisinart C55-10PWM Advantage Ceramic-Coated Faux Knife Set
Although these knife blades are not made entirely of ceramic, their stainless steel kitchen blades have a non-stick ceramic coating which gives them a sluicing effect similar to that of a true ceramic blade. This is a 10-piece knife set that comes with an 8-inch Slicing Knife, a 7-inch Santoku Knife, a 5-inch Serrated Utility Knife, a 3.5-inch Paring Knife, and an 8-inch Chef's knife. The handles and blade guards come in a white marble color as well.
Pros: Relatively inexpensive; includes a wide variety of knives/blades; blade guards
Cons: Not entirely ceramic making it heavier than other ceramic blades; doesn't maintain sharpness as long as true ceramic blade
---
3. Vos Ceramic Knife Set with Holder and 8 Inch Chef Knife
The Vos Ceramic Knife set is a bundle that comes with 4 ceramic knives and an 8-inch Chef's knife (includes a 6-inch Chef's Knife, a 5-inch Utility Knife, a 4-inch Paring Knife, and a 3-inch Multi-purpose Knife). Each ceramic blade comes with a black handle and can be mounted on a holder to ensure safe storage when not in use. These blades are 10 times sharper than steel blades and keep this sharpness for longer as well.
Pros: Lightweight and sharp; good for cutting meat (with no bone); holder helps for safe storage to help prevent chipping
Cons: Can chip and break; struggles to cut foods that are a bit more dense
Check Best Price Here
---
4. Gayle's Kitchen 5 Piece Black Ceramic Knife Set 
This 5-piece ceramic knife set is equipped with 3,4,5, and 6-inch blades as well as a matching vegetable peeler. They knives come with sheaths and a black gift box. The handles are molded directly to the blade to ensure that it doesn't wear down and separate over time or extended use. They are lightweight and hold their extreme sharpness for 15 times longer than a steel knife.
Pros: Comes with additional peeler; relatively inexpensive; injection molded and comfortable handles
Cons: Can chip and break, handles can break despite design
---
5. Takiup Ceramic Knife Set, 6 Piece Kitchen Knife Set
The Takiup Ceramic Knife set is a 6 piece set that includes a 6-inch Serrated Bread Knife, a 6-inch Chef Knife, a 5-inch Slicing Knife, a 4-inch Utility Knife, a 3-inch Paring Knife and a Peeler. These knives are well-balanced and lightweight with a comfortable grip. Each size knife is a different color to prevent cross-contamination while cooking. The set also comes with 5 cover sheaths to protect the knives during storage.
Pros: Includes peeler, color coded, lightweight and well-balanced, relatively inexpensive
Cons: Can chip or break, not dishwasher safe, not as sharp as other sets
---
These high-density ceramic knives are razor sharp and crafted to hold their shape for much longer than a steel blade. This is includes a 3-inch Paring Knife, a 4-inch Fruit Knife, a 5-inch Utility Knife, a 6-inch Chef's Knife, and a ceramic peeler. This set also comes with a black acrylic knife stand to help keep your knives dry and safe during storage.
Pros: Includes peeler, stain resistant and rust proof, lightweight and sharp
Cons: Can chip and break, handle and blade may separate after repeated use
---
This 5 piece ceramic knife set comes in three different colors: orange, blue, and black. The four blades and peeler can be mounted in the holder while the knives are not in use. This set comes with a 6-inch Chef's knife, a 5-inch Utility Knife, a 4-inch Fruit Knife, a 3-inch Paring Knife, and a 1-inch Peeler.
Pros: Includes peeler, handle is non-slip; rounded blade corners to protect fingers, inexpensive
Cons: Can chip and break, still might stain
---
Imori's ceramic knife set comes with 3 "chef rated blades": a 6-inch Chef's knife, a 5-inch Slicing Knife, and a 4-inch Paring Knife. These knives are razor sharp with a rounded back corner of he blade to keep your fingers safe when cutting. The product comes with knife sheaths for each of the blades and the company advertises it's money back guarantee policy for those who are not satisfied with their purchase.
Pros: Money back guarantee, protective box for storage, custom sheaths and nonslip handles
Cons: Can chip and break, knives are thin, not enough grip space
---
I hope you can use my list of the 8 best ceramic kitchen knives for 2021 to decide which is best for you.  Please comment below if you have a favorite from my list.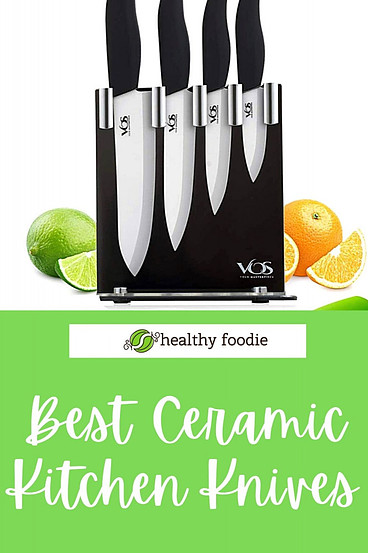 Check out my article on the 5 best kitchen knife sharpeners here
Looking for deals on the best kitchen knife sets, click here