Let's talk again about keeping veggies fresh longer and focus on green veggies! They always taste so much better fresh and when I eat healthy I feel great.
How to keep lettuce fresh longer.  It's so much better!

When I buy lettuce at a store nearby my house I notice how fresh the lettuce is. It's more fresh than other stores that I've gone to. So I'm wondering how are they keeping veggies fresh longer? I decided to play reporter and ask the produce person. There was a mixture of reasons but the one I want to focus on is storage in the fridge. I talked about this in a previous post. I briefly discussed potatoes, garlic, onions, bananas, tomatoes, peaches, mushrooms, apples, cantaloupe, apricots and honeydew. Today I will focus on green veggies and the specific way to keeping veggies fresh longer!
So to keep lettuce fresh longer in the fridge follow these steps:
wash and remove any damaged leaves
dry the lettuce thoroughly in a salad spinner or paper towel
wrap lettuce in a dry paper towel
place lettuce in a plastic bag vented a little or storage container designed for produce
store lettuce in the crisper drawer
How to keep broccoli fresh longer.
Rinse well as soon as you get broccoli home
Lossely wrap in paper towels and store in fridge
Keep air flowing so do not seal in bag
Put in the fridge asap and eat within 3 days
How to keep cucumber fresh longer. This is an easy one!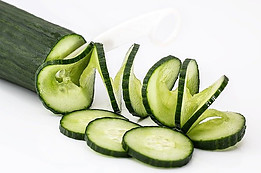 Rinse well
Wrap individually in a paper towel
Store in a plastic bag in fridge and eat within 10 days
Keeping veggies fresh longer is key to healthy eating!
If our veggies are always fresh and ready to eat then we will be able to eat healthy all the time.  For more info about eating healthy and preventing illness click here.  I also love this chart on foods to eat and foods to avoid which will be another topic of discussion later.