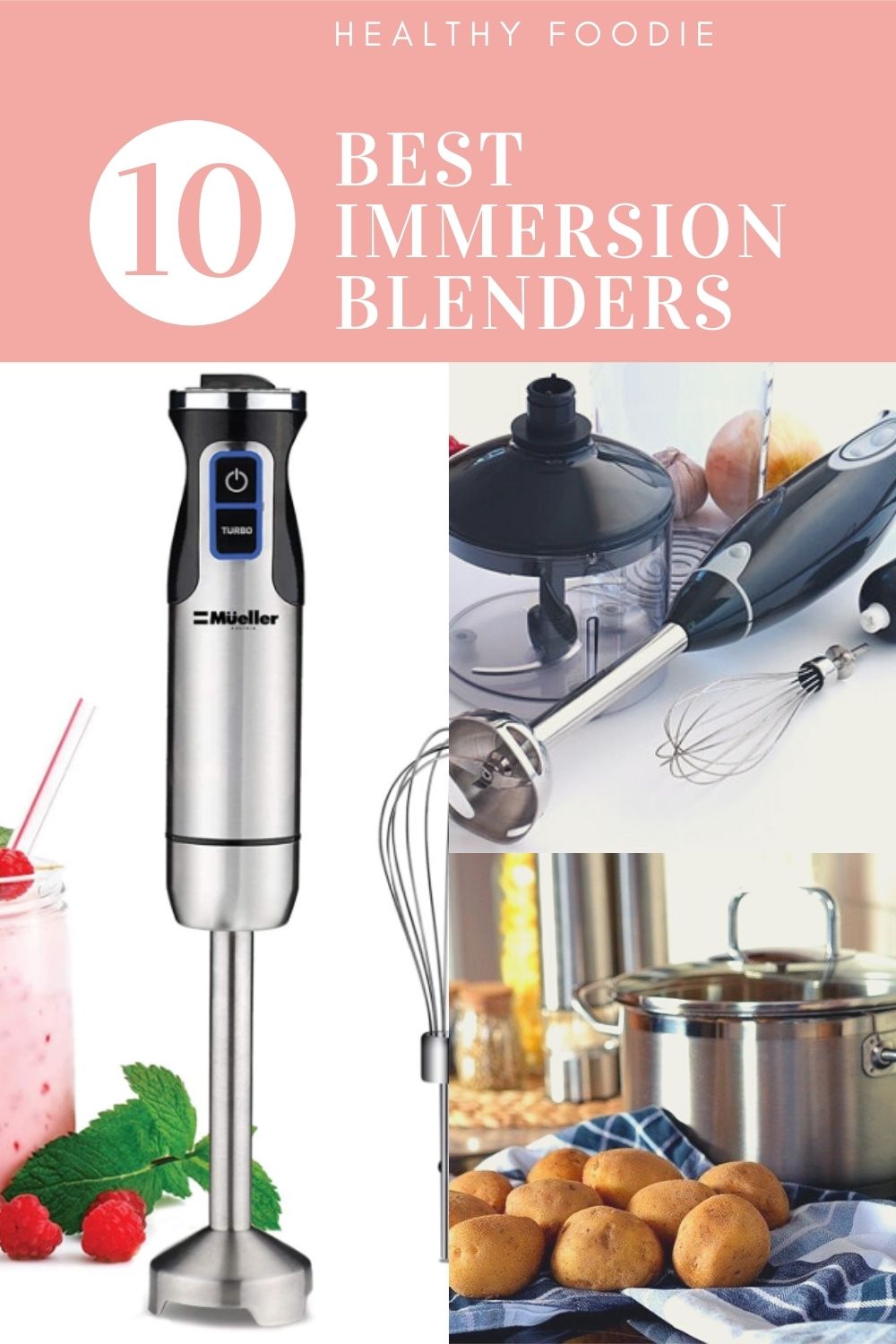 I'm always looking for great deals and purchasing an immersion blender is no different. I'm going to review here the Top 10 Best Immersion Blenders that are of high quality and great performance. Immersion blenders are the hot kitchen convenience that offer the same power as a countertop blender in a compact size. Immersion blenders are portable, easy to use, easy to clean, lightweight and limit the use of causing extra dirty dishes. They are designed to blend food directly inside the container you are mixing into like when making a smoothie, baby food or soup.
These selections I'm suggesting here will be priced at a lower price point than my previous article Best Immersion Blender for Soup.
Buying Guide for Immersion Blenders:
Cleaning-When deciding on an immersion blender be sure to find one that's easy to clean and dishwasher safe. If the wand separates from the motor then it should be dishwasher safe.
Power-Each immersion blender power will vary with motor watt size ranging from 200 to about 800. If you are chopping ice then you may want to do extra research and be sure the chosen hand blender can chop ice.
Quality-The reviews and brand reputation can gauge the quality of each immersion blender. I'm all about checking the product brand name and reputation to be sure it's a reputable brand with a good warranty. I've seen warranty info ranging from 1-2 years for full warranty protection.
Safety-The wand and attachments included with each immersion blender should be made of a safe material that is BPA free of chemicals. Some of the hand blenders come with plastic containers for mixing so be sure to check descriptions and confirm the quality of the materials used.
Attachments-These can consist of an egg whisk attachment, basic wand or a potato masher. There are also selections that come with a mixing cup or beaker.
Budget-If you are on a budget then be aware that it is possible to get a good high quality immersion blender at a reasonable price. I have listed some for you here but especially check out #1 or #5.
Top 10 Best Immersion Blenders review
I've included below my picks of the top 10 best immersion blenders for the price between $36-$70. They are all great quality with great customer reviews. Some of the features and specs are different. I really like the KitchenAid selections due to the great price point and included features. But I also like the Mueller Austria because it is the #1 bestseller online.
Healthy Foodie's Top Pick of the Best Priced Immersion Blenders
Listed in order of price from lowest $35 price to highest $70 price.
Great economical immersion blender with non-slip comfortable grip. 500 watt motor and 9 variable speeds with a silver color. Includes hand blender, egg whisk, milk frother attachment and manual. Dishwasher safe shaft that attaches easily to the motor. Voted as #1 bestseller with over 25,000 customer ratings for great price and durability. Blending shaft separates from the motor for easy cleaning and dishwasher safe.
I like this immersion blender because it has many accessories and a powerful 500 watt motor.
---
This immersion blender has many uses and come in green or white. The 250 watt motor comes with 8 speeds to blend smoothies, milk shakes, soups, sauces and baby food. The portable milk frother is an additional attachment not included in other models. It also comes with an egg whisk. 2 year warranty. Item Dimensions: 2.40 x 2.40 x 15.00 inches.
I like this model immersion blender because of it's extra attachments and 2 year warranty.
---
This immersion blender is a 3 in 1, 8 speed stick wand with many options. The 500 watt motor is great for mixing baby food, soups, sauces and smoothies. Includes stick blender, milk frother, egg whisk. There is a turbo boost button for chopping nuts and making mashed potatoes. 1 year warranty. Item dimensions: 5.9 x 3.14 x 7.08 inches.
I like this model immersion blender because of the advanced turbo boost feature.
---
This 2 speed immersion blender is a popular pick due to it's style and brand reputation. The ergonomically designed grip helps control the wand which comes in 7 colors. The 300 watt motor has a quiet sound but is still powerful. The 8 inch blending wand can reach deep into pitchers and pots. Great for blending smoothies or pureeing soups. Comes with 24 oz plastic mixing cup. Item dimensions: 4.88 x 4.88 x 15.63 inches.
I like this immersion blender because of it's quiet motor and brand reputation.
---
This 2 speed 200 watt hand blender is a great choice to blend, puree and crush. It has great customer reviews and ratings. Comes with a 3 cup BPA free mixing cup with lid for storing leftovers. The handle has a soft non-slip comfortable grip and is easy to hold. The color is silver and they call is liquid graphite. Item dimensions: 2.5 x 2.5 x 16 inches. One year warranty.
I like this hand blender because the price is great and the handle has a nice soft non-slip grip.
---
This powerful hand immersion blender has an 800 watt motor and 12 speeds. Includes stick blender shaft, stainless egg whisk, chopper bowl and mixing beaker. Item dimensions: 5.27 x 9.37 x 9.92 inches. Ergonomic handle with easy one-handed operation. Perfect for baby food, smoothies, soups and sauces. 90 day money back guarantee.
I like this hand blender because it has an 800 watt powerful motor.
---
This immersion blender has 2 speeds and comes with 2 attachments. The 200 watt motor can blend smoothies and puree soups. The whisk is great for batters and whipped cream. The 5 foot cord has a good reach for using this lightweight hand blender. Comes in white. Item dimensions: 14.70 x 5.20 x 3.10 inches. One year warranty.
I like this blender because it has a simple style and basic features to make it easy to use.
---
With 225 watt motor and 2 speeds this immersion hand blender is powerful enough for all blending needs. 3 attachments includes Stainless Steel Blending Wand, Stainless Steel Whisk Attachment and 3-Cup Chopping Bowl Attachment With Stainless Steel Blades. Comes in silver and stainless steel. Item dimensions: 6.6 x 9.2 x 8.75 inches.  Five year limited warranty.
I like this immersion blender because it comes with 3 attachments.
---
This 350 watt powerful immersion blender is Amazon's choice. It comes in black and is dual speed. Includes beaker and whisk attachments. Perfect for blending, pureeing and whisking. Easy to use and clean. Great customer ratings and reviews. Item dimensions: 2.2 x 2.2 x 15 inches.
I like this immersion blender because of the Amazon's choice with great customer reviews and ratings.
---
When using a blender with a teflon nonstick pan, be very careful or purchase a hand blender that has a guard

Available in 6 colors this is the only cordless immersion blender that I am featuring.  It has a variable speed switch.  Includes Removable Pan Guard and BPA-Free Blending Pitcher with Lid.  Comes with 8″ removeable blending arm with 4 point stainless steel blades.  If you are set on KitchenAid then this is a great selection at this price point.  Item dimensions: 13.5 x 4.7 x 4.7 inches
I like this immersion blender because it comes with the pan guard to protect pans and is cordless.
KitchenAid is the #1 selling hand blender in the US which is why its my top pick for the best immersion blender for 2020
---
I hope this guide of the top 10 best immersion blenders has helped you decide on an immersion blender for your kitchen.  They are great for making soup, sauces, baby food and smoothies.  Please comment below and let me know which you choose.