In just 2 days the Food Revolution Summit 2020 will kick off online… the facts and data represented will be so valuable especially during this stay at home order. I've been fine staying home and I'm looking forward to having the chance to focus on the summit without any huge distractions. Do you think you will be able to join me?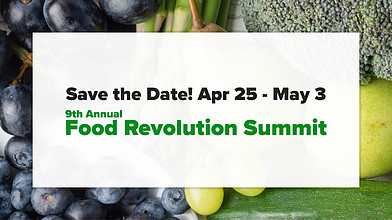 Background about Food Revolution Network:
FRN is an advocacy driven organization that helps people learn about healthy, ethical and sustainable food for all. It provides solely online-based education. All participants can join for free and have access to free events, Masterclasses and film screenings focusing on food and health. Started by John and Ocean Robbins, father and son, it has grown to over 500,000 members.
What makes the Food Revolution Summit 2020 special?
Top experts will be sharing each day in engaging and actionable interviews
After each interview Ocean will engage live to answer questions and his opinions
During this stay at home order this is a perfect event to learn more about
The experience is high quality and backed by impeccable research that's easy to understand
You will probably leave each day feeling hopeful and inspired for the world
Summit schedule for Day 1:
I like this daily sheet that includes a note taking sheet so you can follow along with the interview. If you want the entire schedule please email me at alyse@healthyfoodieonline.com and I can send you the pdf.

Check out my book recommendations by Ocean and John:
I read Diet For A New America in college and my passion instantly grew for food and health. I highly recommend it! It was a bestseller in 1987 discussing vegetarianism and the environmental impact of factory farming and animal rights.
The book 31-Day Food Revolution is a newly released 2019 book by Ocean Robbins. It is your guide to freedom from a toxic food culture. In just 31 days Ocean Robbins will show you how to heal your gut with healthy food, lose excess weight and lower your risk for disease.
Join me starting this Saturday April 25th for the Food Revolution Summit 2020!  It's going to be amazing and I can't wait!
I hope you will be able to join me and watch the summit online.
As an Amazon Associate I earn from qualifying purchases.  When you use the links on this page to make a purchase I may get a small commission and you may get a great bargain. It's a win-win all around. Full disclosure.