With the increase of online shopping, its very easy to get overwhelmed with choices. I'm here to help with the best gift ideas for healthy people. The list that I've created here for you can be used over the holidays and ongoing throughout the year.
I hope the list below helps make your shopping experience easier and quicker. It's the one stop shop you will need when shopping online. The bonus is that it's specifically designed for the person that wants the best gift ideas for healthy people.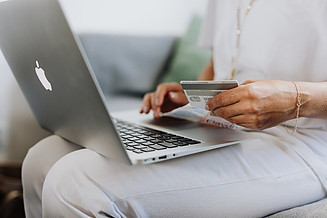 Health and Wellness Gift Guide 2023
​​​​​​​
---

1. Apple AirPods Pro – Easy setup to all of your Apple devices. Noise cancellation and customizable silicone tips. More than 24 hours of battery life and up to 4.5 hours of listening time. Sweat and water resistant for the active and healthy lifestyle. Includes wireless charging case. Works great and makes life convenient.
---

2. Yoga Mat Set Balance From GoYoga 7 piece set – Includes: 1 yoga mat with carrying strap, 2 yoga blocks, 1 yoga mat towel, 1 yoga hand towel, 1 stretch strap, 1 yoga knee pad. Choose color and mat width either 1/2 or 1/4 thick mat. Slip resistant and moisture resistant. Enjoy your workout!
---

3. Kombucha Starter Kit – This kit has everything you need to start brewing your own kombucha at home. Our best in the industry kombucha cultures, equipment, and instruction will turn you into a kombucha-brewing rockstar in no time. 1 Gal. Brew Jar is made of thick American glass and US MADE pH Test Strips and Temperature Gauge will help you monitor your brew's progress. Replacement guarantee if not successful. Happy Brewing!!
---
4. Mueller Austria Immersion Blender – This immersion blender comes in silver, is 500 watts, 110 volts, and offers ergonomic non-slip and comfortable grip. Includes: Hand Blender, Whisk & Milk Frother Attachments, Manual. European Engineered – American Guarantee – 1 Year Warranty. Make healthy smoothies or soups quickly and easily!  Click here to learn more about immersion blenders.
Check Best Price Here >>
---

5. Cuisinart Stainless Steel 15 piece Knife Set – Ergonomically designed stainless steel handle provides comfort. Easy to clean and precision-tapered ground blades that narrow gradually to an extremely sharp, fine edge. This set includes an 8″ Chef Knife, 8″ Slicing Knife, 7″ Santoku Knife, 5.5″ Serrated Utility Knife, 3.5″ Paring Knife, 3.5″ Bird's Beak Paring Knife, 8″ Sharpening Steel, All-Purpose Household Shears and Block to hold them all. Lifetime warranty and dishwasher safe. Complete and high quality set to display on your kitchen counter!  For knife sharpeners check out this article.
Check Best Price Here >>
---
6. Upright Go 2 New Posture Trainer and Corrector for Back – The simplest, fastest and most natural way to improve your posture. Healthy upright posture strengthens back and core muscles, stimulates better blood flow and promotes overall well-being. Easy to use, discreet and strapless. 40 hours battery life and multi-sensors. Includes app and training plan.
Check Best Price Here >>
---
7. Fitbit Versa 3 Smartwatch – It's for the active person with motivational health & fitness smartwatch with built-in GPS, Active Zone Minutes and music experiences to keep you moving.  1 year limited warranty.
---
8. Hey Girl Tea Infuser Bottle with Tea Diffuser – This is an insulated glass travel thermos for all teas. Keeps tea hot or cold with double wall insulation. 14 oz container with stainless steel infuser. Pink or silver.
---

9. Nutri Ninja Pro Personal Blender – Includes 2 sizes of cups (18oz/24oz), 900 watt motor base, 30 recipe inspiration guide. Features: dishwasher safe, BPA free, easy to clean, blk silver colored, 8 lbs, 2.5 ft cord length, 1 year limited warranty and 60 day money back guarantee.
Cost: $59 Click here for the direct ordering info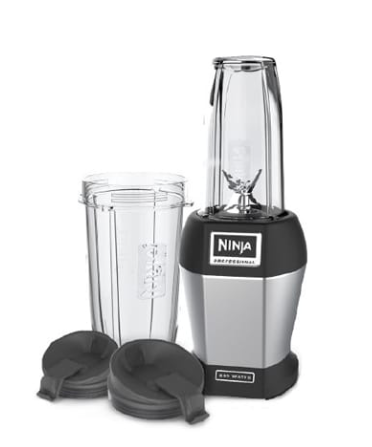 Check Best Price Here on Amazon >>
---
10. Ninja Foodi 6 in 1 Indoor Grill Air Fryer 2 basket – It has an extra-large toaster oven and air fry oven with True Surround Convection™. You get up to 10X the convection power of a traditional full-size convection oven, so you can make quick family meals on 2 levels, no rotating required.  Free 1 year warranty.
Cost: $239 Click here for the direct ordering infoNew! Ninja® Foodi® 6-in-1 8-qt. 2-Basket Air Fryer with DualZone™Technology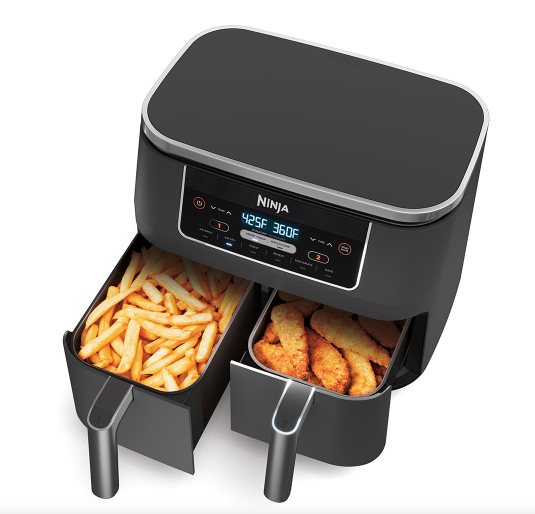 Check Best Price Here on Amazon >>

---

11. Flyby F1 Pro Massage Gun – This massage gun has 6 massage attachments and minimal noise.  6 hours of use per charge.  Perfect for athletes.  Includes carrying case.  Click here for the Flyby
---
It's not how much we give but how much love we put into giving -Mother Teresa
Best Gift Ideas for Healthy People
Self Care Gifts
Masterclass – If you want the special gift that focuses on self-care and educational support then Masterclass is for you. Masterclass is a streaming platform that allows people to learn from the very best professionals in various subjects. It's all online and accessible from phone, web, Apple TV, Roku devices, and Amazon Fire TV. Click here to signup for Masterclass or give as a gift.
Cost: $180/year for unlimited access to all content for one year
---
Indoor Herb Garden from Urban Leaf – This is a wonderful self care hobby for everyone that wants to have an indoor herb or food garden. I've grown both a minigarden and herb garden from Urban Leaf and I've enjoyed caring for my gardens. I also enjoy sharing with my friends and neighbors. There are many options from seed kits to minigardens. Shipping available in the US. Click here to go to Urban Leaf.
Cost: $15-$45
Best Dog Gifts
WagWell Box – Great pet subscription box that dogs will love. A variety of organic all natural pet supplies such as toys, chews, and treats. Included: 2 Bags of 100% organic treats, 2 All-Natural Bully Sticks, 1 or 2 Premium Toy(s) and 1 Fashionable Bandana. Delivered to the front door every month. Shipping available in US only. Click here to go to WagWell
Cost: $39/for one month also available in discounted 3 month and 6 month options
Best Healthy Subscription Boxes
greenUP Box – Artfully crafted sustainable goods to empower and inspire you to say #byeplastic. Join the movement and reduce your plastic footprint one step at a time with boxes intentionally curated around 6 life areas. Box themes are" market box, work day box, summer box, clean home box, kitchen box and travel box. Be the change you want to see in the world. Shipping in the US only.
Cost: $45-$125/for 6 months of boxes Delivered 6x per year.
---
Faithbox – Faithbox is a monthly subscription box and is filled with products from companies who have a positive impact on the world plus our self-published devotional and an impact guide. A monthly subscription to strengthen your faith and help you grow closer to God. Each box sent also provides 3 meals to hungry kids via our non-profit partner. Shipping available to US and Canada.
Cost: 3 faith based option packages from $18-$34/month
---
Cratejoy – The largest selection of subscription boxes in one place. With over 2000+ subscription boxes to choose from including food, fashion, books, cooking and gaming. Please visit this website to search for all the 2000+ subscription boxes available.
Cost: all vary depending on company chosen
---
MightyNest -This is the best way to step into a healthier, more sustainable lifestyle. The MightyFix is a subscription service that sends members a healthy, eco-friendly product each month.  The MightyFix helps you tackle one healthy change each month with green goods that are high quality, useful, and fun.  Free shipping to US.  Shipping fee to Australia and Canada.
Cost: $11/month

---
I hope you have enjoyed my gift review of the Best Gift Ideas for Healthy People. It's been fun creating it for you. Please share with your friends and family. And please leave me a comment below with your thoughts.