Do you want to learn how to garden? Gardening for beginners-what to know is a topic that is very popular today. It's important when you are beginning to garden that you start with the proper soil, seeds, sunshine and water. There are lots of details to be learned so that your garden can flourish and blossom with edible fruit and veggies. My outdoor garden has produced some amazing basil and tomatoes that I can add to my recipes. I've enjoyed it so much that I've chosen to start an indoor garden!
How to indoor garden is an article I wrote for people living in apartments or areas with extreme weather. Click here to read my article HOW TO INDOOR GARDEN. If you can't garden outdoors then may as well garden indoors. I've chosen to indoor garden to add some greenery inside my home. Some people live in apartments or are without a backyard so indoor gardening is the best solution. I chose to grow the minigarden fruit & veggie kit from Urban Leaf. I planted tomato, peppers and strawberries. It's been a great growth experience for me. And I will be so happy to have healthy organically grown produce available at my fingertips. Read on to hear why…. and also read on especially if you're looking for indoor garden ideas or how to start a garden.
=>>If you want to purchase the indoor minigarden kit I used from Urban Leaf click here and enjoy my review below<<=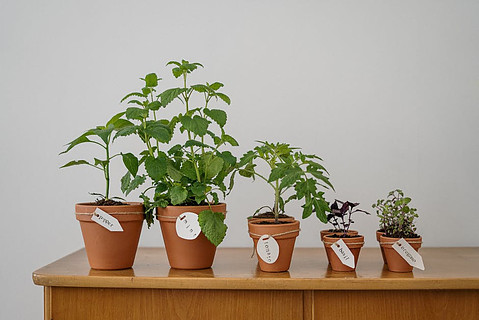 A Growth Experience
In my article How to Indoor Garden I shared how gardening can be great for mental health and well being. I can honestly confirm that now since my indoor minigarden is growing and flourishing here at week 4. I've enjoyed the process of planting, watering, thinning, and transferring to larger pots. I'm getting ready to purchase a garden tower and expand to growing herbs. I feel its been a great growth experience for me both mentally and for my well being. I've learned some new tips and enjoyed sharing with others. I'm so excited to see the flowers bloom and turn into fruit. Since I'm a beginner when it comes to gardening I wanted something easy and low effort to help me through the process.
A garden is a friend where you can visit anytime
If you're interested in feeding your garden in an all organic way, check out the FoodCycler from Vitamix!
FoodCycler transforms food scraps into fertilizer and reduces your family's food waste. From Morning to night, Vitamix and FoodCycler make it easy to take care of yourself (and the planet).
Why is it good to have plants indoors?
There are many good reasons to have plants indoors. Personally I enjoy having the greenery in my home, caring for the plants and watching the growth. Studies have been done on the benefits of having indoor plants that they improve air quality. Seeing greenery can help us feel calm, more relaxed and less stressed. In addition, plants can boost mood and productivity. They can also eliminate harmful toxins while releasing oxygen and absorbing carbon dioxide.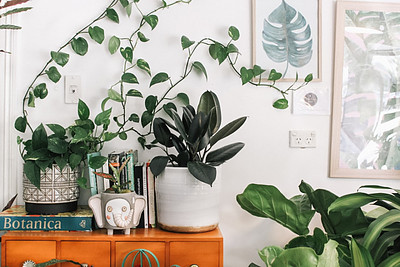 Enjoy my review below of the mini fruit and veggie garden kit!

Product Overview
I would recommend the minigarden fruit & veggie kit for people that want all the supplies in one package. The quick start guide is very helpful and easy to follow. There is also an option on the quick start guide to use the QR scanner on your smart phone and scan in all the directions for setup and care maintenance. I used the guide frequently when I had specific questions about a step in the process. Included in the kit are: 3 biodegradable pots, 3 seed packets, 3 smart soil discs, 1 decorative wooden planter box, 3 bamboo labels and 3 organic plant food spikes. You will want to find a sunny spot indoors so your minigarden gets at least 6+ hours of light. If you don't have a sunny spot then you will need a grow lamp. I moved my plants 4 times before I found the perfect spot so experiment with ideal growing spots. Do not be set on the perfect spot unless it's sunny and gets at least 6+ hours of sun.
Garden guidelines from Urban Leaf
Tomatoes and peppers could take 1-2 to sprout
Strawberries could take 2-3 weeks to sprout
Tomatoes can be harvested after 2 months
Peppers can be harvested after 3 months
Strawberries can be harvested after 5 months
Water 2-3 times per week
Peppers require full sun or 7+ hours of direct sun
Tomatoes and strawberries require part sun or 5+ hours of direct sun
Garden set up
Mix soil and water: Place discs in warm water, 3/4 cup per soil disc. Wait a few seconds wand watch as soil expands. Fluff up soil with fork or fingers and break apart any dry parts.
Fill up the pots: Place the soil in to the pots and keep fluffy. Do not pack tightly. Press the top down lightly to even out surface.
Plant the seeds: Scatter seeds across the surface of each pot and cover with a thin layer of soil
Once flowers appear, insert the organic plant food spike into the corner of each pot at least one inch below the surface.
Check out my video here on GARDENING FOR BEGINNERS-what to know:
Included with the Mini Fruit & Veggie Garden Kit:
Alexandria Alpine Strawberry aka Fragaria Vesca grows to about 6″ tall is an everbearing fruit all season long
Sweet Heat Peppers aka Capsicum Annuum grows to about 4″ tall and is a perennial plant
Red Robin Tomato aka Solanum Lycopersicum grows to about 8″ tall is a determinate species
Characteristic Definitions of Plants
Everbearing-Producing fruit throughout the growing season or multiple times during a single growing season
Perennial-Lives for three or more growing seasons
Determinate-Reaches a certain height and then stops growing. The majority of their fruit matures within a month or two and appears at the ends of the branches.
Annual-Lives for one growing season then dies.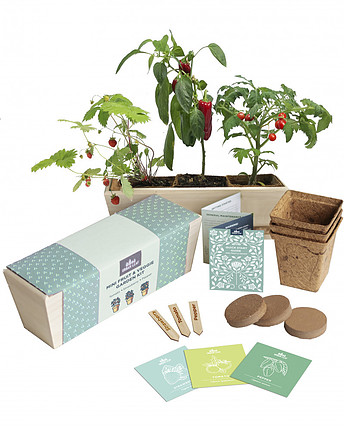 Product: Mini Fruit & Veggie Garden Kit
Key Values: good directions, complete kit of supplies, easy to grow, organic, money saving, great addition to meals
Weight: 1 lb
Dimensions: 12 x 4 x 4 1/2 inches
Price: $29.00 use my discount code SHOP20
Return Policy: 100% return or product replacement
Gardening is a humbling experience. – Martha Stewart
My Indoor Garden Progress
I kept a log of minigarden growth over the 4 week period. It was a fun activity to distract me from the challenges in the world today. It added an additional activity to my daily routine to stimulate and calm my mind.
Week 1 planting begins and saran warp cover is on until week 2
Week 2 sprouts appear on peppers and tomatoes
Week 3 sprouts appear for strawberries and time to thin peppers and tomatoes
Week 4 finally strawberries are sprouting more and peppers and tomatoes are growing taller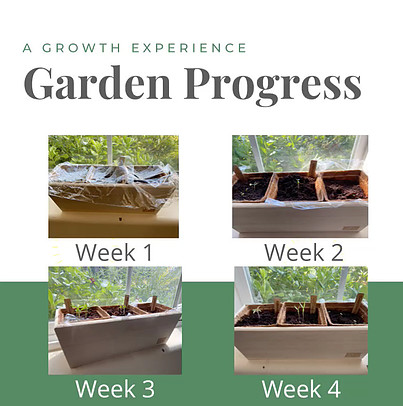 What is the best indoor garden kit?
This is a question that I'm asking myself especially when it comes to GARDENING FOR BEGINNERS – what to know! I don't think any other kit could be any better or different. I would say if its simple directions and a quality product then you honestly can't go wrong. I couldn't say 100% which is the best indoor garden kit but I could highly recommend the one I've used by Urban Leaf, the Mini Fruit and Veggie Garden Kit. The price was reasonable and be sure to use my discount code SHOP20. Please be sure to keep me posted with your progress and send photos of your garden. I would love to hear from you.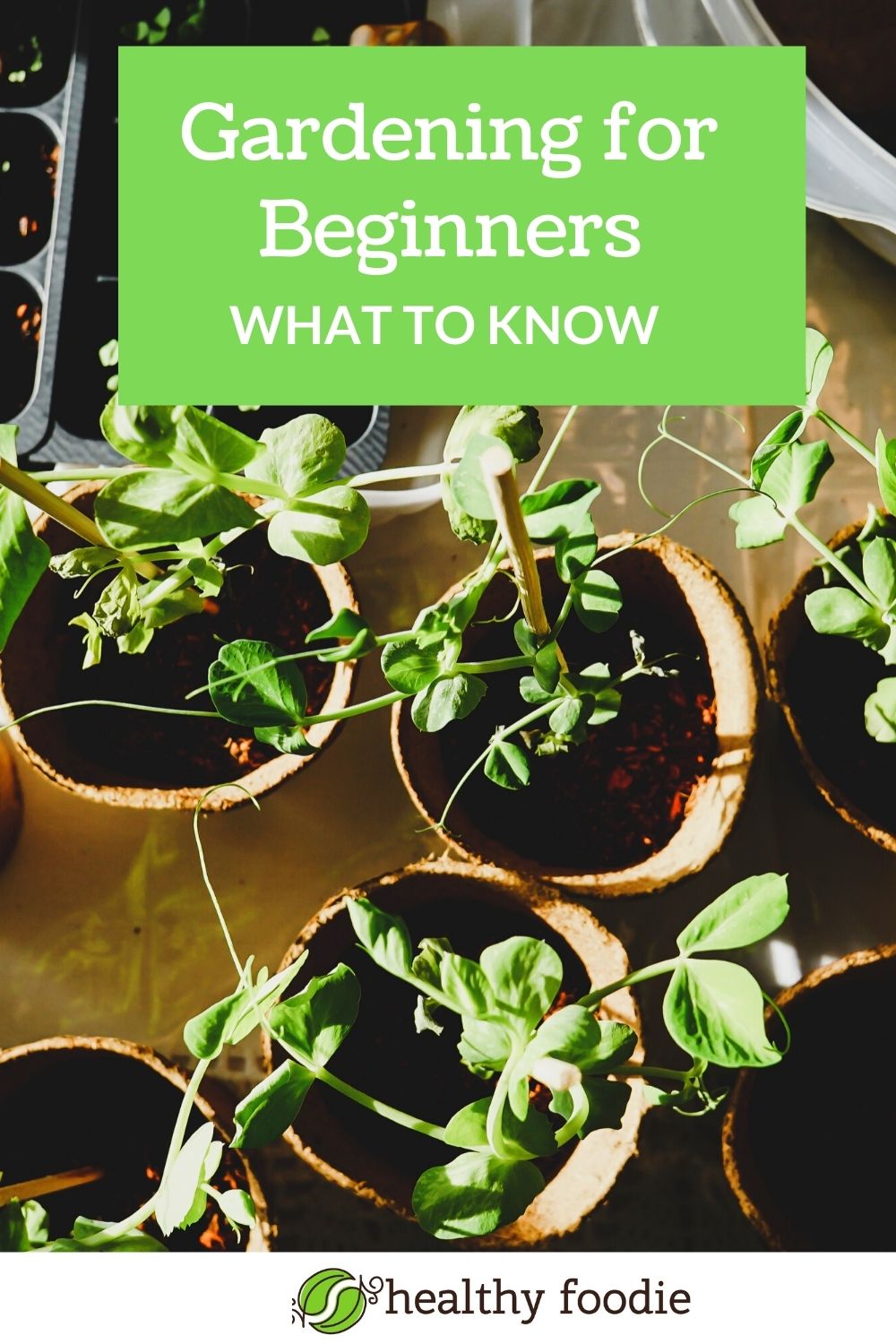 I'm so glad you're here!
Let's Be Friends!
Get your FREE healthy lifestyle checklist. Make healthy living a habit!