Meal prep is a fantastic idea for busy people on the go that like to eat healthy. My daughter started this healthy lunch meal prep for couples during the summer with her boyfriend. She started this healthy lunch meal prep for eating after daily workouts to make meals simple and ready to eat. It quickly turned into a bonding activity every Sunday in my kitchen. She created the meals, shopped for the groceries and prepped all of the dishes. We even started thinking this could work for meal prep for college students.
Meal Prep is a great activity that couples and families can experience together to help lose weight and also to save money.  It's simple and can save time in the kitchen since you are preparing all of the meals at once and in a large batch.
As an Amazon Associate I earn from qualifying purchases. When you use the links on this page to make a purchase I may get a small commission and you may get a great bargain. It's a win-win all around. Support my page and I can continue to provide great tips, recipes, reviews and lifestyle advice. Ask me how by clicking here!
To learn how to make the One Pan Salmon, watch my video here:
How to Meal Prep
There are some steps to take to get started whether you are a meal prep beginner or just need some new ideas. Meal Prep is great for healthy people that want a quick meal that fits in the budget. Eating out is expensive and can lead to eating unhealthy fast food.  These meals are about $5/meal which is a great cost savings to eating out.
5 Tips to Meal Prep
Get Organized-Do you have containers to store the food you prepare? What ingredients do you already have at home?  Set aside time to prep
Make the Meal Plan-What foods do you like to cook? Could you use frozen foods to save money?
Make a Grocery List-Can you shop in bulk?
Go Grocery Shopping-Stick to the list so you don't overbuy.  Buy precut produce and pre-cooked meats
Be flexible and expect challenges along the way.
To learn more about meal prep for college students, go here.
Healthy Lunch Meal Prep
What is a Good Meal Prep Lunch?
I have just the suggestion here for what is a good meal prep lunch and it's super easy to get started. Here is the menu for one week of meal prep that includes salmon and beef sirloin as the main protein. This week of meal plan will create 4 meals for each couple that could be turned into 5 meals each by making just a bit extra.  It's super easy and so yummy!
Beef and Broccoli with Sesame Stirfry Sauce
1 lb beef of choice pre-cooked
2 tbsp olive oil
2 cups broccoli cut into florets
Sauce Ingredients
2 tsp garlic minced
6 tbsp soy sauce
3 tbsp brown sugar
2 tbsp sesame oil
2 cups rice of choice
Step by Step Directions
Cook rice according to package directions
Steam broccoli or microwave until soft
Combine all ingredients (tamari, sesame oil, brown sugar, minced garlic, hot water) for special sauce in a large bowl.
Add pre-cooked beef to special sauce and let marinate for 10 minutes.
Combine broccoli and beef together and stir well and let sit for 5 minutes.
Fill your containers and refrigerate for up to 5 days.
Heat in microwave 1.5 minutes to eat for a healthy lunch.
1lb Salmon Fillets
Rice of choice
Potatoes
Asparagus
Olive Oil
Dash Salt & Pepper
Rub Ingredients
Citrusy Garlic Spice
Everything Spice
Step by Step Directions for One Pan Salmon
Cut potatoes thin and toss with olive oil, salt and pepper. Bake for 20 minutes.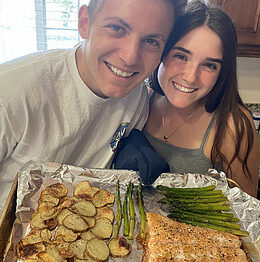 Wash salmon and set in baking dish.
Prepare rub of citrusy garlic and everyday spice then brush on salmon.
Cook rice according to package.
Wash asparagus and toss with olive oil, salt and pepper.
Combine salmon and asparagus to potatoes tray to bake one pan salmon. Bake 20 minutes together.
Fill your containers and refrigerate for up to 5 days.
Heat in microwave 1.5 minutes to eat for a healthy lunch.
Healthy Meal Prep Snacks
Snacks are the best before a workout and in between meals. That's why we've chosen a great snack tray that can help provide a tasty snack when needed.
Meal Prep Snacks Ingredients:
Apples and Peanut Butter
Mixed Almonds and Cashews
Dark Chocolate Power Berries
Meal Prep Shopping List and Recipe Cards
Here is a simple printable meal prep shopping list for one weeks healthy lunch meal prep and snacks for couples.
Click here to get a printable download of the shopping list and recipe cards
Is Meal Prepping Good for Weight Loss?
Meal prep can help with weight loss assuming you're cooking healthy choices and using fresh ingredients. It's important when trying to lose weight to portion control each meal and having the right sized containers will help. Meal prep is also helpful to have the option to choose a healthy meal you prepared at home and not opt for fast food.
8 Best Meal Prep Containers for Couples
It's so helpful to have the correct meal prep containers when planning to meal prep. There are many styles and sizes from snap lid to glass to plastic. I always recommend glass containers. Each meal prep container shared with you here has different features than the others. Some have sections, some are square, round or rectangular. There is a container for every liking. It's good to have 5 containers available per week that can stack to easily store in your fridge.
Below is a list of meal prep containers to help you get started:.  Some people prefer round and some people prefer rectangular.  I personally like round containers.
Bayco 10 Pack Glass Meal Prep Containers
---
Glass Meal Prep Containers with 2 Compartments
---
Prep Naturals Glass Food Storage Containers with Lids
---
Fit & Fresh Divided Glass Containers
---
Pyrex Simply Store Meal Prep Glass Food Storage Containers
---
Pyrex Simply Store Meal Prep Glass Round Food Storage Containers
---
Anchor Hocking TrueSeal Round Glass Food Storage Containers
---
Anchor Hocking TrueSeal Glass Food Storage Containers
---
Meal prep is helpful for all healthy people and can help you learn how to have a healthy relationship with food.  I hope you enjoy your healthy lunch meal prep experience and find it helpful to simplify your lifestyle.