A Vegan Charcuterie? That makes no sense but here we are creating a healthy vegan charcuterie board in cups. It is probably going to be a favorite for many people to serve instead of the typical community charcuterie board. The recipe includes healthy ingredients such as hummus, carrots, apples, celery inside grab and go cups.  These gluten free charcuterie cups are fun and easy to make.
Ingredients for Vegan Charcuterie Board Cups

½ cup hummus per cup
½ cup almonds per cup
2 celery stalks, cut into strips per cup
2 baby carrots per cup
½ strip of each red, green, orange, and yellow bell pepper – cut into thin strips
2 small apple slices per cup
3 olives of choice per cup
3 grapes of choice per cup
1 package gluten free crackers about 3-5 per cup
Fancy toothpicks of choice
Directions for Vegan Charcuterie Board Cups
Place 3-4 olives on toothpicks, set aside
Place a toothpick ¼ of the way into the end of baby carrots, set aside
Spoon about ½ cup hummus into the bottom of each cup
Place a bundle of bell pepper strips, one of each color, into the back of the cup
Next place celery sticks and a skewered carrot along the sides
Add an olive skewer in front of the bell pepper bunch
Finish filling the cup with apple slices, grapes, crackers, and almonds
You can position all the ingredients however you like and create your own masterpiece
Serve and enjoy!
Nutrition and Facts for Healthy Vegan Charcuterie Cups Ideas
Prep Time 20 minutes
Assembly Time 10 minutes
Total Time 30 minutes
Servings: 12 but it depends on party size but I recommend making 1-2 cups per person
Notes for Healthy Vegan Charcuterie Board Cups
Use a fancy toothpick to match the theme of your party
Design a special paper cup or sticker to enhance the theme of your party
Consider making each cup different so guests can choose their favorite
Fruit Options: I always like to use the most popular fresh fruit especially since the cups are limited by space. Some options are berries, grapes, melon or apples. But be sure to add apples right before serving so that they do not get brown.
Vegetable Options: Vegetables always add in a nice healthy variety and balance from all the hearty meats, cheeses and nuts. I usually keep mine simple with some sliced cucumbers, baby carrots, grape tomatoes, olives or pickles.
Nuts Options: I have used many varieties of nuts. Anything goes here from spicy almonds, pistachios, a candied pecan or keep it simple with a basic nut mix. It's perfect to line the bottom of the cup with the nut choice.
Carb Options: Every good charcuterie needs some carbs involved! You could keep it simple with some crackers, bagel chips, toasted bread, or small breadsticks. I use gluten free options so that it's great for everybody and most people won't know the difference.
Kitchen Gadgets I Used and Recommend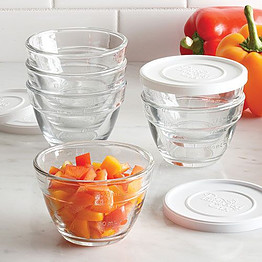 Elegant Round Edge XLarge Board
Check out these other articles for the best charcuterie boards ideas:
5 Best Charcuterie Boards of 2022
Below is my list of the 5 Best Charcuterie Boards of 2022. They range from marble, wood, and marble with wood. The sizes also range from 12 x 6 to 16 x 11 depending on what your planning to do with your board choose the size that works best for you. For the charcuterie cups you may need the largest board so plan accordingly.
12 x 6 Marble Slate and Wood Charcuterie Board
15 x 12 Real Bamboo Wood Charcuterie Board
12 x 16 Marble Charcuterie Board
13 x 13 Bamboo Charcuterie Board
Try these great vegan charcuterie board cups at your next special gathering. They are fun to make and a great option to the traditional community charcuterie boards.