Matcha is a form of green tea thats been used in China and Japan for hundreds of years. Its leaves are made into a powder thats stronger than regular tea. It tends to be sweeter and creamier than regular green tea. The Matcha tea is strong in antioxidants and has been known to lower blood pressure, cholesterol and defend against cancer. Some other benefits are helping with inflammation pain and helping to keep teeth in good shape. Since there is a lot of caffeine, rest assured it will help you be more alert.
Have you wondered what is Matcha?
Matcha is high in a catechin called EGCG (epigallocatechin gallate), which is believed to have cancer-fighting effects on the body. Studies have linked green tea to a variety of health benefits, like helping to prevent heart disease, type 2 diabetes and cancer, and even encouraging weight loss.
Is Organic Matcha Good For You?
Yes, matcha is good for you especially when it's organic. Always choose organic! Matcha tea works wonderfully in providing a calming effect on the body. L-theanine, a unique amino acid present in this green tea, possesses anti-anxiolytic properties, which assists in boosting alpha waves in the brain. These alpha waves enhance mood, encourage relaxation, induce a profound feeling of mental clarity, and help achieve an alert state of mind. There about 10 health benefits of matcha tea including helping with weight loss and boosting energy.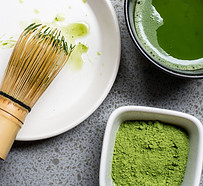 Is Matcha An Anti Inflammatory?
The Japanese powdered green tea, matcha, contains high amounts of substances with antioxidant and anti-inflammatory effects. It has promising potential health benefits, mainly through a high concentration of catechins. With regular consumption, it may support the body's efforts to maintain health and prevent disease.
Matcha Is Healthier Than Regular Green Tea
Since the leaves are ground into powder, you end up consuming the whole leaf. For this reason, matcha may have even more benefits than regular green tea.
Ways To Drink Matcha Tea
Add to smoothie
Add to hot water for tea
Stir into yogurt
Sprinkle on granola or oatmeal
What is the Best Organic Matcha Tea?
Art of Tea – Organic grade A matcha that provides a rich, complex taste and a boost of calm energy for the day. This Chinese matcha is made from fresh leaves and stone-ground into a powder for a frothy, creamy, and smooth finish when prepared. Delicious any time of day! Click here for Matcha Tea.
Pique – Benefits of Sun Goddess Matcha – EGCG firms and brightens skin. Catechins help curb sugar and hunger cravings. Chlorophyll supports skin clarity. Caffeine supports lipid metabolism. L-theanine promotes calm and balance. 100% organic, ceremonial-grade and quadruple toxin screened. Use discount code healthyfoodie. Click here for Pique Matcha Tea.
YourSuper Power Matcha – An energizing matcha latte powder mix with green superfoods to help you feel sharp and boost productivity.  High-grade organic matcha from Japan.  28mg of natural caffeine per serving.  Contains powerful superfood greens.  Use discount code healthyfoodie.  Click here for Power Matcha.

Try one of the best organic matcha tea selections from the list above . It's growing in popularity and has great benefits! Be sure to follow the directions on preparing your Matcha so you have the perfect result.