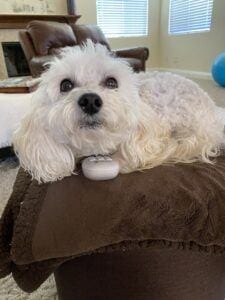 What do you think? Are dogs good for your health? Nowadays some of us are staying home due to the pandemic so it may feel more so than ever. But in my opinion it's helped me a lot especially when my daughters went away to college. My dogs keep me company and are always by my side. It's important to note that its not only dogs, all pets are good for your health; cats, pigs, horses, rabbits to name a few. Below are some reasons why dogs are good for your health:
Dogs Lower Stress and Anxiety
It's been noted in studies that dogs have been known to lower stress and anxiety in college students and seniors. When stress is prevalent in humans our body releases hormones like cortisol to crank out more energy boosting blood sugar and epinephrine to get your heart and blood pumping. Having a dog can help elevate feelings of calmness and ease stress.
A study done in 2019 found that petting a dog for just 10 minutes can lower cortisol levels in college students. Another study published in April 2019 completed a study on seniors and how it can contribute to healthy aging. Having a dog for a senior gives the retiree a purpose and a reason to get up in the morning.
Do Dogs Increase Fitness Levels?
I know for me getting outside and walking my dogs twice a day has helped with my fitness. We walk twice a day and stay on schedule. It not only gets me outside walking but it also helps me absorb Vitamin D which is a common deficiency in many adults. When I take them to the strip mall for a walk they make at least one person smile at the sight of seeing them… and that makes me smile. I also enjoy seeing people outside walking their dogs. It's a win win!
Pets Help with Better Overall Heart Health
It's been proven that dog owners that have had a heart attack have better survival rates than those that don't. In another study lower blood pressure and cholesterol are huge factors for dog owners. It's due to the increased activity of dog owners that's talked about previously and general better well-being.


Dogs Help with Increased Happiness
I think dog owners have increased happiness due to a better social life. It's easier to make friends with people when you have a dog which increases your social life. Dogs also keep isolation and loneliness away and make us smile. Our daily life is enhanced and our mood boosts which reduces depression. Hugs are also a huge factor that contributes to happiness. My dogs are usually ready for a hug but prefer to be left alone in the evenings.  Check out my article here on dogs and happiness.
Can Dogs Improve Allergy Prevention?
I was surprised by this study that living with an animal for the first year of life actually lowers your risk of asthma and cuts your chances of having animal allergies in childhood. It also boosts your immune system which invigorates your disease-defense system. Petting a dog for only 18 minutes raises immunoglobulin A levels which is a sign of robust immune function. There is some new research that shows links between microbes that pets bring into the home and ones that live in our digestive tract. "Exposure to animal bacteria may trigger bacteria in our gut to change how they metabolize the neurotransmitters that have an impact on mood and other mental functions," Jack Gilbert, the director of the Microbiome Center at the University of Chicago, told The New York Times. Are pets the new probiotic?
Pets Teach Us Empathy
This is the focus of an article published by Dr. Akhar. You can read it here. Dr.Akhar has written several books and essays on the subject of loving animals and the benefits to humans.
 Are Dogs Good For Your Health?
So what do you think?  Are dogs good for your health?  My dogs continually help me stay calm and help lower my anxiety. I think dogs are definitely good for your health and everybody should consider responsible dog ownership! Here's a photo of my dogs that will make you smile!  Comment below and share what you think.