I love my handheld frother for making healthy drinks! It's so easy to whip up a yummy favorite drink quickly and easily. I've used many different styles of handheld frothers but I want to review the Zulay Original Milk Frother Handheld Model. With a compact electric design the Zulay Milk Frother is powerful and durable. It has a sleek stand for easy storage and is easy to clean.  Learn more in my Zulay Original Milk Frother Handheld Review.  Get the special lowered price Zulay in midnight black, click here.
As an Amazon Associate I earn from qualifying purchases. When you use the links on this page to make a purchase I may get a small commission and you may get a great bargain. It's a win-win all around. Support my page and I can continue to provide great tips, recipes, reviews and lifestyle advice. Ask me how by clicking here!
How to use the Zulay Milk Frother
It's so easy to use. And easy to clean and store. The durable convenient metal stand gives easy access for foamy goodness in seconds. Cleanup for this matcha wisk & frother is even faster. To clean just put the whisk in hot running water and briefly turn it on. When stored on counter or table it sits nicely next other coffee accessories. The powerful and durable hand-held milk frother is powered by two AA batteries (not included) with a compact electric design that easily fits in a drawer. The small and efficient frother works on all types of milk – half and half, creamer, soy, almond milk, cashew, hazelnut, whole milk, and other dairy such as butter or cream. It's also great for mixing protein powders or making bulletproof coffee which is what I use it for.
Who is the Zulay Milk Frother for?
The Zulay Milk Frother is perfect for anyone on the go or wanting a quick solution to mixing up a healthy drink. I use mine for mixing protein powders or making bulletproof coffee.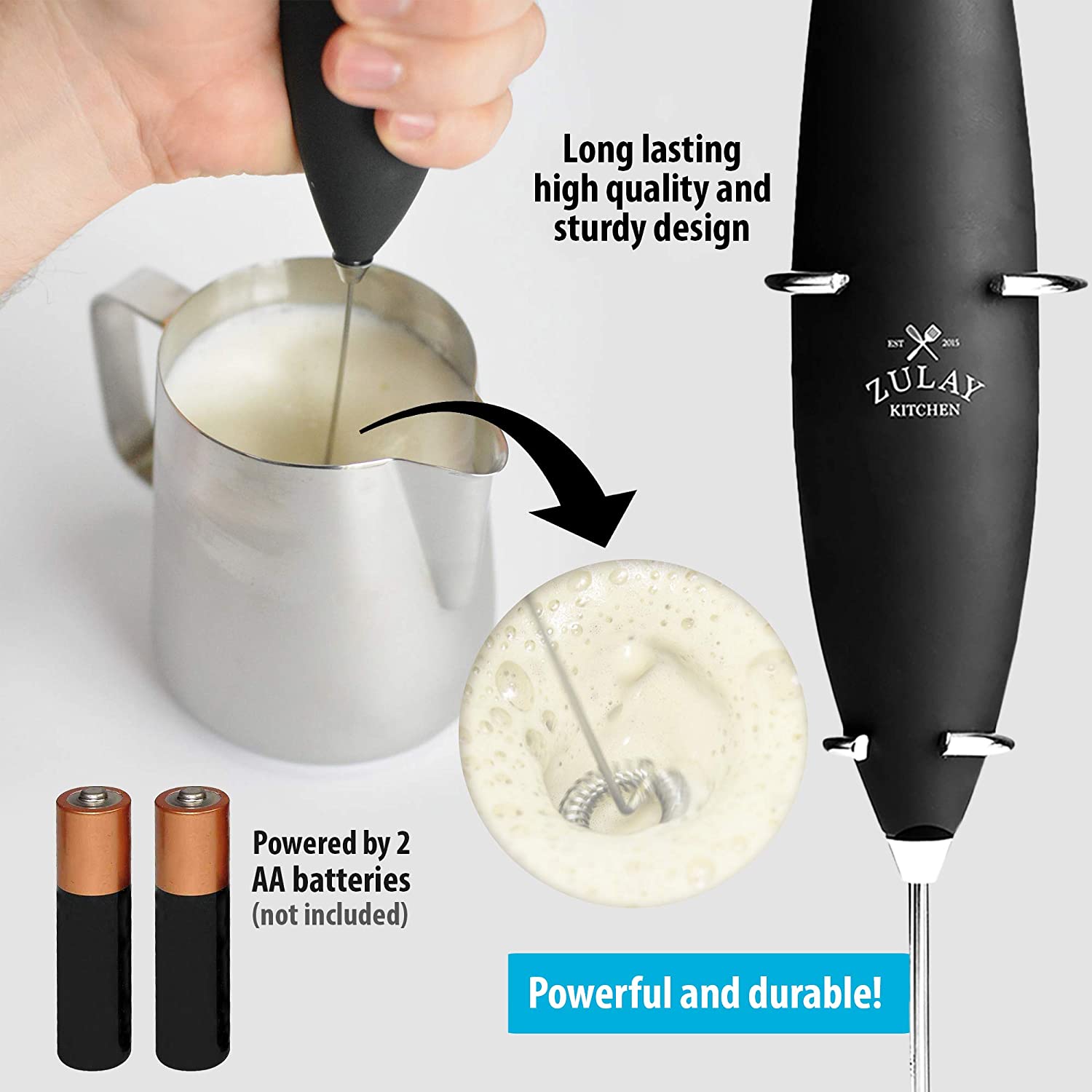 Does the Zulay Milk Frother Heat Milk?
No it does not heat the milk. I usually need to heat in the microwave or drink immediately after frothing. The unit that does heat the milk is a compact countertop frother that I talk about here.
Product Description
Product: Zulay Original Milk Frother Handheld
Zulay makes creamy froth anywhere you go. This heavy duty handheld milk frother is ideal for use at home or on the go. The stainless steel case protects the whisks from damage and keeps them clean. Ideal for traveling, the unit is equipped with interchangeable single and double coil whisks, to help you blend and create different amounts of foam. The double coil whisk creates thicker foam with less air and is ideal for latte art, while the single coil mixes quickly and creates lighter foam. Easy to clean. Use 3 AAA batteries that are not included. Currently the #1 Bestseller.
Proven and Trusted Quality: We use only premium materials. The construction will last, backed by our Zulay Guarantee to not rust or break, ever.
Size: 7.2 oz
Material: Metal whisk
Pros: Stainless Steel Cover, 2 whisks (single and double), many colors
Cons: Batteries not included, start button could be awkward to push
Check Best Price Here on Amazon >>
What is the Best Handheld Milk Frother?
There are many styles of milk frothers but I recommend the Zulay Original Milk Frother. The reviews are great and it's a best seller! I love making healthy coffee drinks or mixing up my protein powder drinks. I highly recommend the Zulay Original Milk Frother Handheld model. For info about other frothers and my review on the top 5 handheld milk frothers, go here.