Today I want to discuss the 10 foods you should eat everyday. On Monday I received my produce box delivered to my front door. It is always such an exciting day when my box gets delivered! Here's a photo of it before everyone tore it apart completely.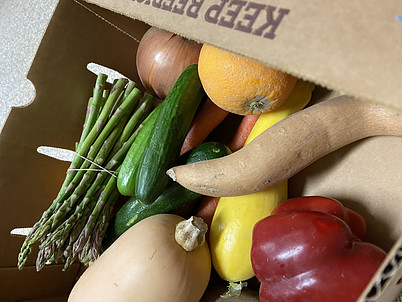 Look at this chart from Food Revolution Network…I love it!
I love this chart from Food Revolution Network. I have it posted in my kitchen so I can glance at it frequently. It's something you can download by going here.

Let's start with the top 5 foods to eat everyday….
My box contained 2 of the top items listed on the chart, leafy dark greens and berries. Some of my favorites to enjoy everyday. I love making salads with greens and cucumbers like here in the photo. The other items on the chart are staples that I usually keep in the house, beans and nuts. All so good for you for many reasons. Greens great to block early cancer from developing. Berries which I like to add to my Vitamix juicer are great for overall health and specifically brain & heart health. Blueberries and strawberries came in my produce box but not pictured. Mushrooms are third on the chart and provide good brain health along with providing anticancer effect against various types of cancer. Next are beans which are great for decreased risk of cancer, heart disease and Alzheimers. Fifth on the list and definitely my favorite top 10 foods you should eat everyday, nuts/seeds a natural anti-inflammatory and great snack for in between meals.
Now let's discuss 5 more from the chart…I love these!
My box contained 3 of the next 5 listed. First the foundation of alot of meals, onions and garlic which supply anticancer, antioxidant and anti-inflammatory compounds. Second, tomatoes, they are high in the carotenoid lycopene and help protect against cardiovascular disease. I use them in so many of my salads. Third, cabbage and cauliflower which have been found to decrease rates of various types of cancer. I like making cauliflower rice and adding it to any meal. Now lets talk about Turmeric, a beneficial spice known to reduce inflammation and blood glucose levels. It's become so popular now they make tea with turmeric in it. Speaking of tea! Tea is last on the list of 10 foods you should eat everyday. So rich in antioxidants, tea comes in many flavors and has been linked to improve cognitive function.
10 foods to avoid that are damaging to your health…
These 10 foods are damaging in excessive quantities. Now having some once in a while isn't going to harm you but it's definitely recommended avoiding them. They are: sugar/artificial sweeteners, alcohol, fried foods, white flour, processed meats, soda, commercial baked goods, grain fed red meat, dairy, and high salt foods. It is important to limit the intake of these foods. It explains them more in detail on the chart.
If you need help on this healthy route, think about trying something new….Try Sun Basket
If you really want to focus on the 10 foods you should eat everyday, try Sun Basket… a meal delivery service that specializes in organic meals delivered to your front door. Amazing!!!
As an Amazon Associate I earn from qualifying purchases. When you use the links on this page to make a purchase I may get a small commission and you may get a great bargain. It's a win-win all around. Full disclosure.
I'm so glad you're here!
Let's Be Friends!
Get your FREE healthy lifestyle checklist. Make healthy living a habit!