I secretly call it the Wellness Miracle but the real name is Wellness Formula.  It happens to be healthy, natural and it actually works when I feel my immune system is compromised.  The products full name is Wellness Formula Herbal Defense Complex and I'm going to share with you my experience.  It's from Source Naturals and is available at many different retail and online stores.
Click Here For Wellness Formula Best Price On Amazon >>
Wellness Formula contains a powerful combination of herbs, antioxidants, vitamins, and minerals formulated to boost your well-being
Source Naturals® was created in 1982 by C.E.O. Ira Goldberg to support each individual's potential to enjoy optimal health. At that time, the kind of nutritional formulations he envisioned—for the maintenance of well-being and the enhancement of life–simply didn't exist. The idea of combining many nutrients, herbs and nutraceuticals in one formulation, though common today, was then a rarity. Source Naturals pioneered the concept with Wellness Formula®, now the industry's #1 immune support product.
What is Wellness Formula Good For?
The Wellness Formula is good for boosting the immune system.  As soon as you are feeling any symptoms starting, take right away!  It's packed with many vitamins, minerals, herbs and antioxidants that support the immune system.
Wellness Formula Benefits
Antioxidant Defense
Boost Immune System
Contains Herbal Extracts
Many Vitamins and Minerals
Gluten free
Dairy free
Dye and color additive free
Yeast free
Sugar free
Product: Wellness Formula Herbal Defense Complex from Source Naturals
Key Values: Gluten free, dairy free, dye and color additive free, yeast free, sugar free, antioxidant defense, stress response, immune response, respiratory system response
Thrive Market Price: 240 capsules/$26.99 member price
Amazon Price from Source Naturals: 240 capsules/$35.45
As an Amazon Associate I earn from qualifying purchases.
Wellness Formula Product Overview
Wellness Formula comes in many different forms, capsules, tablets, drops, and chewable.  I've used the capsules and tablets which are relatively large for some people.  Thankfully they also have the liquid and chewable available for those people that don't like large capsules.  It's recommended to take 4-6 capsules when trying to maintain wellness.  If you feel like your immune system needs added support then take 6 capsules every 3 hours.  Do not exceed 24 capsules a day for a maximum of 7 days in a row.  Wellness Formula is loaded with great ingredients that are in the chart below.  It's unique formula works deeply at the cellular level to provide support that impacts immune health.
The Best Vitamins For Women – And Why I Went To A Naturopath
Wellness Formula Ingredients and Nutritional Information
I took this wonderfully long ingredient list from the Source Naturals website.  There are over 30 powerful ingredients which include herbal extracts, vitamins, minerals and antioxidants.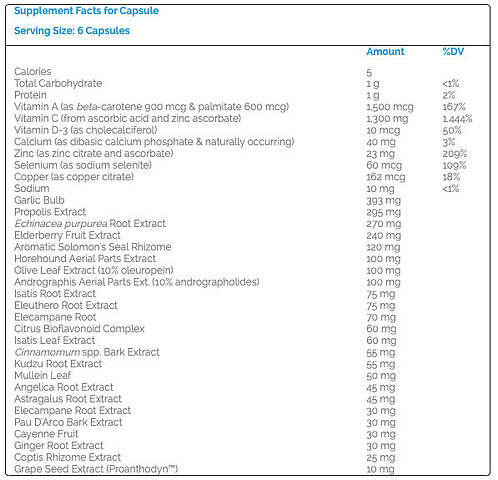 Other Ingredients: gelatin (capsule), silica, magnesium stearate, and dibasic calcium phosphate.  Contains soy.
Does Wellness Formula Work?
I hope you understand now what is a wellness formula and that it does work.  I've been taking this supplement whenever I feel like my immune system is struggling and I quickly feel better.  It's really amazing!  And I didn't experience any side effects and I do recommend to always take with food.  I hope you get to try it and please comment below when you do.  If you would like to learn more about healthy foods please check out one of my other articles 10 foods you should eat everyday.  Learn more here about Wellness Formula.
Is Source Naturals Wellness Formula Safe?
Warnings: Do not use if you are pregnant, may become pregnant, or breastfeeding.  The information contained in this website is for educational and informational purposes only and is not intended as health or medical advice. Always consult a doctor.