Sometimes I'm limiting my trips to the grocery store so I have a fresh produce box delivered home. The box comes with tons of yummy fresh produce so now I'm challenged with how to keep fruits and veggies fresh longer. It would be a shame for any of it to go bad and remember eat healthy feel great. Ways to keep fruits and veggies fresh longer
Keeping fruits and vegetables fresh longer involves proper storage, handling, and sometimes specific techniques tailored to each type of produce. Use produce bags: keep fruit and veggies in a breathable storage bag like this one pictured here: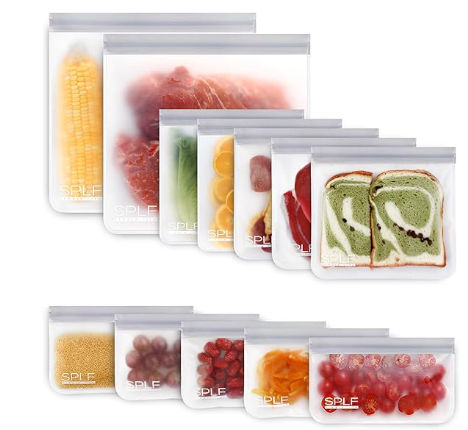 Be aware, certain fruits and veggies release ethylene which speed up the ripening process.
Be cautious of cold sensitive produce like potatoes, garlic and onions. They do well in cool dark environment and not in the fridge.
The ethylene emitter produce like avocados, bananas, peaches and tomatoes need to be stored on the counter until ripe and then put in the fridge to lengthen shelf life. Store separate to keep from ripening too fast.
Do not wash mushrooms. Keep them in a sealed container in the fridge unwashed.
Keep apples, cantaloupe, apricots and honeydew in the fridge but separate from greens to prevent ethylene wilting the greens.
If you wish to ripen bananas quickly, separate individual fruits from the bunch. Keeping the bunch together will slow the ripening process down.
If your desired fruit or veggie isn't listed here stay tuned for more info later on how to keep other fruits and veggies fresh longer.
If you want to find out how to freeze apples, click here.
1. Store Properly:
Refrigerate: Many fruits and vegetables should be stored in the refrigerator to slow down ripening and reduce spoilage. Exceptions include bananas, tomatoes, and potatoes.
Separate Ethylene Producers: Some fruits release ethylene gas, which can speed up the ripening of other produce. Store ethylene producers (e.g., apples, avocados, bananas) away from ethylene-sensitive items (e.g., leafy greens, berries).
2. Use Ventilated Bags or Containers:
Ventilated Storage: Store produce in breathable bags or containers to maintain proper humidity levels. This helps prevent mold and decay.
Remove Moisture: Excess moisture can lead to mold and spoilage. Use paper towels to absorb moisture inside bags or containers.
3. Choose the Right Storage Method:
Leave Some Produce Unwashed: Washing fruits and vegetables before storage can promote spoilage. Wash them just before consumption.
Root Vegetables: Store root vegetables (e.g., carrots, potatoes) in a cool, dark place, away from onions and garlic.
4. Wrap Greens:
Wrap Leafy Greens: Wrap leafy greens in paper towels or breathable bags to absorb excess moisture and prevent wilting.
5. Freezing:
Freeze Excess: If you have too much produce, consider freezing it. However, some fruits and vegetables may need blanching before freezing to maintain quality.
6. Utilize Fresh-Keeping Products:
Produce Storage Bags: Consider using produce storage bags designed to extend the freshness of fruits and vegetables.
Produce Savers: Some containers and disks claim to absorb ethylene gas and extend the life of produce.
7. Check and Rotate:
Regularly Inspect: Check your fruits and vegetables regularly for signs of spoilage, and remove any items that are starting to go bad.
First In, First Out (FIFO): Use the oldest produce first to prevent waste.
8. Control Temperature and Humidity:
Adjust Refrigerator Settings: Some refrigerators have humidity-controlled drawers. Use these settings to create an optimal environment for different types of produce.
Remember that different fruits and vegetables have unique storage requirements, so it's beneficial to research the specific needs of the produce you have. Additionally, maintaining a clean refrigerator and storage area can help prevent the spread of mold and bacteria, contributing to the overall freshness of your fruits and vegetables. Learn more here!