Blueberries are a tasty treat when frozen to top on yogurt, add to smoothies or eat alone. When blueberries are in season the price tends to drop and you can freeze them for later. Methods such as freezing and canning is easy and provides a healthy snack. Find out how can you freeze blueberries and enjoy a healthy snack year round.
When you use the links on this page to make a purchase I may get a small commission and you may get a great bargain. It's a win-win all around.
Health Benefits of Blueberries
Blueberries are high in antioxidants and healthy. They are great as a snack or in a recipe such as muffins, pies, salads, charcuterie board or appetizer. Blueberries can also help fight inflammation.
1. May alleviate gastrointestinal issues and UTIs – Traditional medicine suggests blueberries may be a useful remedy for both gastrointestinal conditions and urinary tract infections.
2. May help prevent heart disease – Research has shown that anthocyanidins, which are found in berry fruits, may support the cardiovascular system. They appear to do this by supporting the health of blood vessels and reducing the arterial stiffness which is associated with aging.
3. May be protective – Blueberries contain one of the highest antioxidant levels among commonly consumed fruit and veggies. They are extremely rich in naturally occurring plant compounds called phytochemicals such as ellagic acid and anthocyanidins. These phytochemicals are responsible for the blue, indigo and red coloring of the berry.
The phytochemicals in blueberries have been extensively researched for their protective properties, which helps the body combat a long list of diseases.
4. May help maintain eye health – Including blueberries regularly in your diet may improve vision and guard against age-related macular degeneration. This is thought to be thanks to the improved blood and oxygen flow to the eyes and the antioxidant protection which may help reduce the likelihood of cataract and macular degeneration.
5. May help regulate blood sugar – Blueberries are both low in sugar and a good source of fiber, as a result they have a low Glycemic Index (GI). This, together with their high flavonoid content, may help improve insulin sensitivity which is important for managing blood sugar levels.
Nutritional Benefits of Blueberries
1 cup of blueberries provides:
Calories: 84
Fat: 0.5g
Sodium: 1.5mg
Carbohydrates: 21g
Fiber: 3.6g
Sugars: 15g
Protein: 1g
Vitamin C: 14.4mg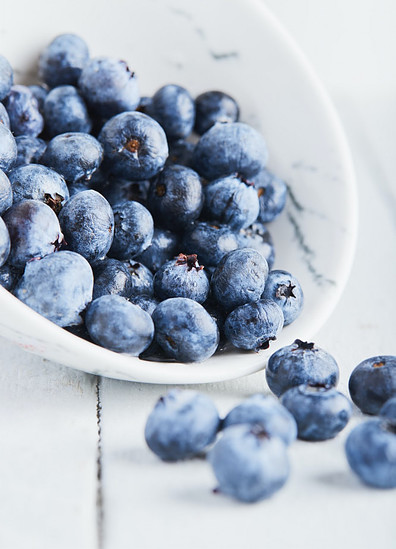 Can you Freeze Blueberries?
Yes, you can freeze blueberries. While you can find blueberries frozen at the grocery store many people do not realize just how easy it can be to freeze blueberries at home. Freezing blueberries is a great way to preserve them for snacking, baking, and making smoothies. Frozen blueberries tend to be a little less sweet than fresh berries so you may want to consider this when you freeze them.
How to Freeze Blueberries
Wash your blueberries well and allow them to dry on a paper towel until completely dry. Use an organic wash such as this veggie wash here. This is very important because you do not know what the farming and transportation conditions were like. Even organically grown blueberries can have bacteria on the outside of the fruit that needs to be washed away.
This will help to prevent them from sticking together so they are easier to use without having to make more than you need or thaw them before using. When your berries are stuck together it can be hard to break them apart for recipes.
Place your clean and dry berries in a single layer onto your trays and freeze for 4 hours. This will flash freeze them to keep them from sticking together while helping to prevent freezer burn by allowing your berries to freeze faster.
After freezing, put your frozen blueberries in an air-tight container to ensure that they will stay
fresh and maintain their flavor. For the best results, you should vacuum sealer your blueberries to remove the excess air that can lead to freezer burn.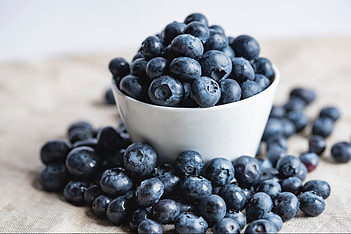 Best Way to Eat Frozen Blueberries
When you are ready to use your frozen blueberries you can use them from frozen by tossing them into your recipes for baking and cooking. This will increase the cooking time by 1-2 minutes to allow the berries to thaw while cooking.
Frozen berries can go directly into smoothies and frozen treats like homemade ice cream. Frozen blueberries make great snacks on their own or dusted in sugar.
To thaw your blueberries for use simply sit them out on your counter for a couple of hours or in your refrigerator overnight. Keep your berries in an air-tight container during thawing to prevent them from leaking of the juices from the melting berries. If you have stored your berries in a freezer bag, place them in a bowl for the best results.
Blueberries can also be found in the superfood powder Forever Beautiful. Click here to learn more about Forever Beautiful.
I hope this guide has been helpful to learn if you can freeze blueberries.  Please comment below if you have frozen blueberries in your home.