Easy is the focus of this delightful charcuterie board that takes 15 minutes or less to make. It's not only delightful to eat but it is perfect for any budget. I've combined gluten free, healthy ingredients that balance well together and will please all appetites. I enjoyed this particular board at home with family but you can cover tightly and take to a party or even assemble at the party. This easy charcuterie board is fun to make and can be made vegan or vegetarian too.
Start by choosing a board from my list of the best charcuterie boards for 2021. It's helpful to be sure you have all the necessary ingredients and supplies before starting. When I purchased the food items for my board, I knew in my mind what I wanted but I also choose items that were on sale to help cut down on cost. It's especially helpful to find great prices on cheeses which is super easy when shopping at Trader Joes.
As an Amazon Associate I earn from qualifying purchases. When you use the links on this page to make a purchase I may get a small commission and you may get a great bargain. It's a win-win all around. Support my page and I can continue to provide great tips, recipes, reviews and lifestyle advice. Ask me how by clicking here!
Can you make a Charcuterie Board the Night Before?
You can do some prep the night before but I don't recommend making the entire board the night before. The time it takes to put the board together isn't worth the possibility of the food looking or tasting stale. If this is the only option for you, then most definitely do not cut the cheese before as it will get dried out.
Easy Charucterie Board Ingredients
12oz Bag Baby Carrots
6oz Jar Olives of Choice
6oz Green Goddess Dip
1 cup Seedless Grapes
1 cup Blueberries
8-10 Quarters Watermelon
1 Whole English Cucumber
8-10 Large Sliced Genoa Salami
8-10 Large Sliced Provolone
4oz Breakfast Brie Cheese
6oz Gouda Cheese
5oz Goat Cheese with Herbs
1 cup Gluten Free Pretzels
1 pkg Everything But The Gluten Crackers
Kitchen Gadgets I Use and Recommend
I like these small ramekin dishes because they can hold all the small veggies and olives neatly on the board. It makes it easy to place on the board and easy for people to grab for what they want.
Step by Step Directions
How to Make an Easy Charcuterie Board for Summer
Gather Ingredients
Slice Cucumber and Watermelon
Roll Provolone Cheese and Salami
Place items on board starting with largest
Start by placing green goddess dip on the board as the main focal point
Next add cucumber, carrots, large cheeses blocks uncut, olives, blueberries, crackers, provolone and salami rolls, herb goat cheese, grapes, watermelon, pretzels
Be sure you have cheese knives and spoons for serving
Enjoy!
How Much Does A Charcuterie Board Cost Per Person?
This all depends on how much meat, cheese and dips that you use. I don't use much meat because I prefer all the other items even though charcuterie is really all about the meat. This is the definition from wiki: Charcuterie is a French term for a branch of cooking devoted to prepared meat products, such as bacon, ham, sausage, terrines, galantines, ballotines, pâtés, and confit, primarily from pork. Anyways, I've calculated what this board cost per item and will give you the breakdown below:
8oz Bag Baby Carrots=$1.99
8oz Jar Olives of Choice=$2.99
1 cup Green Goddess Dip=$3.99
1 cup Seedless Grapes=$2.34
1 cup Blueberries=$4.99
8-10 Quarters Watermelon=$1.67
1 Whole English Cucumber=$1.29
8-10 Large Sliced Genoa Salami and Provolone Tray=$3.99
4oz Breakfast Brie Cheese=$3.99
6oz Gouda Cheese=$3.40
5oz Herb Goat Cheese=$2.99
1 cup Gluten Free Pretzels=$2.99
1 pkg Everything But The Gluten Crackers=$2.99
Total=$39.61
For 4 servings my board cost = $9.90 each person
I think that's a decent price for the quality items on my board.  You definitely could make it for less by choosing different fruits or cheeses.
Nutritional Information and Facts
Prep Time: 10 minutes
Design Time: 10 minutes
Makes about 4 servings
Calories 554
I hope you enjoy making this easy charcuterie board for summer or any occasion. It's healthy, quick and easy. It's also so tasty and your guests will love it. My favorite is the breakfast brie and the new everything but the gluten free crackers.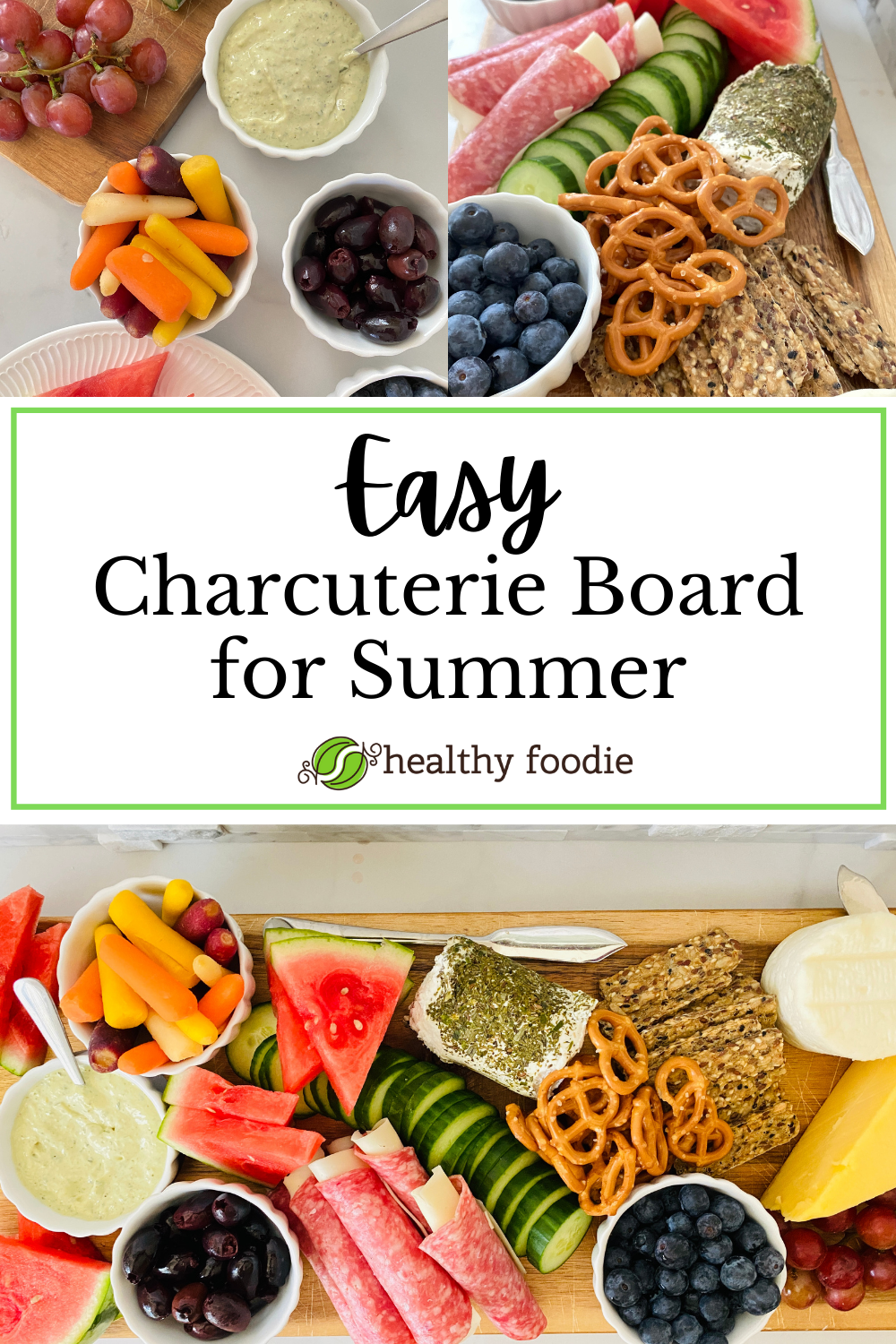 Other Charcuterie Boards from Healthy Foodie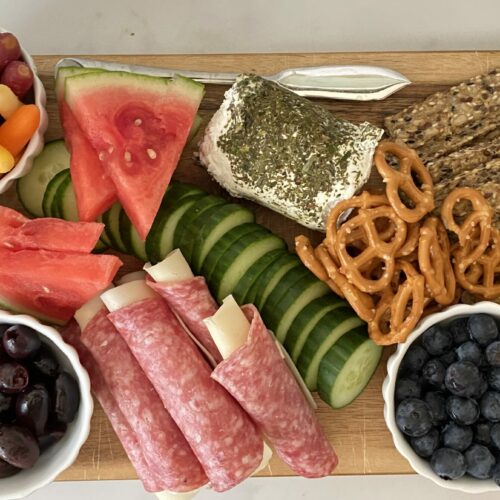 Easy Charcuterie Board
This delightful and easy to make charcuterie board is perfect for any budget. And I combined healthy gluten free ingredients for this easy charcuterie board.
Equipment
Charcuterie Board

Cheese Knives

Small Ramekin Dish
Ingredients
12

oz

Carrots

6

oz

Olives

6

oz

Green Goddess Dip

1

cup

Seedless Grapes

1

cup

Blueberries

10

qtrs

Watermelon

1

medium

English Cucumber

8

slices

Sliced Genoa Salami

8

slices

Sliced Provolone

4

oz

Breakfast Brie Cheese

6

oz

Gouda Cheese

5

oz

Goat Cheese with Herbs

8

Gluten Free Pretzels

8

Everything But The Gluten Crackers
Instructions
Slice Cucumber and Watermelon

Roll Provolone Cheese and Salami

Place items on board starting with largest

Start by placing green goddess dip on the board as the main focal point

Next add cucumber, carrots, large cheeses blocks uncut, olives, blueberries, crackers, provolone and salami rolls, herb goat cheese, grapes, watermelon, pretzels
Notes
Variety of cheeses and meats can be added to save money
Variety of crackers can be used and non gluten variety
Mini sourdough bread slices can be substituted
Hummus can be added or substituted