When I saw this simple indoor composter for the first time I was so excited! The FoodCycler from Vitamix is a small appliance and a great idea to improve kitchen waste. And to me spending so much time in the kitchen, just adds another activity for everyone in my household. The FoodCycler from Vitamix is great for collecting food scraps but also to help save the planet. I hope this FoodCycler Review of the Simple Indoor Composter can help you decide if this simple indoor composter is for you. Ready to buy? Get your FoodCycler now!
Check the Latest Pricing on the Vitamix FoodCycler
I published an article on outdoor composting that you can read here. Outdoor composting is great if you have a large yard with acres where you can place the composting bin out of the way. People with small yards have used an outdoor composting bin but I prefer this indoor solution. I feel like it's a simple solution and avoids a trip outside during cold or hot weather.
How does the Vitamix FoodCycler FC-50 work?
The Vitamix FoodCycler is a great addition for those people wanting to eliminate waste in the landfill. The composted material from the Vitamix FoodCycler can be used as nutrient-rich fertilizer to add to your garden. Simply toss food scraps into the bucket, press the start button, and you're done. Food waste breaks down to a fraction of its original volume. Store the recycled composted food in an airtight container and then mix it with garden soil for a nutrient-rich fertilizer. Cleanup is easy and the bucket is dishwasher safe. Get your FoodCycler now!
What to Feed Your Vitamix FoodCycler FC-50
Always:
Cereal
Eggs & Egg Shells
Pet Food
Beans, Seeds, Legumes
Coffee Grounds, Tea Bags, Coffee Filters
Meat, Fish, Shellfish, Poultry Scraps, Chicken and Fish Bones
Cheese
Most fruit and veggie scraps
Never:
Candy or Gum
Cooking Oil or Grease
Nuts or Hard Shelled Nuts
Pineapple Leaves
Hard pits from peaches, apricots, or nectarines
Hard Bones like Beef and Pig Bones
Sometimes:
Starches
Citrus Rinds
Nut Butters
Jams, Jellies and Marmalades
High Sugar Fruit from grapes, cherries, bananas
Condiments such as dressings, sauces, or soups
Want to see how to set it up?  Watch my How-To video here:
Tips for using the Vitamix FoodCycler FC-50
Avoid high concentrations of a single food
Combine heavier food scraps with lighter, dryer foods
Cut into small palm-sized pieces any high fibrous foods such as corncobs, corn husks, asparagus
Benefits of Composting
According to Wikipedia, composting is beneficial by providing nutrient-rich fertilizer to the soil, acting as a soil conditioner, increasing the humus or humic acid content of the soil, and most important action of introducing beneficial colonies of microbes in the soil. It's also good for the environment and diverts waste to landfills. Preventing the release of methane gasses is another benefit of composting. Get your FoodCycler now!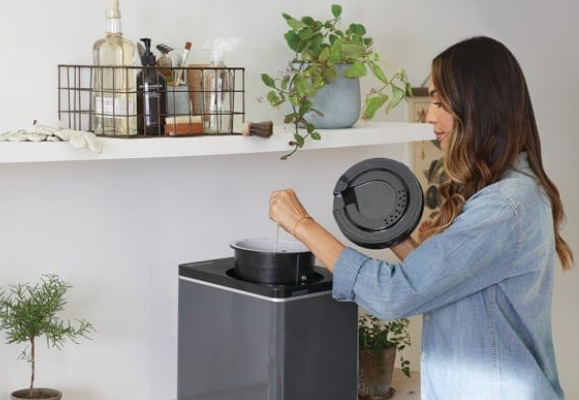 Product: Vitamix FoodCycler FC-50
Key Values: compact, odorless, convenient, quiet, easy to use
Dimensions: 12.6 x 11 x 14.2 inches ideal for small households
Electrical Ratings: 120V, 60Hz 500 W
Weight: 27 lbs
Cord: 2′
Use: Household
Material: ABS Plastic Shell Cast, Aluminum Bucket
Price: $399.95
Comes with Vitamix FoodCycler FC-50, 1 removable waste bucket & carbon filter lid and 2 carbon filters
Return Policy/Guarantee: 3-Year Full Warranty Vitamix stands behind the quality of our machines with full warranties, covering all parts, performance, labor, and two-way shipping at no cost to you.
Product Overview of Vitamix FoodCycler FC-50
The Vitamix FoodCycler FC-50 fits anywhere in your home—you just need one cubic foot of space and a power outlet. Keep the removable waste bucket in the kitchen, under the sink, or by the trash can, and store the FoodCycler™ in the garage, in a closet, or on the counter. The FoodCycler is ideal for small households and the carbon filtration system eliminates odors. I personally like how the FoodCycler looks and its aesthetic design. The idea that recycling is automated and done for you is a definite bonus. I recommend this unit for a smaller household because the bucket is not large. Overall I recommend this unit for beginner composters and experienced. Visit the Vitamix website to learn more!
Replacement Filters and Parts available for the Vitamix FoodCycler:
FoodCycler Replacement Filter-Intuitive carbon filtration eliminates any odors which might otherwise occur during the food recycling process. Using safe and nature-derived activated carbon, your Foodcycler is able to capture any naturally-occurring odors and emissions while in use.
FoodCycler FC-50 Collection Bucket Lid Filter (3-pack)-The removable waste bucket lid with a carbon filter is designed to help you store food waste in your bucket for days at a time without having to worry about odors. A polyester substrate coated with liquid carbon captures odors and keeps them inside the lid. We recommend replacing your lid filter every 3-4 months. The removable waste bucket is dishwasher safe, but the lid filter must be removed before being placed in the dishwasher.
FoodCycler FC-50 Replacement Bucket and Lid-Double your FoodCycler® FC-50 capacity with an extra bucket and lid. Collect food waste in the extra bucket in your kitchen while processing a separate bucket in the FoodCycler. A storage lid with deodorizing carbon filter is included, so you can collect food scraps without off-putting odors or unsightly visuals. Note: the storage lid is only to be used while the bucket is not being used in the FoodCycler.
FoodCycler Foodilizer Tablets (2-pack)-When dissolved in water, a Foodilizer tablet provides beneficial bacteria (i.e, a soil probiotic) to promote plant health in soil that has been mixed with recycled food compounds from your FoodCycler. Get your FoodCycler now!
The FoodCycler FC-50 replaces the FC-30 which is the original model that is no longer available.
Photo of the control panel on the FoodCycler Review of the Simple Indoor Composter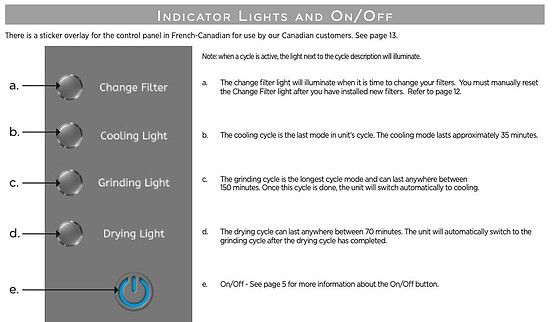 Check out my other gardening articles:
I hope you have learned from my review of the FoodCycler Review of the Simple Indoor Composter and can make a decision if it's right for you. Please leave a comment below with your thoughts. I would love to hear from you!
Have a look at the Vitamix FoodCycler FC-50
Here is a promo video by the Vitamix company, it's a quick 15 seconds – so have a look!
As an Amazon Associate, I earn from qualifying purchases. When you use the links on this page to make a purchase I may get a small commission and you may get a great bargain. It's a win-win all around. Full disclosure.
I'm so glad you're here!
Let's Be Friends!
Get your FREE healthy lifestyle checklist. Make healthy living a habit!