If you're like me, you use your kitchen knives almost every day. This continual use can cause the blades to become dull and make it difficult for you to cut with them. It can also cause injury when you're having difficulty cutting. Instead of going out and buying a whole new set of kitchen knives, however, there are ways you can sharpen your own knives at home! Let's find out the 5 Best Knife Sharpeners available to get this important task done.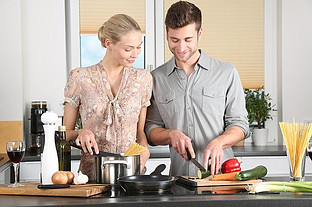 As an Amazon Associate I earn from qualifying purchases. When you use the links on this page to make a purchase I may get a small commission and you may get a great bargain. It's a win-win all around.
Knife Sharpening Techniques
There are multiple different ways to sharpen a dull kitchen knife. The process of sharpening a knife essentially requires shaving the metal edge of the blade. For this to be a safe and successful process that can be done at home, you need to use a substance like sharpening steel, ceramic, or stone. One very simple sharpening technique that can be done at home is using the bottom of a ceramic mug!
Ceramic Mugs: First, make sure that you are using the unglazed ring at the bottom of the mug. Then, carefully begin to run the blade along the surface at about a 15-20 degree angle with light pressure. This works best for smaller knives and could potentially ruin the blade if it isn't done correctly. I recommend only using this method as a last resort and on inexpensive knives.
Whetstone: Using a whetstone to sharpen kitchen knives applies similar techniques to using the ceramic mug. However, with the whetstone you'll want to secure the stone to the counter or tabletop with damp paper towels and wet the knife before you begin. Once again, you'll want to hold the knife against the stone at about a 15-20 degree angle and press against the flat side, running the blade along the stone in a sweeping motion. Do this on both sides until you feel that the blade is sharp enough.
Check out below this waterstone-whetstone knife sharpener with 2 side grit and a handcrafted bamboo base. Equipped with a silicone base to keep it in place and can be used with water, eliminating the need for honing/sharpening oil. It comes with an angle guide but is time consuming to use. It also could be difficult to get correct angles. It works on all knife types and sizes with 2 types of grit for sharpening and polishing.
Sharpening or Honing Steel: Like using a whetstone, this technique uses a steel rod and is a bit more advanced. Focused more on honing the knife than sharpening it, you'll want to maintain the same 15-20 degree angle as before. Holding the rod upright, place the back of the knife blade against the metal of the rod with light pressure and drag the knife down while pulling it toward you. Repeat this process on each side. Below is a type of steel rod that you can click on for more info.
It is important to be make sure you are being extremely careful when attempting to sharpen your knives! Misusing these tools and/or techniques could result in injury and completely ruin your knives.
What is the Best Way to Sharpen Kitchen Knives?
The three best ways to sharpen kitchen knives, according to cooksillustrated.com, are by sending it to a professional, using a whetstone (which can be very difficult), or by using a manual or electric sharpener. The use of a manual sharpener is very similar to the technique you would use on a whetstone or ceramic mug, however, they generally have a slot that is already set to the appropriate angle for you to slide your knife through. These are relatively cheap and easy to use at home for quick sharpening.
For most electric sharpeners, it is as simple as pulling your dull knife blade through the machine and turning it on (in reference to the specific user's manual). If you're worried about injuring yourself or ruining your blade, this is a great way to sharpen your knives at home! When using electric sharpeners, be sure not to press downward, as doing so may result in damage to your knife blade. For any method of knife sharpening, your best bet is to follow the instructions very carefully to make sure to protect yourself and your cutlery.
5 Best Knife Sharpeners
Healthy Foodie's Top Picks of the Best Knife Sharpeners for 2021
Here are my picks for the 5 best knife sharpeners. They all are great quality and durability. The reviews are great too but check out the different features so you can decide which is best for you.
As an Amazon Associate I earn from qualifying purchases. When you use the links on this page to make a purchase I may get a small commission and you may get a great bargain. It's a win-win all around.
---
1. Priority Chef Knife Sharpener – This is a manual knife sharpener with one slot housing a diamond-coated wheel to shape the knife blade as well as a slot with a ceramic wheel for polishing. The "two-stage" sharpening tool also has a round handle and a non-slip cushion on the bottom to help keep it in place.
Size: 7.5 x 2.5 x 2.5 inches (8 ounces)
Pros: Can be used on both straight and serrated knives, 2- stage sharpening, easy to use, inexpensive
Cons: Requires several swipes through slots to sharpen
Check out this video below on how to sharpen knives from Priority Chef.
---
2. Chef's Choice – A 3-stage manual sharpener with diamond incorporated in each slot: first for sharpening and honing and then for polishing the edge. This is easy to use, with a "soft touch" handle and 15 and 20 degree angle for the blade.
Size: 9.25 x 2 x 2 inches (8 ounces)
Pros: Works for straight and serrated knives, 3-stage sharpening, compact
Cons: Handle close to the slots
Check Best Price Here >>
---
3. Linkyo Electric Knife Sharpener – This electric kitchen knife sharpener is equipped with an automatic blade and positioning guides as well as a "stop" feature that helps to protect your blade. Simply run your knife through the slots, pulling it toward you at a 90 degree angle to get a sharp and polished edge.
Size: 9.75 x 4.92 x 7.25 inches (2.7 lbs)
Pros: Preset angles, quick and easy to use, 2-stage sharpening
Cons: expensive compared to others, corded, not for serrated blades
Check Best Price Here >>
---
4. Sharpal Home Knife Sharpener – This manual sharpener has four slots: coarse tungsten carbide, diamond sharpening, ceramic rods, and a slot for scissors. With a non-slip base and handle that allows you to grip further from the slots it is safe and easy to use.
Size: 9 x 2.2 x 3.5 inches
Pros: 4 in 1 (works for scissors), multi functional, inexpensive
Cons: Doesn't fit all size scissors, multiple holes can be confusing

Check Best Price Here on Amazon >>
---
5. Work Sharp Culinary Kitchen Knife Sharpener with Ceramic Honing Rod
This is a nice combo because it comes with the sharpener and the honing rod. The price is more than the others but it has some great features such as a built in vacuum and flexible sharpening belts. The E5 has the sharpening know-how built in—creating a simple sharpening solution for the Home Chef. The E5 will shape, sharpen, and refine a knife's edge at the touch of a button, automatically turning off at the end of the process.
Size: 7.25 x 4.5 x 5.2 inches
Pros: multi functional, comes with honing rod, built in vacuum
Cons: expensive compared to others
Check Best Price Here >>
---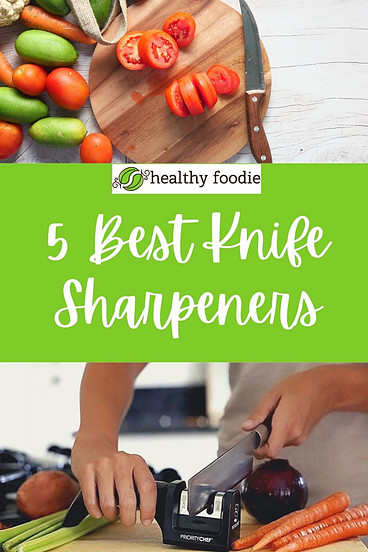 The best advice that can be given on knife sharpening is to make sure you hone more often than you sharpen. Keeping your knives honed and polished will keep them in better shape for longer and will lessen the need for heavy sharpening which can wear down your blade over time. And, with all of these products, be sure to follow the user's manuals closely to make sure you get the full value of your purchase! You can find more info here from wikipedia about knife sharpening.
I hope my list of the 5 Best Knife Sharpeners will help you decide which is best for you. Please leave a comment below if you have used any of these.
Knife sharpeners make great gifts!  For other great gift ideas check out this article.
If you want info on ceramic knives, be sure to read my article 8 Best Ceramic Kitchen Knives
As an Amazon Associate I earn from qualifying purchases. When you use the links on this page to make a purchase I may get a small commission and you may get a great bargain. It's a win-win all around. Full disclosure. The information contained in this website is for educational and informational purposes only and is not intended as health or medical advice. Always consult a doctor.
I'm so glad you're here!
Let's Be Friends!
Get your FREE healthy lifestyle checklist. Make healthy living a habit!