Inflammation is a growing concern for people. How to stop inflammation naturally is a question that people are asking. There are two types of inflammation, acute and chronic. Acute protects the body and chronic can lead to long term pain and damage. Chronic inflammation is a slow onset and can lead to arthritis, heart disease and heart attack lasting for months to years. Acute is a rapid onset that lasts for a few days. Acute inflammation can sometimes lead to chronic. Inflammation is the body's critical defense mechanism telling you that your body needs attention. It can develop in the body without you knowing which is called chronic and can lead to diseases.
The most common way to measure inflammation is to have blood work done.  You can conduct a blood test for C-reactive protein by clicking here, which is a marker of inflammation. Doctors also measure homocysteine levels to evaluate chronic inflammation. Finally, physicians test for HbA1C — a measurement of blood sugar — to assess damage to red blood cells.
As an Amazon Associate I earn from qualifying purchases. When you use the links on this page to make a purchase I may get a small commission and you may get a great bargain. It's a win-win all around. Support my page and I can continue to provide great tips, recipes, reviews and lifestyle advice. Ask me how by clicking here! Always consult a doctor for medical advice and supplement needs.
What Causes Chronic Inflammation?
There are many causes but the main cause of inflammation could be untreated infection or injury. When this happens your immune system mistakenly attacks healthy tissue. Chemicals from the body's white blood cells are released into the blood or affected tissues to protect your body from foreign substances.
What are the Symptoms of Chronic Inflammation?
When you have inflammation you may notice any of the following symptoms: fatigue, fever, chest pain, abdominal pain, rashes or mouth sores. The symptoms can range from mild to severe and last for months or years.

How to Stop Inflammation Naturally?
The way to stop inflammation naturally is to eat anti-inflammatory foods and avoid the foods that cause inflammation.
Foods that cause inflammation
red meat-for example steak, sausage, hot dogs and lamb
high sugar foods-for example soda, cake, cookies
fried foods-french fries, fried chicken
refined carbs-white bread, pasta, pizza dough, white flour
margarine and oils-vegetable oils like soybean and corn oil
Anti-inflammatory foods – Foods that fight inflammation
green leafy vegetables-collards, spinach and kale
nuts and beans-for example almonds, walnuts
fruits-such as blueberries, oranges, cherries, avocados and strawberries
fatty fish-such as salmon, tuna, sardines and mackerel
olive oil-use instead of other oils but still use in moderation
herbs and spices-for example turmeric, curry powder, ginger, curcumin and garlic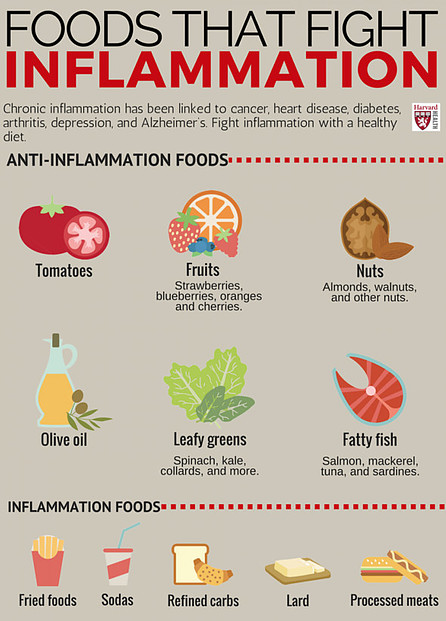 How is Chronic Inflammation Treated?
A change in diet is the best way to prevent and treat inflammation. There are non-natural ways that I only recommend as a last resort. They are steroids and non steroidal drugs. Check with your doctor for the best solution for you.  It's also advisable to take supplements that include fish oil or spirulina in the ingredients.
In addition to changing your diet, be sure to get enough sleep, exercise and manage your stress to help prevent inflammation. A plant based diet would be a good solution for someone with serious inflammation problems. The process of making these health changes will result in a better mood and overall better quality of life. There are some great books to help with this process as well as videos available for purchase. Be sure to check out Food Revolution Network for more information on eating a plant based diet and to signup for a masterclass that could help you. I hope this information will help you learn how to stop inflammation naturally.
Try a Plant Based Diet for Inflammation
As with any dietary changes, you should advise your healthcare professional  if you have a medical condition or are taking medication. If you are nursing, pregnant, or considering pregnancy, consult your healthcare professional prior to using this product.