I love New Chapter Vitamins brand and I've been using the Every Woman 40+ Daily multivitamin for many years. I always feel great when I take them regularly which is once per day. I usually take my Every Woman 40+ Daily multivitamin in the mornings before I have my coffee. It helps me to stay in a healthy routine when I take them at the same time everyday.
Check the Latest Pricing for New Chapter Vitamins
New Chapter Vitamins Reviews will be available here
Key Values: Dairy free, gluten free, non-gmo, no added sugar, certified kosher, fermented, vegetarian
Best Price: 24ct/$16.77 48ct/$27.24 72ct/$39.99 96ct/$46.99
Rating: 9.5/10

New Chapter Vitamins Product Overview
New Chapter Vitamins are fermented with whole foods and probiotics for easier digestion and better absorption. Every Woman's One Daily Multivitamin 40+ offers support with stress, energy, immune system, hormones and bones. Fermented multivitamins are good to help with absorption of nutrients so your body can absorb it like food. One tablet daily can be taken anytime even on an empty stomach.
New Chapter Vitamins Ingredients
The long list of ingredients with % daily value can be found here. Some of the valuable ingredients to note are: vitamin A, vitamin C, vitamin D, vitamin E, vitamin K, thiamin, riboflavin, niacin, vitamin B6/B12, folate, biotin, pantothenic acid, calcium, iodine, magnesium, zinc, selenium, copper, manganese, chromium. Whole foods blend include organic broccoli, cauliflower, kale, radish, cabbage, mustard seed, chaste tree berry, red clover, and raspberry leaf as well as numerous others.
Other ingredients: Culture media (organic milled soy, organic Saccharomyces cerevisiae [active and inactive], organic maltodextrin, organic gum acacia, organic carrot powder, organic alfalfa powder, organic orange peel, lactic acid bacteria [L. acidophilus, B. bifidum, L. rhamnosus], papain [deactivated], bromelain [deactivated] and organic molasses), organic gum acacia, silicon dioxide, lac resin, carnauba wax and maltodextrin.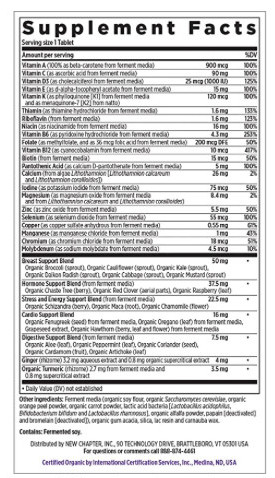 Check out my other article on New Chapter Vitamins here.   Please comment below if you have tried them as part of your nutritional plan and can share any details.
New Chapter Vitamins are also available here from Thrive Market

As an Amazon Associate I earn from qualifying purchases.  When you use the links on this page to make a purchase I may get a small commission and you may get a great bargain. It's a win-win all around. Full disclosure.
As with any dietary supplement, you should advise your healthcare professional of the use of this product if you have a medical condition or are taking medication. If you are nursing, pregnant, or considering pregnancy, consult your healthcare professional prior to using this product. Keep out of reach of children.