Most people know it as Mellow Yellow powder. A healthy organic powder from yoursuper that was made to naturally help reduce inflammation and stress in the body. Now it has a new name, Golden Mellow and here is my Golden Mellow Review.  It happens to be the same healthy powder as before just with a new fabulous name. There are just 6 powerful organic Ayurvedic herbs and adaptogens blended together from around the world. They are turmeric, ashwagandha, ginger, cinnamon, lucuma and pepper powder. I will tell you all about the benefits and provide some tips here.  If you want to try the new Golden Mellow please click here and be sure to use discount code HEALTHYFOODIE for 15% off!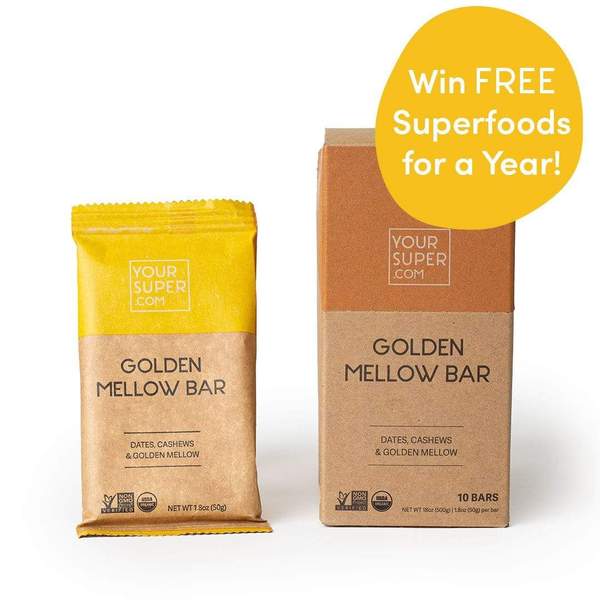 Find your calm in the chaos
=>>Be sure to check out my article here on adaptogenic herbs<<=
Tips to Reduce Stress
Stress either from work or personal life can cause health issues such as high blood pressure or an elevated heart rate. There is negative stress and positive stress. Negative stress is called distress and occurs when a person feels unable to cope with a difficult situation. Positive stress is typically a short term and immediate satisfying situation. This can be described as when someone experiences a result that they are excited to achieve. Stress can be reduced by consuming certain foods and supplements. There are also other natural ways to reduce stress. Here is a list to use that can help reduce stress along with improving diet and adding supplements.
Exercise
Eat Healthy
Walk
Organize
Meditate
Relax on a vacay
Deep Breathing
Find a Hobby
Surround yourself with positive people
Talk to a professional
Stop Smoking
Reduce Alcohol
Try Biofeedback
What is Biofeedback? Biofeedback helps you control functions to your body such as heart rate. The procedure is used to help you receive information about your body by connecting to an electrical sensor. According to Wikipedia, Biofeedback is a process that enables an individual to learn how to change physiological activity for the purposes of improving health and performance. Precise instruments measure physiological activity such as brainwaves, heart function, breathing, muscle activity, and skin temperature. These instruments rapidly and accurately feed back information to the user. The presentation of this information—often in conjunction with changes in thinking, emotions, and behavior—supports desired physiological changes. Over time, these changes can endure without continued use of an instrument.
Foods to Reduce Inflammation
I wrote an article about reducing inflammation that you can read here. Food is always the best place to start to begin the path to lower inflammation. Here is a list of foods to reduce inflammation: tomatoes, fruits, nuts, leafy greens, olive oil, fatty fish.
After you have tried some of the tips to reduce inflammation and reduce stress above, I recommend using Golden Mellow to maintain health.
Key Values: Certified Organic, Non-GMO, Gluten Free, 100% Vegan, 100% Natural, No Additives, Dairy Free, Soy Free, Plant Based, no stevia, Glyphosate Free, No fillers, No preservatives
Size: 7.05 oz
Price: $34.90/single mix $109.90 in bundle with 3 mixes, mug and ebook with 35+ recipes
Return Policy/Guarantee: 30 days money back guarantee
Shipping: Free shipping on orders over $75
Subscription Benefits: save on becoming a super member with these benefits; get 20% off always, customize each order, skip orders anytime, earn double reward points, cancel anytime, delivered every 30 days, never run out of superfood mixes, get early access to new products, and receive exclusive recipe ebook
Benefits of Golden Mellow, the Mellow Yellow powder
There are some great benefits that can help people with stress and inflammation. As you know, I always recommend starting with your daily food and nutrition choices. Golden Mellow can add great additional natural benefits to help you feel great and sleep better.
Reduce stress
Reduce anxiety
Reduce inflammation
Wake up feeling refreshed
Mellow Yellow Product Overview for Golden Mellow Review
Golden Mellow to the rescue for so many health issues! It's a great addition to your daily routine and can help you feel better instantly. Golden Mellow can be enjoyed at any hour of the day but is mostly recommended in the evenings. It can help you sleep better and give you a calming feeling. Try it mixed with one cup warmed almond milk and one teaspoon of Golden Mellow superfood mix. The flavor has been described as fresh and slightly spicy. Other tips for using the powder is in smoothies, oatmeal, soups or salad dressings.  I highly recommend Golden Mellow for a better nights sleep and improved wellness.
Check out my video here for How to Make Mellow Yellow with the Capresso Frother:
Click for the frother I use in my video:
Mellow Yellow Ingredients and Nutritional Info for Golden Mellow
Turmeric (India)-Has the active compound curcumin that provides a natural anti-inflammatory
Ashwagandha (India)-An adaptogenic herb to reduce stress and improve quality of sleep naturally
Ginger (India)-Has powerful antioxidant and anti-inflammatory benefits
Cinnamon (India)-A popular spice that is rich in antioxidants and a natural anti-inflammatory
Lucuma (Peru)-A natural sweetener with a maple flavor that can strengthen the immune system
Pepper Powder (India)-Known as the king of spices and is rich in antioxidants and piperine
ONLY 15 CALORIES PER SERVING
Here are what some people are saying in my Golden Mellow Review
Mellow Yellow was my first purchase from yoursuper and I absolutely love it!  Every night I have a cup of golden milk.  Right away I noticed I've been sleeping better. -Lori
This blend tastes delicious! My favorite way to use it is in a curry sauce for dinner. I feel relaxed for the evening and calm before bedtime. -Nicole
I LOVE all the spices in this mix- I've mixed this with magic mushroom, some almond milk, and maple syrup for a night time latte! -Brianna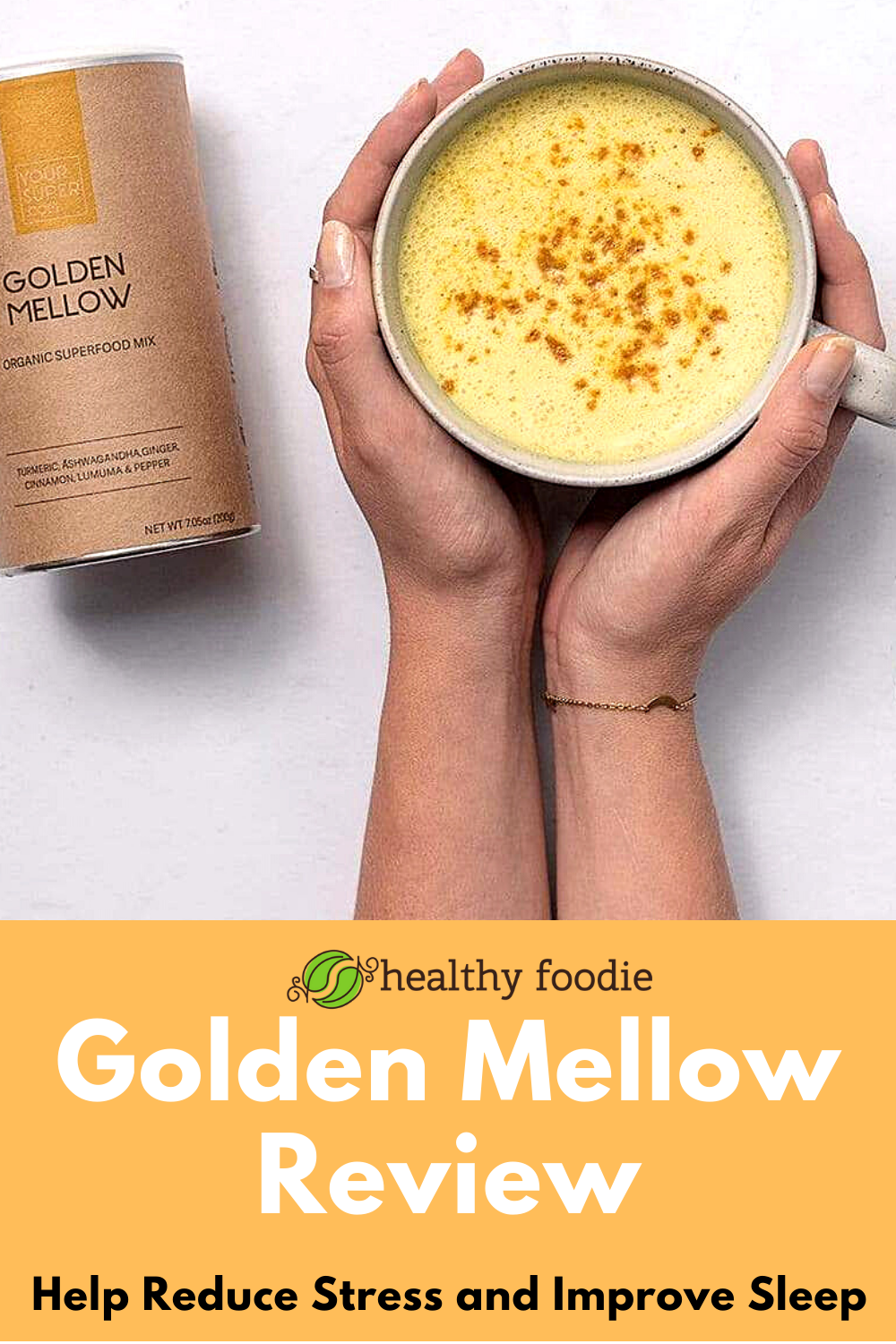 I'm so glad that Mellow Yellow Powder is still available after the name change was done. I've heard great reviews from people and I love making lattes too. Hey anything that will help me sleep at night I will try! If you want to try Golden Mellow then click here or on the photo below.  Please comment below how you like my Golden Mellow Review. I would love to hear from you.
When you use the links on this page to make a purchase I may get a small commission and you may get a great bargain. It's a win-win all around. Full disclosure. The information contained in this website is for educational and informational purposes only and is not intended as health or medical advice. Always consult a doctor.