Have you ever considered all the little things that go down your kitchen sink?  It's not exactly a healthy topic but your sink comes in contact with so many different foods, oils, and sauces. It can easily become backed up and develop an awful odor. The best way to avoid this and to save yourself from ridiculous plumbing bills, is to make sure that you equip your sink with a good quality garbage disposal. That's why I checked out some of the Best Kitchen Garbage Disposals available and did all the research for you.
As an Amazon Associate I earn from qualifying purchases. When you use the links on this page to make a purchase I may get a small commission and you may get a great bargain. It's a win-win all around. Support my page and I can continue to provide great tips, recipes, reviews and lifestyle advice. Ask me how by clicking here!
Buying Guide for Garbage Disposals
When looking for the best garbage disposal for your kitchen sink it is helpful to keep several parameters in mind. My advice is to consider exactly the volume and what kind of food and scraps make their way into your sink throughout the day. Here, I've listed just a few guidelines in terms of what to look for when buying and installing a garbage disposal:
Power – What horsepower garbage disposal should you get?
Typically, garbage disposals range from ⅓ hp to 1 hp, corresponding with the size and sound that your disposal produces. With ⅓ hp being the lowest, it is not recommended for heavy duty long term use, as they have a tendency to jam easily. A step above this is ½ horsepower which is typically the minimum recommended for regular use in a house or apartment while the ¾ horsepower is adequate for home use and organic waste. Lastly, 1 hp garbage disposals are equipped to break down small bones and more solid waste without jamming.
Style – What are the best styles of garbage disposals?
There are two different styles of kitchen garbage disposals. The first category is the more popular models known as continuous-feed models. With this style, food can be dumped in the garbage disposal while it is running. These are controlled by a switch or button apart from the physical disposal. Batch-feed models are the other style in which food scraps are placed in the disposal and closed over with a drain stopper before it is turned on. This model tends to be more expensive but is safer because of the covered drain.
Size – What is the best size garbage disposal?
The size of the disposal generally corresponds with the horsepower: the higher the power the larger the unit. Therefore, the ⅓ hp garbage disposal has limited space and can get jammed easily making it the cheapest option. As you work your way up to ½ and ¾ horsepower, there is more space and the chances of them getting jammed are considerably lower. The most accommodating of these, therefore, are ¾ hp that is best used a couple times a week as well as 1 hp which can fit the most and widest range of foods and can be used daily.
Noise – What is the best and quietest garbage disposal?
The amount of noise that your garbage disposal causes relates again to the horsepower as well as the amount of insulation promised by the manufacturer. Just as the size of the disposal corresponds with the horsepower; the noisiness of your disposal typically goes down as the horsepower goes up. Because the 1 hp is designed to grind small bones and tougher organic wastes, they are typically the best insulated types of disposals making them the quietest of the bunch.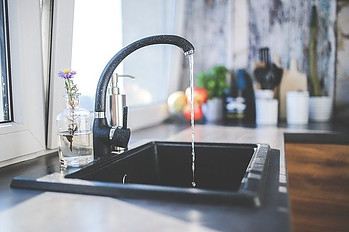 Best Kitchen Garbage Disposals for 2021
Healthy Foodie's top picks of the best kitchen garbage disposals
Ask yourself: How often do I use my garbage disposal? How much food waste do I produce? What kind of food and organic waste would I dispose of? Once you determine the type of garbage disposal your kitchen might need, you can better choose which kitchen disposal would work best for you. Based on the information within my disposal buying guide, I put together a list of a few of the Best Kitchen Garbage Disposals on the market:
I've made sure to list garbage disposals with a few different horsepowers and price ranges to satisfy a variety of needs. This includes some brands well-known for their efficiency and other great features!
---
The Moen GXS75C Host Series is a ¾ horsepower garbage disposal with a fast and powerful vortex motor that grinds tough food scraps without jamming. It is equipped with SoundSheild insulation technology to make use quieter as well as a pre-installed power cord and a design that is compact and lightweight to make the installation process easier. This continuous-feed disposal fits most drains and is safe for septic tanks.
Pros: Continuous-Feed, Sound-Shield Insulated, ¾ hp, Reduces Jamming
Cons: Doesn't Grind Tougher Waste, Drain Uncovered
Check Best Price Here on Amazon >>
---
The InSinkErator Evolution Excel is a continuous-feed garbage disposal with 1.0 horsepower, making it great for daily use and tough food scraps and bones. With Ultra-Quiet SoundSheild insulation, it is one of the quietest 3-stage multi-grind models available. This disposal is also equipped with a Quick Lock mount that is compatible with most drains making installation much easier while better grinding calls for fewer clogs and jams.
Pros: Ultra-Quiet Sound-Shield, 1 hp, 3 Stage Multi-Grind,Stainless Steel Components, Jam Assist
Cons: Drain Uncovered, Power Cord Not Included
Check Best Price Here on Amazon >>
---
The Ge Continuous Feed garbage disposer is a ⅓ horsepower unit that attaches to your drain with EZ Mount installation. The piece has fewer parts and steps than most making it quick and easy to set up. The disposer quickly hits its maximum speed to reduce clogs or jamming with a grinding speed that is fast and fine. It is also equipped with Drain Boost technology so that the water is pumped more forcefully in order to help clear the drain.
Pros: Continuous-Feed, EZ Mount Installation, Drain Boost Technology
Cons: ⅓ hp, Less Insulation
---
If you are interested in reducing kitchen waste, consider the Vitamix FoodCycler which helps reduce food waste in the kitchen. Go here for my review on the Vitamix FoodCycler. Or checkout this article on the Best Electric Indoor Composter.
All of the products that I mentioned above are some of the best kitchen garbage disposals for their particular style and horsepower. I hope that with this buying guide and list you will be able to make the best decision on which disposal system is best for your kitchen and waste needs!