Have you wondered what is Matcha and what is the best organic Matcha Tea?
Matcha is a form of green tea thats been used in China and Japan for hundreds of years.  Its leaves are made into a powder thats stronger than regular tea.  It tends to be sweeter and creamier than regular green tea.  The Matcha tea is strong in antioxidants and has been known to lower blood pressure, cholesterol and defend against cancer.  Some other benefits are helping with inflammation pain and helping to keep teeth in good shape.  Since there is a lot of caffeine, rest assured it will help you be more alert.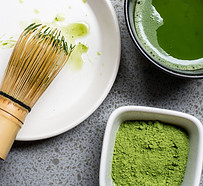 Some good uses:
Add to smoothie
Add to hot water for tea
Stir into yogurt
Sprinkle on granola or oatmeal
Conclusion
So try the best organic matcha tea from Art of Tea.  It's growing in popularity and has great benefits!  Be sure to follow the directions on preparing your Matcha so you have the perfect result.  Click here for Art of Tea products and be sure to check out the Tea 101 courses available for free.
I'm so glad you're here!
Let's Be Friends!
Get your FREE healthy lifestyle checklist. Make healthy living a habit!