Our family has been enjoying this recipe for years.  Baked to perfection with just the amount of lemon, garlic and butter is the key to this simple baked salmon recipe.  Salmon is my favorite protein to bake for the family and is healthy, easy and quick to make.
How To Make Garlic Butter Baked Salmon
This simple recipe uses a combination of butter and olive oil as well as lemons and garlic to create a delicious gluten-free baked salmon dish.
As an Amazon Associate I earn from qualifying purchases. When you use the links on this page to make a purchase I may get a small commission and you may get a great bargain. It's a win-win all around.  Support my page and I can continue to provide great tips, recipes, reviews and lifestyle advice.  Ask me how by clicking here!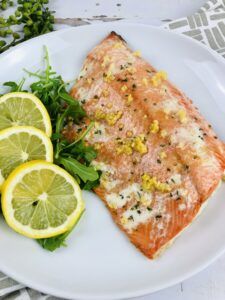 Varieties of Salmon
Alaska king salmon (also known as Chinook)
Chinook salmon
Coho salmon
Keta salmon
Pink salmon
Sockeye salmon
Where to Buy the Best Fresh Salmon?
I'm careful about where I purchase my fresh salmon from and always choose wild caught when possible.  There are many local options in my area such as Trader Joe's, WholeFoods, Vons or Sprouts.  If you prefer to have fresh salmon delivered home I've created the following home delivery list for you:
Omaha Steaks – Sourcing these incredible salmon from the Faroe Islands, a tiny archipelago between Norway and Iceland, is a uniquely gourmet pursuit. They're sustainably farmed there, in unique conditions created by the fjords that naturally mimic the salmon's bio-habitat. The result is fish with incredible flavor and color that does not take from the environment or the wild stock (they even use sustainable feed!).
Harry & David – Craving a taste of the open ocean? These phenomenal offerings from Rastelli's are perfect for those seeking coastal cuisine. Start with a quartet of Faroe Island Salmon Fillets, featuring natural layers of fat that give them a beautiful color, rich texture, and robust taste. Next up are four Chilean Sea Bass, caught off the coast of Patagonia where it's blast-frozen to seal in that just-out-of-the-ocean freshness and flavor. Finally, enjoy two pounds of wild caught jumbo shrimp, already peeled and deveined to make preparation extra easy.
Butcherbox – Wild Alaskan Sockeye Salmon.  This selection comes from Bristol Bay, Alaska.  It comes with 1 2 lb box of fillets perfect for pan fry or grilling.
Farmfoods – In this pack you will find a total of 8 filets of Sockeye Salmon for only $69. The total weight is 3-4 pounds.  All Seafood is Wild Caught by small-scale family fishermen.
Rastelli's – Meaty, full-flavored and nutrient-rich, our GMO-Free and Antibiotic-Free Faroe Islands Salmon is sustainably raised in free-flowing pens in the North Atlantic Ocean. Simply defrost, marinate or season fillets with olive oil, salt and pepper, and then bake, grill or sauté. Good tasting, good for you, and good for the planet, our Faroe Islands Salmon is your ideal go-to fish.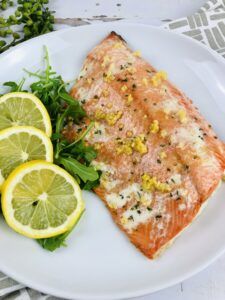 Ingredients for Simple Gluten Free Baked Salmon
Salmon Fillets
Unsalted Butter
Garlic 4-6 minced cloves
Slice of Lemon

Directions for my Simple Baked Salmon
Do you bake salmon covered or uncovered?  What is the best temperature to bake salmon?  These are questions that everybody wants to know.  So, let's find out!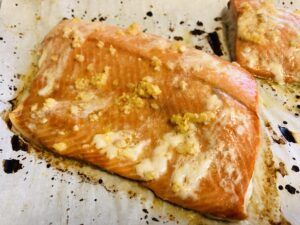 Pre-Heat Oven to 350 degrees
Wash flllets and lay on oiled baking pan (I use TJ avocado oil spray under the fillets)
Sprinkle with 4-6 garlic minced
Lay 2 butter pats on each fillet
Squeeze lemon over top
Bake at 350° for 20-25 minutes uncovered
If desired add 5 minutes of high heat broil at the end
Optional add extra lemon after baking, top with caramelized onions or grilled mushrooms
The Best Temperature for Baking Salmon
Baking salmon at 350° for 20-25 minutes works well. This allows the center to cook through but not overcook the outside. It's important to note that the thinner the piece of salmon, the higher the temperature needs to be.
How to Know When Salmon is Done Baking
You can tell when a salmon has finished baking by inserting a fork into the thickest part of the fish. The meat will feel firm and opaque.  When you take the salmon out of the oven, immediately transfer it to a plate and cover it with a sheet with foil. This helps retain the juices inside the fish.
To serve, simply remove the foil and enjoy!
Serve with salad, baked potato and my Crispy Oven Roasted Brussel Sprouts or Healthy Green Bean Mushroom Saute.  Salmon is a healthy option for many diets such as the keto diet.  Find my healthy meal plans for the keto diet and my family favorite 7 day healthy eating meal plan here.
How to Store and Reheat Baked Salmon
Store baked salmon wrapped tightly in plastic wrap in the refrigerator for up to 4 days. To reheat, place unwrapped salmon in an oven set to 350° until heated through, about 12 minutes.
What do you think? Do you have any other tips for cooking salmon? Please share them with us!
Notes for Baked Salmon
Substitute or add any of the following: pinch of salt, melted butter, Fresh dill, Teriyaki, onion powder, garlic powder, season with salt, brown sugar, squeeze of lemon juice
Serve salmon with asparagus
Click for the printable copy of my 7 day healthy eating meal plan
Kitchen Gadgets I Used and Recommend
---
---
---
Simple Baked Salmon Facts
The word "salmon" comes from the Old English sālman, meaning sea salt.  Wild salmon was first discovered in Europe during the 16th century when explorers returned from Greenland and reported seeing large numbers of salmon swimming in the waters around Iceland.  In 1753, British explorer James Cook made his famous voyage to Antarctica aboard HMS Endeavour. During this journey he encountered many varieties of Pacific salmon including sockeye, coho, chinook and pink.  Today, the largest wild salmon run occurs in the Fraser River system in Canada where approximately one million salmon return every year.  The average size of farmed salmon sold in supermarkets today is about half the size of their wild counterparts.
Bristol Bay, Alaska has been called the "Salmon Capital of the World." This area supports more than 100 different species of salmon, making it the most diverse salmon fishery in the world.  Farmed salmon can be found all over the globe. The majority of salmon consumed in the United States comes from farms. In fact, 80% of salmon produced in the U.S. is farm-raised.  Farmed salmon is usually fed pellets containing fish meal (a byproduct of fishing), soybean meal, cornmeal, wheat flour and vegetable oils.  Wild salmon feed on plankton, crustaceans, insects, mollusks and worms.  Salmon are considered a superfood because they contain omega 3 fatty acids which help reduce inflammation and improve heart health.  Salmon also contains vitamin D, selenium, iron, calcium, phosphorus, potassium, zinc, copper, manganese, niacin and protein.  Some people believe that eating salmon helps prevent cancer. However, there is no scientific evidence to support this claim.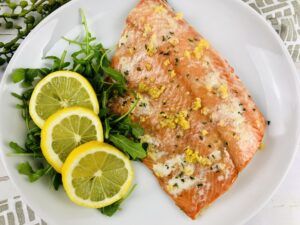 Nutrition Facts and Info
Prep Time: 10 minutes
Cook Time: 20 minutes
Total Time: 30 minutes
Makes about 2 servings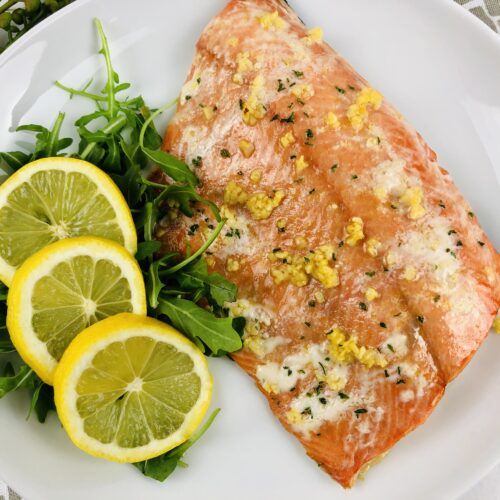 Simple Baked Salmon
Our family has been enjoying this recipe for years.  Baked to perfection with the perfect amount of lemon, garlic and butter is the key to this simple baked salmon recipe.  Salmon is my favorite protein to bake for the family and is healthy, easy and quick to make.
Equipment
Emile Henry Baking Dish

GreenPan Ceramic NonStick

Wooden Spoons
Ingredients
2

Salmon Fillets

2

pats

Unsalted Butter or Oil

sliced into pats

4

Garlic Cloves

minced

2

small

Lemons

sliced
Instructions
Pre-Heat Oven to 350 degrees

Wash flllets and lay on oiled baking pan (I use TJ avocado oil spray under the fillets)

Sprinkle with 4-6 garlic minced

Lay 2 butter pats on each fillet

Bake for 20-25 minutes uncovered

Optional: Caramelized Onions, Grilled Mushrooms,