Do you eat your greens everyday?  Most people do not consume enough greens daily so sometimes it's necessary to supplement.  I would love to tell you exactly how to supplement with greens and help you understand what is super greens powder.  
The USDA recommends 5-9 servings of fruits and vegetables daily.  And if you are still reading here then I'm so excited that you have an interest because there's an amazing powder from YourSuper that is one of my favorites. It's a powerful powder called Super Green with only 6 organic ingredients that are so healthy for you. It is a healthy prebiotic, high in fiber, vitamins and minerals superfood. This superfood powder is also high in chlorophyll and micronutrients such as vitamin A, K, C, folate, iron, calcium, and potassium.
As an Amazon Associate I earn from qualifying purchases. When you use the links on this page to make a purchase I may get a small commission and you may get a great bargain. It's a win-win all around. Support my page and I can continue to provide great tips, recipes, reviews and lifestyle advice. Ask me how by clicking here!
To learn more about Super Greens click here or read below.  Be sure to use my discount code at checkout HEALTHYFOODIE to get 15% off.  If you want to learn more about detox bundles go here.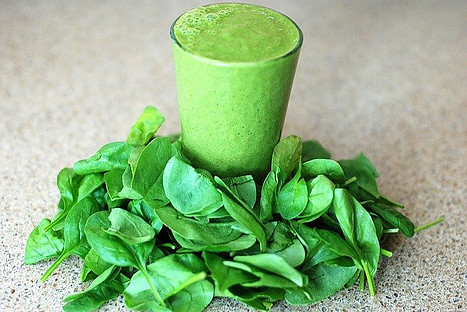 Types of Greens
There are different types of greens all with different benefits. Here's a short list of some of them:
Barley Grass-made from the leaf of the barley plant, Hordeum vulgare.  It is usually found as a juice, powder, or tablet.
Wheatgrass-made from the the young grass of the wheat plant, Triticum aestivum.  It is usually juiced or a powder.
Matcha-a high grade green tea leaf that is ground into a powder to make hot tea
Kale-a leafy green cruciferous vegetable belonging to the cabbage family,  Brassica oleracea.
Spinach-a dark leafy green belongs to the Amaranth family
Collard-a dark green fan looking leaf veggie belongs to the Brassica oleracea like that of kale
Microgreens-a tiny edible baby plant grown in a short time from the seeds of herbs and veggies
Moringa-leaves from a fairly large tree also known as the drumstick tree with the flavor like spinach
Spirulina-a non-toxic blue green algae that grows in both fresh and salt water and is referred to as cyanobacteria
Chlorella-similar to spirulina but is green and grows in fresh water
Benefits of Consuming Greens Daily
Longevity in life
Sharper memory and protects brain
Reduce risk of heart disease
Relieves stress
Prevent diseases such as cancer and diabetes
Stronger immune system
Reduce risk of obesity
Reduce risk of high blood pressure
Supports bone health
Supports optimal gut health
Makes skin glow and radiate
Reduces toxins
Helps balance sugar levels
Boost digestive enzymes
Learn more here about the 3 Best Super Greens Powders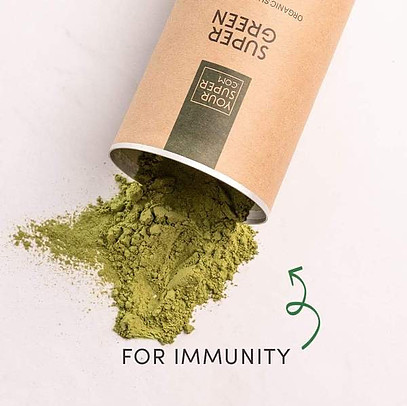 Key Values: Healthy Prebiotic, High Fiber, Certified Organic, Non-GMO, 100% Plant Based, Gluten Free, No Additives, No Glyphosate, No Sweeteners, No Stevia, No Fillers, Soy Free, Dairy Free
Price: $34.90/5.3 oz single mix or $119.00 (4) cans immunity bundle which includes recipe book
Return Policy: 30 day money back guarantee
Giving back: For every mix sold, one packet of life-saving food called a plumpy nut bar is donated to children suffering from severe malnutrition through a partnership with Action Against Hunger.  Check out my article here: Action Against Hunger.
Everyone deserves to be healthy-Learn How Here
Ingredients and Nutritional Information in Super Greens Powder
I'm especially excited about researching the 6 organic ingredients in Super Green powder from YourSuper.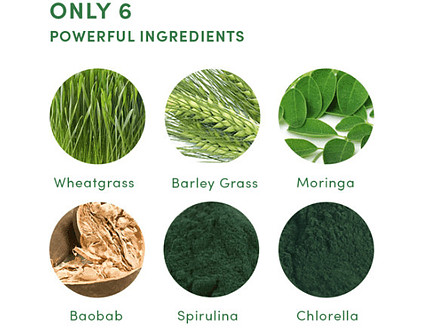 Wheatgrass (Germany)-helps with oxidative stress and boosts immunity and has vitamin A and E and powerful flavanoids and chlorophyll
Barley Grass (Germany)-a superfood containing important B vitamins and calcium, iron and magnesium
Moringa (Tanzania)-contains amino acids and all essential vitamins and minerals
Baobab (Senegal/Ghana)-high in vitamin C, fiber and antioxidants
Spirulina (Germany)-a microalgae promoting energy and strength and has the highest natural source of protein
Chlorella (Germany)-a powerful microalgae containing more chlorophyll than any other plant on earth and essential minerals such as magnesium, iron and zinc

Try my other green powder recommendation, Skinny Protein
How to use Super Greens Powder
There are some recipes and uses that work really well. It's suggested to add one teaspoon to water or smoothies. It can also be added to soups, sauces, guacamole and oatmeal. Try this smoothie recipe which is a favorite of many: 1 teaspoon Super Green powder, 2 bananas, 1/2 lemon, handful of spinach and 1 cup of water
=>>TO GET RECIPE FOR THE DAIRY-FREE BROCCOLI SOUP CLICK HERE<<=
=>>TO GET RECIPE FOR SUPERFOOD VEGGIE WRAP CLICK HERE<<=
Check out this video below of how to make the Super Green tomato pasta sauce
Here's what people are saying about Super Greens
"I love adding Super Greens to my daily smoothie! It's so great having 6 amazing superfoods in one convenient package" Lori
"I'm 18, workout daily and have a protein shake daily. I recently started adding my moms Super Greens to my protein shakes. I like it because I definitely don't eat enough greens and Super Greens helps me meet the nutritional requirements I'm looking for. I like it so much I ordered some for myself!" Joe
"I typically only add spinach to my smoothies but with Super Greens I'm adding amazing ingredients I wouldn't normally buy individually. This makes it so convenient plus it's affordable. This is definitely a win-win for me!" Lori
"I love the Super Green. I add to water for extra nutrients, as well as protein shakes. I recently added it to my pesto sauce and it was great." Kim
"My favorite is Super Greens, Forever Beautiful, blueberries, mangos, strawberries, walnuts, banana, and flax milk – YUM!!!!" Jenny
"I am a big fan of the super green mix! It's the first green mix I've ever tried that tastes good, is so smooth and is made from the purest ingredients! I drink it everyday in my smoothie and I have also experienced such a gain in energy!" Lynsey

I hope you've learned more about what is Super Greens powder from YourSuper. For your best health I recommend Super Greens daily to help boost the immune system along with all the other amazing health benefits. To order Super Greens click here and use code HEALTHYFOODIE to get 15% off. I've used alot of the powders from YourSuper and my favorite so far is Plant Collagen. It just smells and looks so yummy. I add it to my coffee in the morning. Please let me know if you have any questions about the healthy powders here and leave a comment below with your experience.
I'm so glad you're here!
Let's Be Friends!
Get your FREE healthy lifestyle checklist. Make healthy living a habit!