Let's face it, as great as grocery stores can be, there are times when they just don't have what we're looking for. In some cases, this may mean that they don't have the cut or type of meat that you need for that special meal or recipe you've been dying to try. That is why I wanted to help you find the Best Meat Clubs For Home Delivery, to make sure you are getting the best quality meat for a healthy lifestyle.
In addition, wine, cheese, dessert, there's a club for everyone and they make great gifts for your food loving friends.
What is the Best Meat Subscription Service?
Meat subscription services allow you to order specific cuts and types of meat online and have it shipped directly to your door. Generally, these options are carefully produced and packaged to give you the best value for your money. While some of these meat clubs specialize in cured meats (those typically found on a charcuterie board), others focus particularly on larger cuts of steak, pork, fish, etc.. No matter what types of meat you are looking for, however, these services generally supply their customers with high-quality, grass-fed or free-range meats with no antibiotics or hormones.
The best meat subscription service really comes down to you and your specific needs. While companies like ButcherBox and Rastelli's offer mainly grass-fed varieties, Crowd Cow and Omaha Steaks offer more restaurant-style cuts. The best club for cured meat, on the other hand would be services like Carnivore Club or igourmet. There are such a wide variety of options when it comes to meat subscription services that picking the best one truly depends on your particular tastes!
What is Better Than ButcherBox?
In the world of meat club subscription boxes there is much cause for debate on which ones provide the best deals? One company that often comes up in such a conversation is ButcherBox. This particular meat subscription service promises high-quality, free-range, grass-fed, and organic meat of your choosing. Whether that be chicken, beef, pork, or seafood, ButcherBox sources their meats from high-quality partners and delivers in eco-friendly, insulated boxes right to your door. You can choose between a variety of premade boxes or you can create your own combination in order to make sure that it fits your specific needs. Some of ButcherBox's main competition are meat delivery services like Omaha Steaks and Crowd Cow.
Omaha Steaks is very similar to ButcherBox, however, their meat is typically not grass-fed; though it is hand-picked, aged, and trimmed. They also have more of a meal plan as opposed to ButcherBox who just delivers meat. Omaha Steaks has a large variety of options that are categorized clearly on their website to fit you with exactly what you're looking for. As far as Crowd Cow is concerned, this meat subscription box allows you to build your own custom box. Crowd Cow lets you to choose the specific type and cut of meat you want as well as the farm that you'd like it to come from. The main difference between Crowd Cow and ButcherBox is the fact that Crowd Cow is focused on the high-quality farms that their meat comes from while ButcherBox focuses more on the fact that their high-quality meat is grass-fed. Therefore, in choosing between these options for your subscription box, it is really just a matter of what you prefer.
Best Meat Clubs For Home Delivery
Because it would be difficult to try all of the meat subscriptions clubs out there, I put together a list of some of the top meat clubs for home delivery! My hope is that my top picks help you make a more informed decision on which service would work best for you.  Always be prepared to make your next charcuterie board or charcuterie cups by belonging to a meat subscription club.
Each of these meat clubs was carefully selected because of their high-quality goods and services. Though many of them are similar in what they offer, every company has their own unique options that make them stand out successfully in their field.
---
1. igourmet
My favorite high quality selections come from igourmet.  They have a subscription club for meat and cheese specializing in charcuterie.  They even have olive oil and pasta of the month club.  Choose from expertly-curated specialty food subscriptions delivered to your front door each month with a 3, 6, or 12 month plan.  A subscription makes a wonderful gift for any foodie. With a new shipment delivered each month – you'll get credit for creating an abundance of memorable food moments.  The world of charcuterie meat club encompasses ham, salami and other cured sausages and pate. The Charcuterie subscription features the finest gourmet products the world has to offer.  I choose this club as my #1 choice.
Pros: 3 different box options, offers cured meats (for charcuterie boards), shipping included, free newsletter
Cons: Can't customize box
Check Best Price Here >>
---
The Carnivore Club offers new artisan, cured meats to their subscribers every month. When you join this meat club you are given the choice between the classic box (with 4-6 varieties of cured meats like salami, prosciutto, etc.) or the snack box (contains 4-6 snacks like jerky, meat sticks, etc.). After you choose which box works best for you, you can also determine the consistency of the boxes as they come to your door.
Pros: 2 different box options, offers cured meats (for charcuterie boards), determine shipment frequency
Cons: Can't customize box, does not offer large cuts of meat, paid shipping
Check Best Price Here >>
---
3. ButcherBox
As I mentioned before, ButcherBox is a meat delivery service that is dedicated to supplying subscribers with high-quality, grass-fed, and free-range organic meats such as beef, chicken, pork and seafood. With a ButcherBox subscription, you have the choice between a custom box or your own creation, a mixed box, a beef and chicken box, a beef and pork box, and an all beef box. Each offer includes 8.5 to 11 lbs of meat and can be purchased at a set rate per meal or per month allowing you to cancel at any time.
Pros: Grass-fed, free-range organic meats, customizable boxes, free-shipping, no antibiotics
Cons: No cured meats, doesn't specify where exactly the meats come from, costs more to customize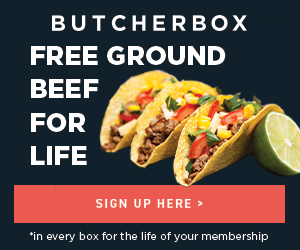 Check Best Price Here >>
---
4. Omaha Steaks

Omaha Steaks offers a wide variety of restaurant-style meats and sides, a range of value assortments delivered directly to your door. This meat delivery service allows you to either pick your favorite cut of steak, chicken, pork, and seafood, or lets you choose an entree or package centered around whatever meat you choose. They also offer more uncommon meat varieties such as lamb, veal, and bison as well as some charcuterie options.
Pros: Offers full meals, customizable boxes, offers recipes wide variety of options (including charcuterie)
Cons: No monthly subscriptions, not all grass-fed
Check Best Price Here >>
---
5. Mr. Steak

Mr. Steak is focused solely on producing the highest-quality, steakhouse meats around. They are locally sources, pasture-raised and carefully aged and divided into two separate categories: the Mr. Steak curated boxes and the build your own box. Of the curated boxes there are four choices, each with a different combination of meats. Mr. Steak also offers Mr. Steak's 10 Commandments, recipes, and techniques to help you make the most of your cuts of meat.
Pros:Several different box options, Mr. Steak's 10 commandments, free shipping (over certain price)
Cons: Only steaks (no other types of meat), no monthly subscriptions
---
6. Rastellis

Rastelli's delivers sustainably sourced and eco-friendly packaged varieties of meat that is carefully aged and trimmed to guarantee high-quality cuts and great flavor. If you choose Rastelli's you can decide between a wide range of cuts from steak, pork, chicken, lamb, and seafood as well as a couple plant-based options.
Pros: Wide variety of options, customizable, free shipping (over certain price)
Cons: No monthly subscription, not all grass-fed
Check Best Price Here >>
---
7. Porter Road
Porter Road meats are sourced from pastures, aged and hand-cut to ensure a high-quality of meat. They offer a selection of curated boxes that can be delivered every 2 to 8 weeks based off of your request. Porter Road guarantees that their meats are pasture-raised with no hormones or antibiotics and gives customers a choice between beef, pork, lamb and chicken varieties as well as sides/add ons and tips and tricks.
Pros: You choose subscription frequency, pasture-raised meats, free shipping (over certain price)
Cons: No seafood options, not all grass-fed
Check Best Price Here >>
---
8. Crowd Cow

Crowd Cow is dedicated to supplying their subscribers with cuts of meat from high quality farms! When you are building your box you can choose between a wide range of meats from high quality farms of your choice. Crowd Cow offers selections of beef, chicken, pork, wagyu, and seafood as well as allowing you to choose what goes in every box and the freedom to change your delivery date whenever you'd like.
Pros: Wide variety of meats (including wagyu), customizable, you choose your subscription frequency
Cons: Not all grass-fed options, no cured meats, does not ship to AK or HI, paid shipping
Check Best Price Here >>
---
Snake River specializes in American Wagyu beef and Kurobuta Pork as they offer curated boxes that feature all beef, beef and pork, and a dry-aged box. There subscriptions vary in frequency per your choosing and can be every month for 3, 6, or 12 months or every 3 months for 6 or 12 months. The beef is grass-fed but may receive antibiotics to treat illness or infection while their Double R Ranch Beef are grass and hay fed.
Pros: Dry and wet aged, choose the frequency of your subscription, grass-fed
Cons: May receive antibiotics, not a wide variety of meats
Check Best Price Here >>
---
Farm Foods Market ships grass-fed and grass finished cuts of meat that is humanely raised and market priced to your door. Their chicken and pork is pasture-raised and their seafood is wild caught to ensure the highest quality. Their orders are shipped frozen for freshness and they offer a money back guarantee in case of delay or spoil.
Pros: Free shipping (over certain price), grass-fed, pasture-raised, market priced
Cons: No monthly subscription, no cured meats
Check Best Price Here >>
---
In all of these cases, you are guaranteed high quality meats and services for a range of prices. I hope this list of the Best Meat Clubs gives you all of the information to help you make the best decision for which meat of the month club or delivery subscription service works best for you!  I've also included non-subscription options for your review.
I'm sharing my video here of the best cheese knives so you can incorporate these knives on your next charcuterie board: