I love all these interesting looking knives for serving cheese. I know they can help get the job done efficiently. It is very helpful to have the proper tools that make cutting and serving cheese much easier. Learning about the different types of best cheese knives can help to make your charcuterie boards look better too!
As an Amazon Associate I earn from qualifying purchases. When you use the links on this page to make a purchase I may get a small commission and you may get a great bargain. It's a win-win all around.
Why Are Cheese Knives Different Shapes?
Because of the various types and consistencies cheese comes in, cheese knives also come in a wide variety of shapes and sizes. Especially when it comes to cutting cheeses on charcuterie boards, each knife should only be used with one type of cheese on the platter. For these reasons, different kinds of cheese knives are specially crafted to be used efficiently.
Some of the more common types of cheese knives are:
Soft Cheese Knife – This is the type of cheese knife that is thin and often has little holes cut out of the blade. These knives are specially designed for soft cheeses because their thin shape and holes help to keep soft cheeses from getting stuck on the blade. Soft cheese knives are great for brie, camembert and other types with a similar consistency.
Pronged Cheese Knife – Also good for cutting soft cheeses, these knives generally have a forked tip. The shape of a pronged knife is thin and sharp which helps to slices through soft cheese without sticking. The forked tip also helps with picking up and serving the slices. These knives are also good for brie and additionally for cutting parmesan.
Cheese Spreader – This type of knife is shaped for just that, spreading soft cheeses. The shape is flat and round, similar to a butter knife, and is perfect for spreading goat cheese, some brie, and other sorts of creamier cheeses.
Chisel or Flat Knife – Perfect for semi-soft and slightly harder cheeses, like provolone, swiss, or asiago, a chisel knife is a wide, flat blade that cuts by pressing down vertically into the cheese to create thinner slices.
Narrow Plane Knife – Similar in function with the chisel knife, a narrow plane knife works for a wide range of cheeses (semi-soft to firm). Because it maintains a sharp blade on every side, it is perfect for cutting slices of pepper jack, gouda, and cheddar cheese.
Cheddar or Cleaver Knife – This knife has a wide blade and is looks like the smaller version of a cleaver. Because of its shape, it is best for slicing through firmer cheese varieties, specifically cheddar as well as pepper jack and Colby.
Parm Knife – A parmesan knife is almond shaped with a sharp blade designed to break off pieces of parmesan and other dry, hard cheeses. The sharp tip of the blade makes it very effective for chipping away at these types of cheese blocks.
Although these are the most commonly used cheese knives, there are a couple other tools that can be used for cheese and charcuterie boards! A cheese fork, for example, is a two-pronged tool that is perfect for breaking and picking up chunks of aged cheese like feta and parmesan. A cheese plane is another popular tool for slicing semi-soft and semi-firm cheeses like Havarti or Muenster into very thin slices. A variety of knife sets can be purchased here from Bed Bath and Beyond.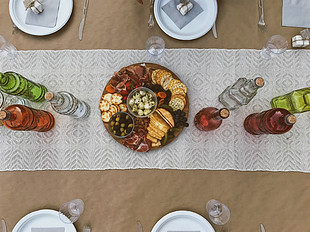 How Do You Properly Cut Cheese?
It is just as important to know how to cut different types of cheeses as it is to have the right cheese knives. Especially when it comes to slicing cheeses for use on a charcuterie board, it is good to cut cheese as last minute as possible to prevent them from getting dried out or sticking together. When slicing into wheels or rounds of cheese, it is best to cut out wedges similarly to cutting a pie. For softer cheese wedges, like brie or camembert it is best to cut even slices from the tip to the outer edge.
Wedges of hard cheese should be sliced along the width of the wedge. For firm cheese blocks too, the best method is to cut the block horizontally and then to cut vertically along the width edge to get even slices. For cheese logs, simply make slices down the length of the cheese creating circular discs.
7 Best Cheese Knives for 2023
Healthy Foodie's Top Picks of the 7 Best Cheese Knives for 2023
I found some of the top reviewed cheese knife sets online for 2023! These are perfect for anyone looking to make a charcuterie/cheese board or simply looking to cook with cheese more effectively.
All of these sets are great quality, designed specifically to make serving cheese easier and more efficient!
This cheese knife set comes with 7 premium cheese blades, including: a parmesan (or spade) knife, a pronged knife (or spear), a soft cheese spreader, and four other spreaders in various colors. The blades are all made of stainless steel with acrylic or pakkawood handles. According to the manufacturer, they are dishwasher safe (although hand washing is recommended for the wood set).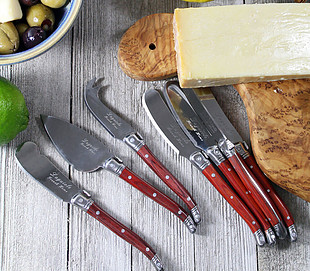 Pros: Weighted handles, durable stainless steel, comes with wood tray
Cons: Limited variety of knives
Check Best Price Here >>
---
Including a soft cheese cutter, a cheese plane, and a cheese cleaver, this three piece knife set is made of brushed stainless steel with hollow handles. This set contains knives for the different varieties of cheese (soft to hard) and is great for, not only cutting, but serving cheese as well. Hand washing these blades is recommended to keep them sharp and free of rust.
Pros: Stainless steel, includes knives for variety of cheese
Cons: Not dishwasher safe, limited variety of knives
---
This knife set not only comes with a stainless steel narrow plane knife, chisel knife, parm knife, and cheese fork, but it all comes in a three drawer bamboo charcuterie board. The drawers pull out to reveal the knives, sampler forks, a wine opener, slate labels and a marker. This set also comes with ceramic sauce bowls and a round fruit platter as well as a set-up guide to bring it all together.
Pros: Features 3-drawer cheese board with great add ons, variety of knives
Cons: May stain, board is slightly rough
---
The MH Zone complete knife set comes with 6 brushed stainless steel knives. This includes a pronged knife, a narrow plane knife, a parm (or heart) knife, a cheese fork (or serving knife), a chisel knife, and a spreader knife. The set comes in a black box and with a guide explaining the functions of each blade.
Pros: Wide variety of knives, storage box
Cons: Not dishwasher safe, knives are small
Check Best Price Here >>
---
The four pieces of this set include a spreading knife, a parm knife (or heart knife), a thin/narrow plane knife, and a cheese fork. All four of these blades are stainless steel and come on a magnetic, wood knife block for easy storage and great for charcuterie boards.
Pros: Features magnetic knife block, stainless steel
Cons: Not dishwasher safe, small knives
---
The last knife set comes with a cheese fork, a chisel knife, a narrow plane knife, a parm knife, and a spreader.
In addition to these sharp stainless steel blades, this set also comes with a cheese grater that can also be used for zesting lemons, chocolate, fruits and vegetables. The handles are orange and designed to look like cheese themselves making them a fun addition to a charcuterie display.
Pros: Variety of knives, comes with grater/zester
Cons: Small knives, plastic handles
Check Best Price Here >>
---
The 3 Blind Mice cheese knife set by Kikkerland is a fun and adorable three piece knife set that comes with a narrow-plane knife, a parm knife, and a cheese fork. These stainless steel knives with wooden mouse shaped handles are great for decorating charcuterie boards and work on a several different types of cheeses. Each of the mice have leather folded ears and sharp blades for accurate and easy cutting.
Pros: Cute, mice handles perfect for decoration
Cons: Small, limited variety of knives, sensitive ears
Check Best Price Here on Amazon >>
---
I hope this review can help you decide which cheese knife is best for you. My list of the Best Cheese Knives for 2023 is a list of the most economical knives available with the best quality.
Oh, I love this mousetrap cutting and serving board. It's so cute!! Check out my list of the best charcuterie boards here. I may consider adding this mousetrap one!!