I know your wondering what is magic mushroom and how can it improve your health? It's actually an amazing organic superfood powder with 6 powerful ingredients that can improve your health. I would describe it as a delightful tasty version of hot chocolate without the sugar. I tried mine with warm almond milk and 1 teaspoon of the powder. The healthful benefits are plentiful and include improve stress level, enhance mood and support immune system.
Click here to improve your health.  Be sure to use my discount code HEALTHY FOODIE at checkout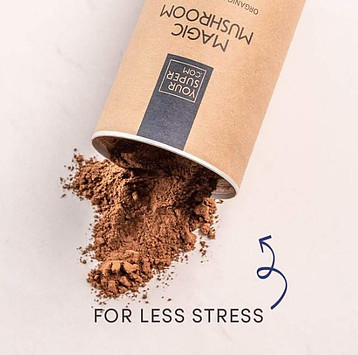 Magic Mushroom is distributed by YourSuper. YourSuper.com was started by a dynamic couple that has saturated the online market with healthy powders delivered directly to your front door. Michael and Kristel have spent countless hours and traveled the world to bring the most natural solutions to everyday health related issues. No more harmful drugs! I'm very intrigued by the places they have traveled to find the highest quality organic farms with the best farming practices. Magic Mushroom ingredients come from India, China, and Peru and are all organic.
Product: Magic Mushroom Organic Superfood Mix
Key Values: Certified Organic, Non-GMO, 100% Plant Based, Gluten Free, No Additives, No Glyphosate, No Sweeteners, No Stevia, No Fillers, Soy Free, Dairy Free
Price: $29.99/5.3 oz single mix or $129.90/5.3.oz (3) cans bundle which includes stainless steel bottle and ebook with 20 recipes
Return Policy: 30 day money back guarantee
Shipping is FREE on orders over $75
Product Overview for Magic Mushroom
I'm just 100% thrilled about this superfood powder. I was nervous about the fact that it's made with mushrooms and I thought it would taste like mushroom. Surprisingly it doesn't taste like mushrooms at all. It has a slight chocolate flavor resembling hot chocolate without the sugar. Do not think that you will have a comparison to hot chocolate. Remember there is no sugar. After I started drinking it in some almond milk I felt better and felt a sense of calmness. I also recommend that you warm before consuming and please let me know how you feel when you try it. There are some options for preparing the superfood mixes for your enjoyment. You can shake it into a shaker bottle with plant based milk or water. You can mix it into coffee, yogurt or oats. Or blend it into a smoothie bowl. And lastly you can sprinkle on toast, salad or in pasta.  Be sure to mix thoroughly to avoid any lumps of powder.  Enjoy!
Improve your Health with Magic Mushroom
Check out this video here for how to enjoy as a latte! So yummy!
Ingredients and Nutritional Information for Magic Mushroom
Magic Mushroom has 6 powerful ingredients and NO sugar. All organic, soy and gluten free. The superfood powder has 16 calories per 1 teaspoon. For storing your superfood powder always close lid tightly and keep in a cool dry place. When stored properly the mixes have a shelf life of 6 months to 2 years.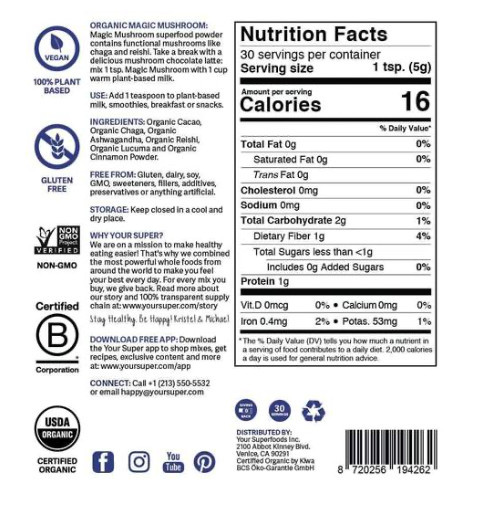 Health Benefits of Magic Mushroom
Cacao helps boost mood and reduce cravings as well as has more antioxidants than blueberries and dark chocolate.
Chaga Mushrooms are a functional fungus with strong antioxidants that can reduce stress, support the immune system and improve overall health.
Ashwagandha is an adaptogenic herb that can help improve the quality of sleep as well as reduce stress and anxiety.  It also helps to balance hormones and adrenals.
Reishi Mushrooms are known as the "Queen of Mushrooms" and helps enhance mood by balancing your body and mind.
Lucuma has a maple flavor and can help reduce inflammation, boost the immune system and lower blood pressure.
Cinnamon is a common spice found in many homes that is rich in antioxidants and is a natural anti inflammatory.
Subscription Available for YourSuper Superfood Powders
This is a great option for people that have the most busiest lifestyles. Make life simple and have the product shipped automatically every 30 days. The great news is the savings….always get 20% off and get 30% off on your 1st order using code SUB30. You also earn double rewards points and exclusive recipe ebooks.
Be aware of these restrictions: you can only cancel after 3 orders and not available to use with one time discount codes.
Other benefits include:
Skip order anytime
Customize each order
Receive early access to new products
Ships every 30 days
Ways to Use Magic Mushroom
Try using Magic Mushroom added to your everyday recipes.  Here 's my recipe for healthy lettuce wraps.
Rewards Program Available for YourSuper Superfood Powders
Be sure to sign up for the rewards program. If you refer a friend, you get 300 points which equals 1 referral point. When you create an account you get 150 points. And when you make a purchase you get 3 points per $1 spent. It's a win win. Points are redeemable for product vouchers or subscription discounts. Look for more details on the yoursuper website.
There are a wide variety of superfood powders available each for a different health benefit. Check out my article here on the superfood powder Moon Balance.
Here are some other superfood mixes and how they can help you
Forever Beautiful mix – For healthy skin
Chocolate Lover mix – For a good mood
Power Matcha mix – For focus
Energy Bomb mix – For long-lasting energy
Muscle Power mix – For energy & plant protein
Skinny Protein mix – For healthy weight
Super Green mix – For immunity
Moon Balance – For hormone support
I hope you understand now what is magic mushroom and you can try it soon! There are always deals going on at YourSuper or use this code HEALTHYFOODIE to get 15% off.
They have some accessories and items available for purchase like tshirts, mugs, bottles, eating course plan, recipe book and even a kids bundle. The kids bundle comes with a kids recipe ebook and 3 superfood mixes chosen especially for kids. Check out this cute mug they have now too.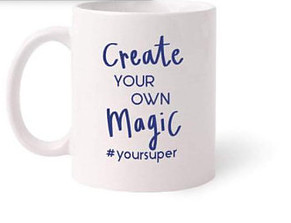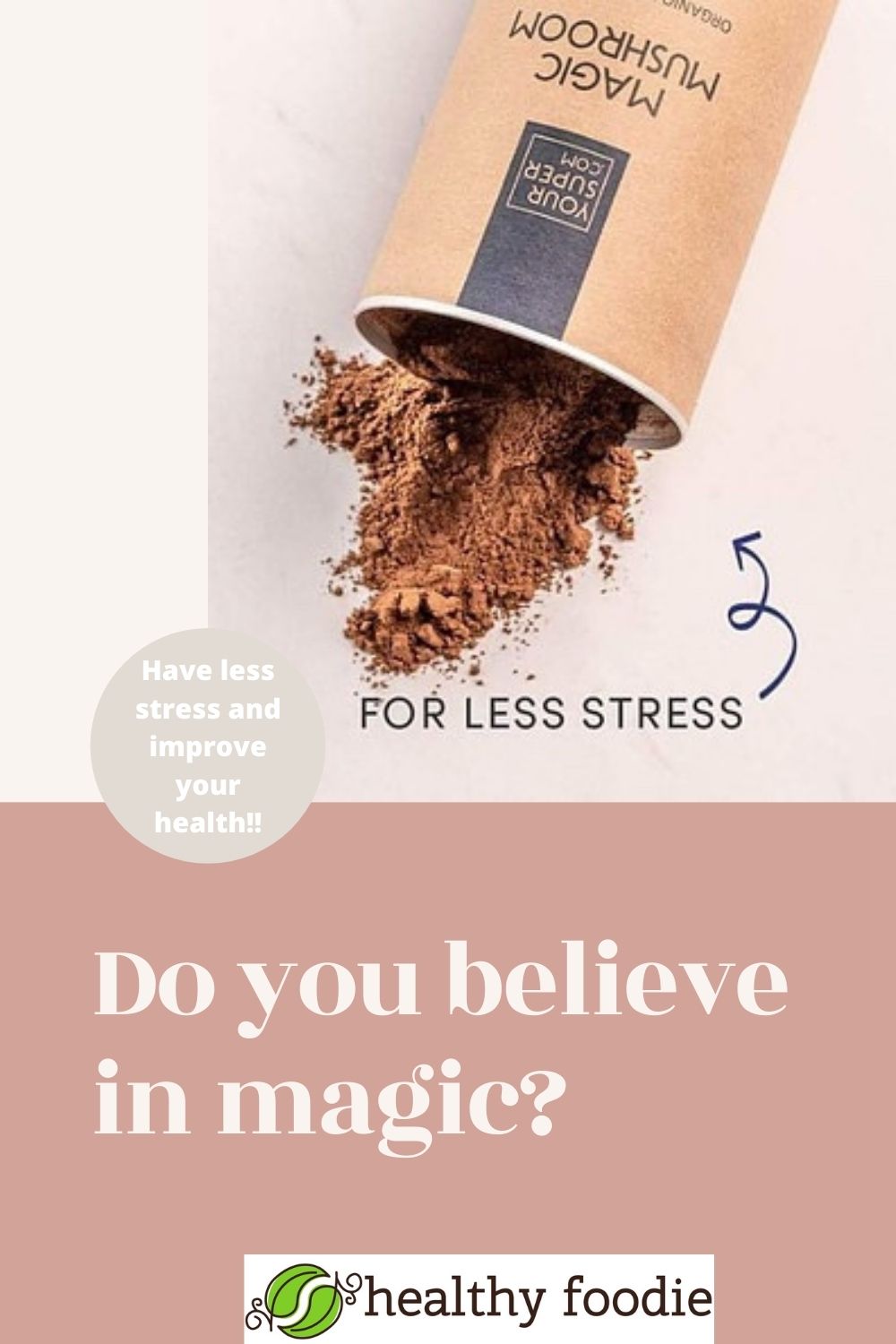 Speaking of mushrooms, try this easy vegan mushroom barley soup:
When you use the links on this page to make a purchase I may get a small commission and you may get a great bargain. It's a win-win all around. Full disclosure. The information contained in this website is for educational and informational purposes only and is not intended as health or medical advice. Always consult a doctor.