I love this inspiring message You Are Never Too Old To Be Young! So much that I did some research and found Plant Collagen by YourSuper. This quote really has made an impact on me and helped me to live a healthier lifestyle. Collagen is naturally made in the body. It gives skin a youthful glow but as we get older collagen decreases due to stress, environment and aging. It's in our bones, ligaments, muscles, tendons, organs, skin, intestinal lining and more. It is also a plentiful protein in the body that makes up more than any other protein in the body.
Check Latest Price on Plant Collagen >>
The name collagen comes from the greek (kolla) meaning glue and (gen) meaning producing. There are many scientific studies done and different types of collagen that have been identified. You can read more and find many scientific facts here about collagen. The medical uses are: cardiac applications, cosmetic surgery, bone grafts, tissue regeneration, wound healing and reconstructive surgical uses. But Plant Collagen the one that I'm talking about is different.  Please read on….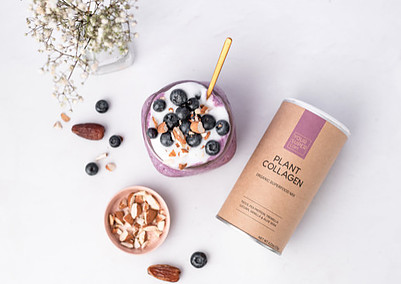 Product Overview
Plant Collagen is an organic superfood mix that supports and boosts skin health with 6 organic ingredients from around the world. But how does Plant Collagen work?  It protects natural collagen inside your body, replenishes skin and improves skin texture and elasticity. It does not contain any collagen and is 100% plant based. It tastes best when combined with coffee and has a dominate vanilla smell. I've been using it for one month now and I feel so good. My skin is clear and looks more vibrant. Plant Collagen is great for anyone and can be used anytime throughout the day due to its mild flavor.  It has also been reported by some users that it can minimize fine lines and wrinkles while hydrating the skin.
You Are Never Too Old To Be Young
What does this mean to you? I'm reminded of this message daily as I struggle with an aging body. I glance at the message written on the pretty purple sticker sent to me by yoursuper. It's a great reminder that there is always something we can be doing to improve our health naturally. I recommend daily exercise, a healthy diet, organic supplements and good sleep. All of these have a direct impact on the health and texture of skin. As young as 20, our bodies have already slowed down the production of collagen and we can start helping to support collagen now.
=>>Improve your skin from within try Plant Collagen<<=
=>>Boost your natural collagen<<=
Check Latest Price on Plant Collagen >>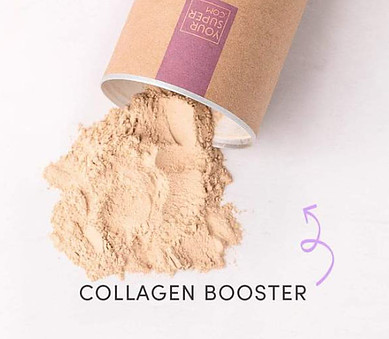 Product: Plant Collagen Organic Superfood Mix
Key Values: Certified Organic, Non-GMO, 100% Plant Based, Gluten Free, No Additives, No Glyphosate, No Sweeteners, No Stevia, No Fillers, Soy Free, Dairy Free
Price: $34.90/5.3 oz single mix or $109.90 (3) plant mixes bundle which includes recipe e-book and Plant Collagen mug
Return Policy: 30 day money back guarantee
A subscription option is available that allows members 20% off everything at anytime.  Check out my article here on the best healthy subscription boxes.  The other great benefits of the subscription are:
Earn double reward points
Customize every order
Skip orders anytime
Receive a delivery every 30 days
Cancel anytime after 3 orders
You are never out of yoursuper powders
Shipping details: Free on orders over $75 Standard Shipping (3-5 business days) $4.90 on orders under $75
Connect with other yoursuper users on the Your Super Facebook group. There are over 50K members using the page to ask questions, be inspired and share success stories. They all have the same focus to improve health!
Be rest assured though that you can always contact customer support 7 days per week at yoursuper for help with orders or questions at (213) 550-5532 or happy@yoursuper.com
Giving back is one important task for yoursuper so every mix ordered they match with one lifesaving Plumpy Nut food bar to feed those in need (1:1). I wrote an article about the charity Action Against Hunger that is saving lives and supported by yoursuper. You can read that article by clicking here. I have also started a fundraiser for Action Against Hunger that you can access here to learn more.  Yoursuper has donated over 380,000 Plumpy Nut bars to help feed those in need and undernourished.
=>>EVERYONE DESERVES TO BE HEALTHY AND HAPPY<<=
Only 6 powerful organic ingredients from around the world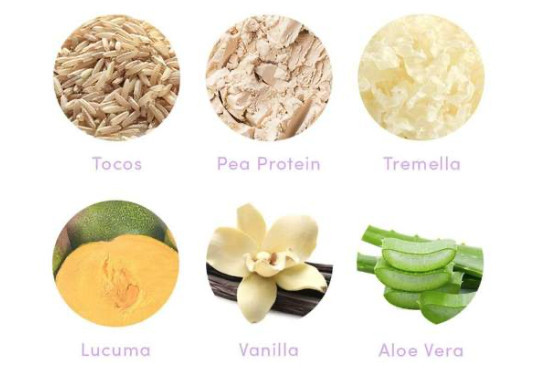 Tocos-this ingredient helps to protect natural collagen and comes from Thailand. It prevents signs of aging with skin supporting antioxidants and essential amino acids. It also helps support hydration.
Pea Protein-this popular ingredient is from Belgium and contains all 9 amino acids including glycine and hydroxyproline. It supports the body with the organic ability to produce natural collagen.
Tremella-an antioxidant mushroom product from China that increases the body level of hyaluronic acid helping to keep skin hydrated, support cell regeneration and improve skin texture.
Lucuma-it looks like a mango fruit and is a superfood from Peru packed with essential vitamins and minerals including beta carotene to support skin health. It's also known as the Gold of the Incas.
Vanilla-real organic vanilla powder from Madagascar with rich vitamins and minerals offering many healthy skin benefits.
Aloe Vera-from a volcanic island in China this deep green succulent is full of beauty benefits. It can clean the gut, supports digestion and regenerates the skin. It has rich antioxidant, amino acid and antibacterial benefits.
What are amino acids? I talk alot about amino acids so I thought it would be important to give a good definition. According to healthline, amino acids are organic compounds composed of nitrogen, carbon, hydrogen and oxygen, along with a variable side chain group. Your body needs 20 different amino acids to grow and function properly. Though all 20 of these are important for your health, only nine amino acids are classified as essential. Amino acids, often referred to as the building blocks of proteins, are compounds that play many critical roles in your body.
Ingredients and Nutritional Information on Plant Collagen
There are 21 calories per 2 teaspoon serving size. There are generous amounts of vitamin B in this product: B6 12%, B1 11% and B3 4% daily value.
It is recommended to store in a cool dry place.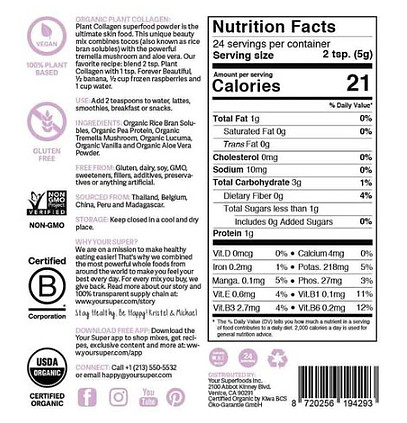 How to use Plant Collagen
It's so easy to use Plant Collagen by yoursuper. Mix 2 teaspoons into any of your breakfast favorites like oatmeal, coffee or a smoothie. I mix into my coffee daily. There are many recipes available by download when you purchase Plant Collagen.  I have my recipe download and its easy to use and the recipes are amazing.
Check out my video here!!
Related content:

I'm so thrilled to share this amazing organic superfood Plant Collagen powder with you and I hope that you understand how does collagen powder work. I've been using it for about one month now on a daily basis. I only use 1 teaspoon and I've seen improvements already. I like the flavor, the smell and the results have been beyond expectation.  I highly recommend Plant Collagen and the amazing powders that they have created just for us.  Please give Plant Collagen by yoursuper a try and let me know what you think in the comments below.  If you have a pre-existing health condition, be sure to consult your doctor.
Shop the Deal of the Day at Harry & David!