It's always fun to learn something new! So I recently started researching how to indoor garden. My interest sparked during the quarantine of staying home and wanting more greenery inside my home. There are other important reasons for example, apartment living or extreme seasonal weather. I chose to grow a mini fruit and veggie garden from Urban Leaf which came with great directions for getting started and how to have a healthy indoor garden.

I actually have both an outdoor and indoor garden so I can't wait to see what I enjoy better. My outdoor garden which you can read more about here, is doing fabulous! We have grown many different sized tomatoes, zucchini and basil. I love going out to harvest and support the farm to table concept on a mini scale.
USE THIS DISCOUNT CODE SHOP20 AT CHECKOUT FROM URBAN LEAF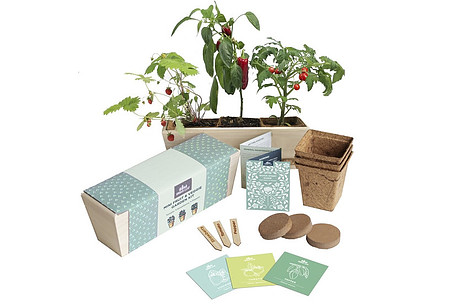 Benefits of an Indoor Garden
What is the benefits of gardening? I think there are many benefits to having an indoor garden just like I learned from my outdoor garden. In my opinion, the outdoor garden is more difficult to manage due to bugs and pests that want to eat at the leaves and produce. Although indoors most likely you will have a much smaller scaled variety and size of produce. So there are benefits to both the indoor and outdoor food garden. I would recommend starting both and then you will know! I've listed some benefits below.
Air quality will improve-since plants take in carbon dioxide and produce oxygen they will help improve the air quality and potentially help with air filtration
Year round harvesting-it's so convenient to have the indoor garden available year round for mini produce and herbs to help save money and trips to the grocery store
Organic healthy produce-it's very satisfying to know exactly where your produce and herbs come from and that they have been grown organically without any pesticides
Mental health will improve-I would say its very therapeutic to have plants in the home to help improve the home environment, to help feel the need to take care of them and watching them grow is great for mental health
According to a study that you can read about here, gardening is beneficial to the health and well being of people with health and social needs. I'm glad that there are therapeutic options for people that choose to stay indoors or work from home. Or for just about anybody that chooses to have a garden.
Looking for a great solution to composter kitchen scraps? Check out the Vitamix Foodcycler here.
Tips to Growing an Indoor Garden from Seeds
Each fruit or veggie has its own needs for planting, water and germination. For example, its recommended to soak pepper and tomato seeds for 12-24 hours in water before planting. This speeds up the germination process. See my seeds from Urban Leaf soaking in the water in the below photo. After just 20 hours the little sprouts started to peek out with my tomato seeds. I will document which seeds start to sprout first and do a review on the entire process in a few weeks.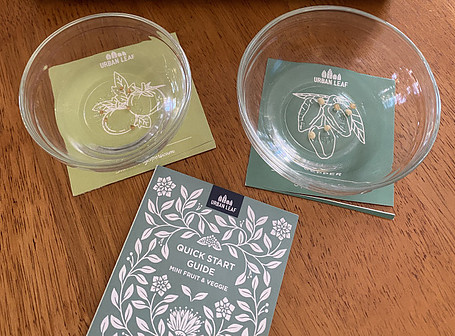 Quality soil-this is so important to be sure the plants are getting enough nutrients especially for an indoor garden, I talk about soil options here below, so you can choose store bought soil or make it yourself
Direct sunlight-for indoor food gardens it's so important to have at least 5+ hours of unobstructed direct sunlight, it took me a couple days to find the best spot with the most direct sunlight. If you don't have enough direct sunlight you will need a grow light. Find out more info here about grow lights.
Proper watering-it's important to have a good watering plan and be consistent, plan to water 1-4 times per week, I use a misting spray bottle to make it easiest to water and also keep plants covered with saran wrap until sprouting to keep in the humidity
Indoor temperature-if you're body temp is warm then your garden is probably warm too so try to keep the room at around 65-70 degrees for best results
Plant food-once the flowers appear I recommend adding a fertilizer spike into each pot in the corner and one inch below the surface
IF YOU'RE WARM YOUR GARDEN IS PROBABLY TOO WARM
AT LEAST 5+ HOURS OF FULL SUN IS REQUIRED

DIY Potting Mix for Indoor Garden Herbs and Veggies
My potting mix that I started with is a great beginning to my indoor garden from Urban Leaf. As my food garden grows I will need to transplant my veggies and fruit plants to a larger pot. I may want to make my own soil so I'm sharing soil recipes with you here.
For indoor herb garden: 3 parts peat moss, 1 part compost, 1 part perlite, 1 part manure/worm castings
For indoor veggie or fruit garden: 3 parts compost, 2 parts peat moss, 1 part sand, 1/2 part perlite, 1/8 part of bone meal, blood meal, ground limestone, kelp meal and worm castings
You can find these items at a home gardening store or nursery in your area.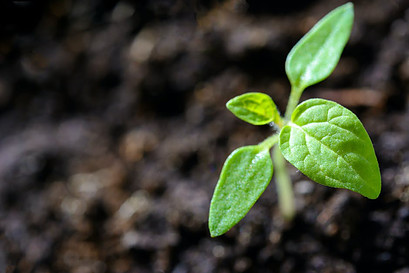 Regular watering and plenty of light are most important to ensure a healthy indoor garden
What do I do next?
This is what everyone wants to know. Be sure to research the specific fruit, herb or veggie that you are growing for the perfect answer. I will give general information here of time frames for growth and proper care.
Plant seeds with a nutrient rich soil. Be sure dampened soil is light and fluffy. Scatter seeds on top and cover with a thin layer of soil.
Germination can take 1-4 weeks depending on the seeds you choose and also if you pre-soak your seeds. Remember to cover with saran wrap to keep the humidity in.
Thinning which involves removing all but the largest seedlings should be done at 3-4 weeks or when the seedlings are about 1″ high. Thinning will allow the strongest and biggest seedling to flourish by reducing its competition for water, food and space.
Harvesting can happen between 2-4 months when the flowers become fruit and you are able to pick and eat what you have grown. For some fruit like strawberries for example it is recommended to use scissors to cut off one at a time.
Long term care is important to so that your plant will produce all year long. Each variety will have its own needed care so be sure to research what you are growing or pay close attention to the package the seeds come in.
Check out my review of the minigarden from Urban Leaf by clicking here
Most important-Have fun and enjoy the process
Eat Healthy Feel Great
Check out my unboxing video below of my indoor garden experience and please comment, subscribe and like my first ever YouTube video!!
I think you will see how valuable this process could be for mental health and well being. I've really enjoyed the process so far and I look forward to watching my indoor garden grow. Helping you learn how to indoor garden has been a growth experience for me. I'm hoping to add more variety to the outdoor and indoor garden. And I really want to start an indoor herb garden next so that we will have cilantro, parsley, basil and more! If you want to purchase an indoor garden of any type please click here or on the photo below. And please comment below if you have any experience in growing your own indoor garden or have any questions. I would love to hear from you.