7/25/2020 Update to the Food Revolution Summit 2020:
Since the Food Revolution Summit 2020 back in April there have been some changes in our household.  We have switched to a mostly plant-based diet.  It has changed our mindset and health.  We feel better daily and have much more energy.   The benefits of following a plant-based diet are varied and all aspects can impact everyone differently.
If you have considered a  plant-based diet and you don't know where to start I recommend the free masterclass with John Robbins.  John will help you discover the importance of eating a plant-based diet.   And it's free!!

Great facts backed by medical professionals
Today I had the great pleasure of listening to Ocean and John Robbins interview medical professionals. The Food Revolution Summit 2020 kicked off today. I was able to listen to (3) 50 minute interview discussions with follow up Q & A. The facts presented are both reassuring and informative during this unfamiliar event in our world.
Health and Love in the Time of Covid-19
The first interview was with Matt McCarthy MD. Dr McCarthy has been working on the front lines in a very large hospital in New York. He's one of the top infectious disease specialists in the world. He discussed the topic of transferring infectious illness from animal to human at the Chinese wet markets. He recommended shut down of these wet markets as the best solution or testing the blood samples of the animals which involves a huge expense and time effort. Dr. McCarthy suggests a plant based diet which would help the obesity challenges in the world today and help the animals. People with poor health are at greater risk for a bad outcome due to the virus. Aside from touching on multiple other subjects he spoke of Coronavirus as a mutate virus, antibodies testing, antibiotics and putting fear into perspective. His book, Superbugs: The Race to Stop an Epidemic is available by clicking here.
Secondly, Michael Klaper, MD discusses how much healthy food choices matter. He has focused on bringing nutrition education into medical school studies and had written several books. During the summit interview he discussed eating healthy and how important it is to combat viruses. From his experience the diseases he has seen reversed have been due to a plant based diet. He touched on the lungs and keeping your lungs moving by doing breathing exercises. The vitamins and supplements available today are going to help build up the immune system. Some of those he talked about to learn more about are zinc, vitamin D, vitamin C, selenium and mushrooms. He suggested to stop eating animals because it would help so much. His pride in health care professionals heroic acts during this pandemic is beyond expected. He hopes to bring love, harmony and healing into this world to make it a better place.
It All Starts in your Gut
Lastly, Dr. Zach Bush shared the truths about food, lifestyle and how environment shapes your brain, mood, immune system and life expectancy. His mission is to encourage a radical change in big farming, pharma, and western medicine. He gave some tips for strengthening the gut to include fermented foods like miso soup and that probiotics may not be the best choice for all people. There are many more facts discussed by Dr. Bush to be aware of like gluten and glyphosate. That in the US it's the glyphosate that is so harmful and that Europe is much more free of glyphosate. If we get rid of glyphosate then our bodies can handle gluten so much better. I've only touched on a very small portion of his beneficial information. If you want the audio and transcript you can purchase it below.
Hope you can join me for the next broadcast!
If you want more of the details presented, you can own the series by clicking the photo here:

Here's Day 2 schedule of speakers for the Food Revolution Summit 2020: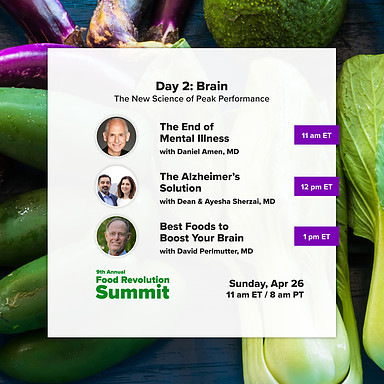 I'm so glad you're here!
Let's Be Friends!
Get your FREE healthy lifestyle checklist. Make healthy living a habit!