I love success stories and this is definitely a success story! Since suffering from female hormone issues I was searching for a natural solution. I searched online and found Moon Balance. What is Moon Balance you ask? It's a pink powder you mix with water, juice or add to a smoothie. It is packed with natural ingredients from around the world that they have created just for us.
Click here to check price for Moon Balance and get 15% off when using the discount code HEALTHYFOODIE
For EU website for Your Super, Click Here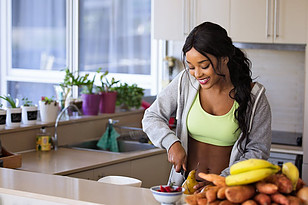 And who are they you ask? They are YourSuper, a company founded by an amazing couple, Michael and Kristel, who have dominated the market with outstanding products made from super plants and a special mixture of plant based powders to create miracles for our health. They claim to be on a mission to improve peoples health and I believe it! It is known that people get sick due to poor diet and lifestyle decisions. Knowing this, YourSuper has created these superfood and plant protein mixes with careful planning and preparation.
Michael was diagnosed with cancer at age 24 and during that process learned how important it is to fuel your body with a whole food diet. Kristel was already making her own personal homemade mixes of superfood powders. Learning how these superfoods had been used by indigenous cultures for thousands of years inspired her to create YourSuper. You can read more about their story here .
What is Moon Balance?
Product: Moon Balance Organic Superfood Mix
Key Values: Gluten Free, Non GMO, 100% Vegan, 100% Natural, No additives, Dairy Free, Soy Free, Certified Organic
Size: 7.05 oz.
Price: $34.90/single mix $79.90 bundle includes 2 Moon Balance mixes, bamboo straw, Moon Balance recipe ebook
Return Policy/Guarantee: 30 day money back guarantee
How to spot a hormone imbalance
It's easier than you think to spot a hormone imbalance. I know for me there was no way I could miss it. But here is a list for some of us who are not sure. Moon Balance can help with any of these symptoms.
Acne
Inferitility
Muscle/Joint Pain
Bloating
Headaches/Migraines
Stress/Depression
Indigestion
Weight Gain
Hot Flashes
Irregular Periods
Mental/Physical Fatigue
Check out my video How to Make Moon Balance:
Moon Balance Product Overview
Moon Balance can deliver powerful results with only 6 powerful ingredients. Use one teaspoon per serving and take only once per day. Try using it mixed in water, mixed into juice or blended into a smoothie. There are many recipes to help you enjoy Moon Balance. Here's one that I like called Moon Berry: 1 teaspoon Moon Balance Mix, 1 banana, 1 cup frozen mixed berries and 1 cup almond milk. Mix in a Vitamix until smooth and completely blended. Enjoy!
Ingredients and Nutritional Information for Moon Balance
Ingredients:
Baobab* (Ghana)
Hibiscus * (Egypt)
Amla Berry* (India)
Beetroot* (Canada)
Shatavari * (India)
*= Organic certified
Weight: 200 grams | 5g per serving
Taste: Tarte lemonade
Every ingredient is certified organic, Non-GMO certified, Glyphosate-Free, plant-based and gluten-free. You'll never find any sweeteners, stevia, artificial flavors, fillers, preservatives or additives.
All of the ingredients are naturally dried to preserve the micro nutrients and are tested by third party labs before, during and after production to ensure they are of the highest quality.
We also believe that you should know where your superfood mixes come from. That's why we created a 100% transparent supply chain. All of the ingredients are sourced directly, they know where they come from and they try to have a positive impact on the local communities where they're sourced.
Moon Balance has minimal Side Effects
So what is the success story? Moon Balance has changed my life. In just 7 consecutive days of taking Moon Balance, I am now sleeping through the night and not waking up with horrible night sweats. I don't have hot flashes anymore and I feel great!! It's a success story that helped me and it can help you. I never thought I'd find a product that was organic and has no side effects when taking it. Please let me know how you like Moon Balance. I would love to hear from you! And if anybody ever asks you what is Moon Balance, be sure to share what you have learned here.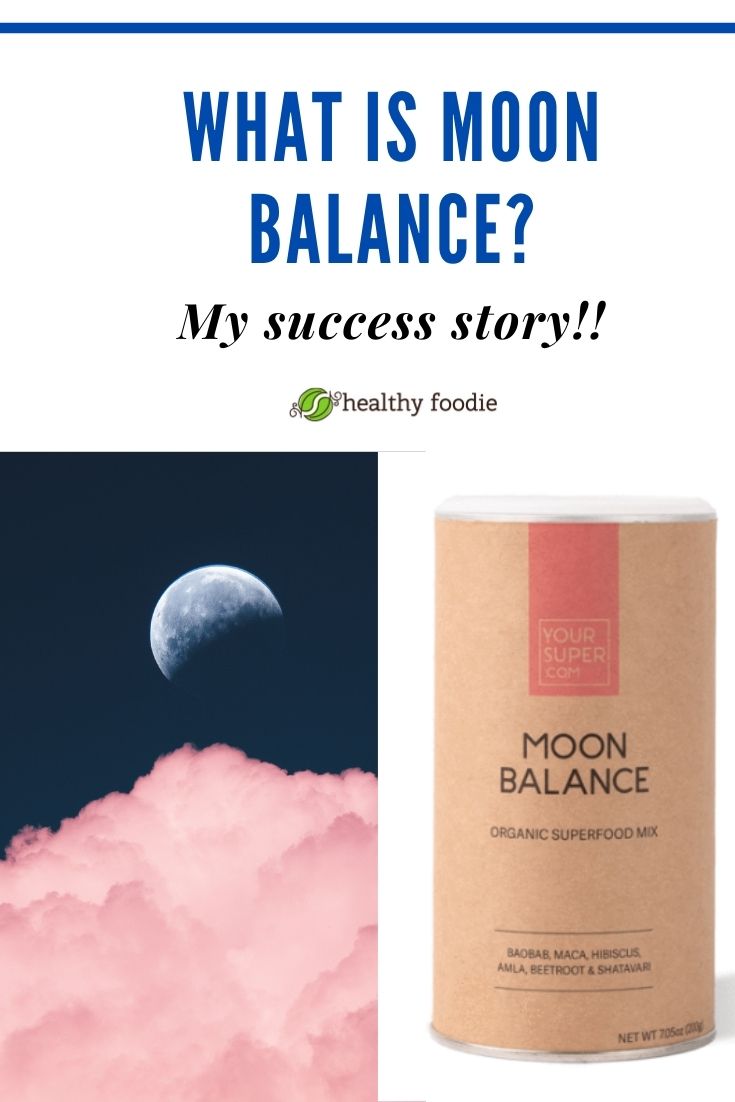 Giving back company policy: for every mix sold, YourSuper donates one life-saving food bar to children suffering from malnutrition with a partnership with Action Against Hunger. As the world's hunger specialist, Action Against Hunger has the primary goal to create a better way to deal with hunger. For more than 40 years, they have led the global movement that aims to end life-threatening hunger for good within our lifetimes. The teams have been on the front lines, treating and preventing malnutrition across more than 45 countries.
EVERYONE DESERVES TO BE HEALTHY!! Click here to order yours today!
Here are some other superfood mixes and how they can help you:
Forever Beautiful mix – For healthy skin
Chocolate Lover mix – For a good mood
Power Matcha mix – For focus
Energy Bomb mix – For long-lasting energy
Muscle Power mix – For energy & plant protein
Skinny Protein mix – For healthy weight
Super Green mix – For immunity
As with any dietary supplement, you should advise your healthcare professional of the use of this product if you have a medical condition or are taking medication. If you are nursing, pregnant, or considering pregnancy, consult your healthcare professional prior to using this product. The information contained in this website is for educational and informational purposes only and is not intended as health or medical advice. Always consult a doctor.