Shatavari has numerous benefits unlike any other herb and has been used in Ayurvedic medicine for centuries. It nourishes the body and is especially beneficial for the female reproductive system. When I published a review on Moon Balance, the ingredient Shatavari was on the label. I had never heard of this ingredient before so I decided it would be fun to research it.
What Is Shatavari?
So what is Shatavari? Shatavari is from India and is a member of the asparagus family. It's also known as Asparagus racemosus and is an adaptogenic herb. It can also be found in Africa and Asia flourishing in shady and low altitudes. The tuberous root is the portion that is used to prepare the powder. The rejuvenating tuberous root has a sweet taste combined with a little bitter taste. The roots are the inspriation behind the name shat meaning one hundred and avar meaning below, literally translating to mean the plant that has one hundred roots below ground.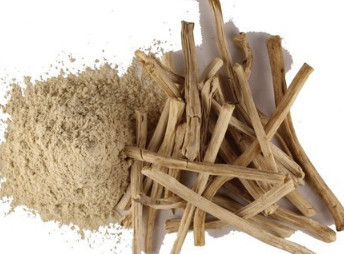 It's commonly used for womens fertility challenges and overall reproductive health for women. For both men and women it has been used as an herbal aphrodisiac helping support a healthy sexual appetite.
=>>Promotes Vitality and Strength<<=
Benefits of Shatavari
Natural antioxidant properties
Supports immune system
Supports healthy female reproductive system
Improves fertility and breast milk production
Aids a healthy pregnancy
Soothing effect on the digestive tract
Moisturizing support of the respiratory tract
Promotes energy level and strength
Supports libido
Soothes symptoms of menopause and PMS
Improves stress and fatigue
=>>Check out this video showing the harvesting of Shatavari in India and an explanation of the herb<<=
=>>Beneficial for mens heart and digestive health<<=
How is Shatavari Grown?
Shatavari grows best in medium black soils which contain electric conductivity, carbon and phosphorus. It can grow under a shallow soil and rocky soils with a pH level from 6-8. Shatavari doesn't require much irrigation but should be done at first planting then when seedlings are established and then not needed for up to 30 days. Refer to this farming source for more detailed farming methods.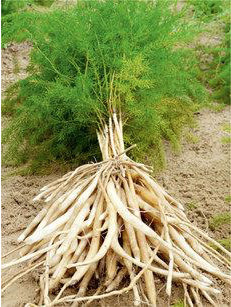 What is Ayurvedic?
Ayurvedic is one of the oldest holistic healing systems developed more than 3000 years ago in India. According to Wikipedia, Ayurveda is a system of medicine with historical roots in the Indian subcontinent. Globalized and modernized practices derived from Ayurveda traditions are a type of alternative medicine. Ayurvedic treatments are helpful to reduce symptoms, eliminate impurities, increase resistance to disease, increase harmony in life and reduce depression. Treatments include lifestyle practices like massage, yoga, diet changes and meditation along with the use of herbal remedies to help prevent/treat illnesses.
If you want to learn more about Ayurvedic medicine be sure to check out this book below:
Nutritional Facts for Shatavari
Moisture: 9.5%
Ash: 3.55g
Protein: 2.47g
Carbs: 49.9g
Fat: .3g
Trace amounts of vitamin C is present in Shatavari as well as the minerals Iron, Zinc and Calcium.
A couple warnings to be aware of according to www.healthline: Shatavari may have a diuretic effect so you shouldn't take it with other diuretic herbs or drugs such as furosemide (Lasix). Shatavari may lower your blood sugar so you shouldn't take it with other drugs or herbs that lower blood sugar.
When I started writing this article on what is Shatavari, I had no idea what else I was going to learn. It's so interesting how herbs from around the world are made available to help improve our health. I've found Shatavari available as a powder, tablet and also as a liquid. A typical dose of shatavari tablets is 500 milligrams, up to twice daily. A typical dose of shatavari extract is 30 drops in water or juice, up to three times daily. My favorite way to consume Shatavari is in Moon Balance which you can purchase here. Moon Balance is a powder mixed with 7 totally powerful ingredients focused on helping female hormone related challenges like menopause and PMS. I highly recommend Moon Balance since I experienced such positive results after using it for 7 consecutive days.