Are you a college student and struggle to eat healthy at school?  Or do you have a loved one in college?  Most university dining halls offer students with a wide variety of options to choose from for a healthy lifestyle and wellness.  The challenge is juggling a well-balanced healthy diet and a busy schedule that can make eating healthy very difficult. This is why I've put together some helpful tips to remember when trying to eat healthy at college dining halls!
Why is it so Hard to Eat Healthy in College?
The life of a college student can be very demanding in terms of time and energy. Making sure to eat healthy is very important for wellness! According to a study by Northwestern Medicine and Northeastern Illinois University, 95 percent of college students struggle to eat the recommended amount of fruits and vegetables on a daily basis. These poor eating habits can limit your productivity in and out of the classroom.  And also create lasting health issues.
So, why is it so hard to eat healthy in college?
One reason for this is simple. Students just don't like the food. My daughter has, at times, complained about some of the meals that are served in the cafeteria at her school. Although most dining halls try to have a variety, it's pretty common for them to miss the mark a bit.  Try stocking the dorm with healthy food using the best college grocery list.
At the same time, tough courses and extra-curricular activities like athletics can cause most students to look for quick and easy alternatives. Unhealthy snack foods and fast food restaurants are seen as cheap and accessible comfort foods. Especially during exam weeks and trying to get to athletic practice, time is limited and stress eating can quickly become a way to cope with the pressure. For these reasons, most students don't put much extra thought into their meals or snacking.
How Should a Freshman in College Eat Healthy?
Everyone likes to joke about gaining the infamous "Freshman 15." But, it isn't until that first year of college that many people realize how real it actually is. For most college freshman, adjusting to life in the dorms can have many new and exciting challenges! Finding a way to eat healthy can be tough but will definitely be worth it in the end.
The eating habits that you form as a freshman will shape the way that you think about the college dining hall for the rest of your time in college. This is why it is important to look for ways to start off with a healthy mindset. It is not uncommon for freshman to get overwhelmed by the new sights and smells of a university cafeteria. While it is okay to try a bit of everything be careful not to load up on foods that are high in fat or sodium. A good goal is to become well-acquainted with the salad bar and other healthy food areas in your college dining halls. Look for whole grains in bread, oatmeal, or brown rice to start building your meal on. These practices will help you to set a good foundation for yourself in the years to come!
Can College Students Eat Healthy?
All things considered, there is still a way for college students to make healthy choices when they enter the dining hall! Understanding that food affects many different aspects of your life including your academic or athletic performance, mood, weight and skin health such as acne, can help you to make the right decisions.
 Tips to help you eat healthy:
Know What's on Your Plate – Most, if not all, college dining halls have menus or posted signs that tell you exactly what is being served. Taking a little bit of time to look over the nutrition facts can help you to make the right choice for what to eat. If none of the prepared meals catch your eye, or your appetite, get creative! Build your own healthy plate at the salad bar or amp up the pre-made meals by adding your own flavors and nutritious ingredients. The goal is to be more mindful about what you're eating to avoid unnecessary calories and give your body the fuel it needs.
Eat More Fruits and Vegetables – In my last article, the Best Acne Treatment For Teens, I talked about foods that improve or prevent acne. Fresh fruits and vegetables are very high on this list! Look for ways to substitute vegetables for fatty or heavily processed foods or simply add them into your meal. You can try using lettuce to wrap your sandwiches instead of bread or by adding veggies to your eggs and omelets. Fruit can be a great snack food too! Taking an apple or a banana to-go can hold you over in between meals so you're less tempted to reach for junk foods.
Try to Control Your Portions – As great as a buffet style cafeteria may be, it also makes it easier to over eat. When it comes to food, even too much of a good thing can turn into a bad thing. My advice is to slow down and enjoy your meal before going back for more. This doesn't mean you have to pick one meal and stick to it. In fact, you shouldn't be afraid to try everything. However, try to limit your portions and eat slower, making sure to listen to what your body is telling you.
Avoid Excessive Social Eating – College dining halls are also a popular place to hang out and be social. This is great, but students should be careful not to continue eating just for social reasons. Know yourself and your limits! Make sure you are still being mindful as you eat and try not to hang around the dining hall for too much longer than you have to.
College is a great time for academic and personal growth! For many college students, living in the dorms is their first real taste of life on their own. This is why learning how to eat healthy at college dining halls is a great foundational skill, not just for school but for later on in life!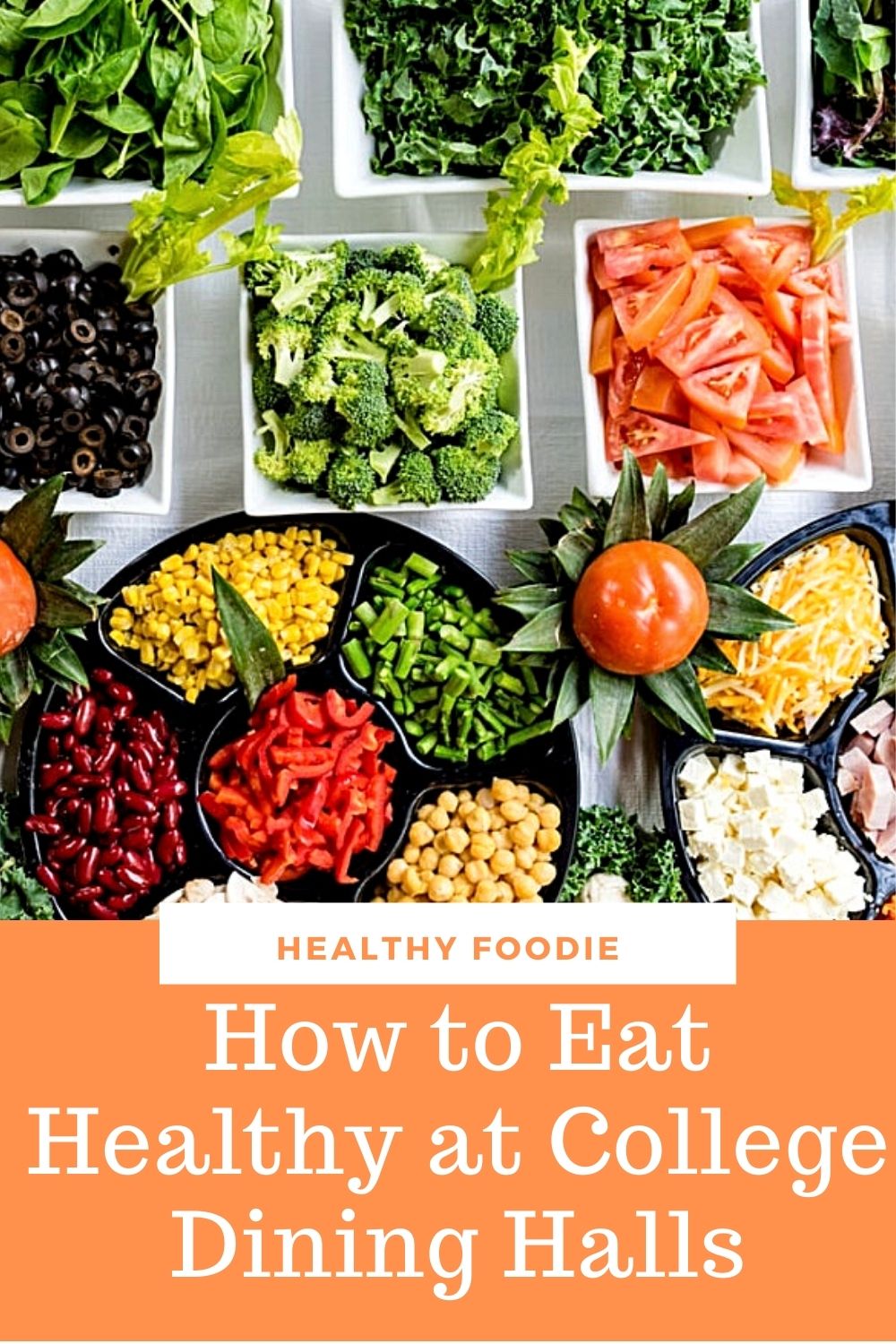 Related articles: 
How to Eat Healthy on a Budget to Lose Weight
How to have a Healthy Relationship with Food