Do you love coffee but not the jitters? There's a great option that can provide energy and support a calm focus. It's a healthy drink that is quick and easy to make. Learn all about what is Super Brew and find out the healthy solutions to coffee jitters in my Your Super Super Brew Review.
As an Amazon Associate I earn from qualifying purchases. When you use the links on this page to make a purchase I may get a small commission and you may get a great bargain. It's a win-win all around. Support my page and I can continue to provide great tips, recipes, reviews and lifestyle advice. Ask me how by clicking here!
The information contained in this website is for educational and informational purposes only and is not intended as health or medical advice. Always consult a doctor.


Click here for more details about Super Brew and use discount coupon healthyfoodie for 15% off
What is Super Brew?
A delicious low-caffeine superfood coffee alternative with Ayurvedic ingredients, adaptogens, and superfoods. A delicious coffee alternative made with Ayurvedic ingredients, adaptogens, and—of course—superfoods. It contains 5 certified organic ingredients (plus salt for taste) that can help provide clean, steady energy and sharper focus — without jitters or crashes. And it has a rich, earthy taste with just ¼ the amount of caffeine (23 mg per serving) in the average cup of coffee.
Only 23mg caffeine per serving
Provides balanced energy
Supports calm, steady focus
Product: Super Brew
Key Values: Gluten Free, Non GMO, 100% Vegan, 100% Natural, No additives, Dairy Free, Soy Free, Certified Organic
Size: 7.05 oz.Price: $29.99/single mix $109.99 bundle includes 2 Super Brew mixes, 1 Plant Collagen, recipe e-book, frother
Weight: 150 grams | 30 servings
Taste: Roasted, Nutty
Return Policy/Guarantee: 30 day money back guarantee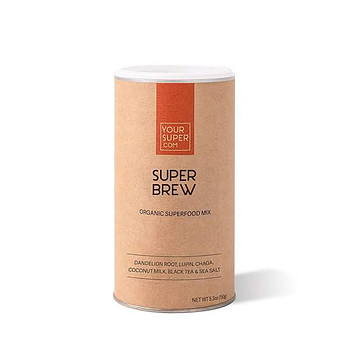 Super Brew Product Overview
A great choice if you're trying to give up coffee. Just add your favorite almond, oat or plant based milk and you can enjoy a coffee alternative with much less caffeine. There are 6 organic ingredients and there are no side effects.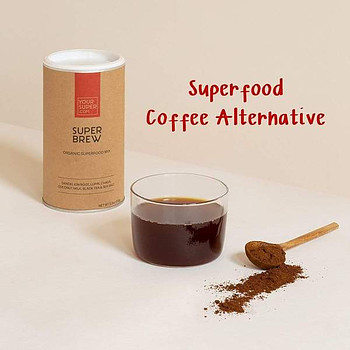 Ingredients and Nutritional Information for Super Brew
*Dandelion Root(Bulgaria)-Containing inulin (a soluble fiber that supports a healthy gut microbiome), dandelion root is known for supporting liver and gut health.
*Lupin(Germany)-Lupin is considered a rising star in the legume world and contains fiber and plant protein. It may help suppress appetite and keep you feeling full for longer. Our lupin is sourced from a 3rd-generation farm where a local family has cultivated organically grown lupin for over 300 years.
*Chaga Mushrooms(China)-Chaga mushrooms have antioxidants and can help support your immune system. Our chaga is never lab-grown, but rather cultivated the traditional way on birch trees.
*Coconut Milk(Sri Lanka & Philippines)
-Coconut milk's rich consistency is what gives Super Brew its smooth texture. It also contains healthy fats called medium-chain triglycerides (MCTs) that can boost energy.
*Black Tea (India)-Black tea is not like the caffeine you'll find in coffee. The difference? L-theanine, an amino acid that ensures the long-time release of energy: Giving you more balanced, lasting focus. Black tea is also a source of antioxidants, including polyphenols.
Sea Salt (Australia)-Sea salt helps bring all of the taste of this delicious instant coffee alternative together. It's also a source of minerals like potassium, iron, and calcium.
*Organic Certified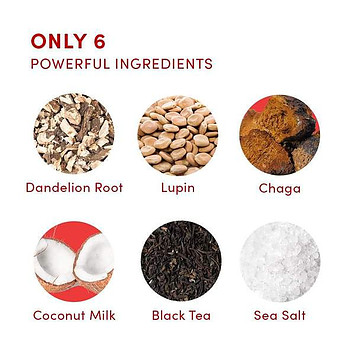 Is Super Brew Healthy?
Find out how Super Brew can help you elimate coffee. It has limited ingredients that are organic, gluten free, non-dairy, non GMO and vegan. Compared to other coffee alternatives, Super Brew is a healthy option. Try it and enjoy the nutty and smooth slightly sweet herbal-coffee taste. Keep it healthy by not adding any sugar.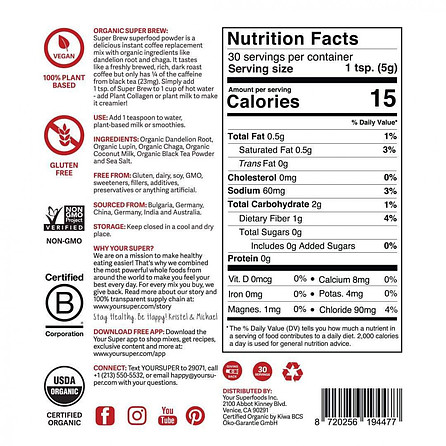 What are the Negative Effects of Coffee?
Jitters
Disrupted Sleep
Headaches
Digestive Issues
Fatigue
How to use Super Brew
Add 1 tsp into a cup of hot water or plant-based milk. Simply stir, froth or blend.
Ingredients: 1 tsp Super Brew 1 cup oat milk 1 tsp maple syrup (optional)
Directions: 1. In a small pot, heat the milk and maple syrup. 2. Turn off the heat. Use a frother or stir in Super Brew. 3. Pour into a mug, and enjoy! Serves 1
I love this video all about Super Brew!!!
Super Brew Questions
Q: Who shouldn't consume Super Brew?
A: Because it contains caffeine, it's not recommended for children. Pregnant women should consult with their doctor.
Q: Can I use Super Brew during the detox?
A: Because it contains caffeine, it's not recommended for the detox. However, it's great to use pre- or post-detox.
Q: Why do I need superfoods?
A: Millions of Americans are actually missing many of the critical nutrients they need to maintain a healthy lifestyle. Superfoods are an easy and convenient way to get these essential micronutrients so your body can perform at its best. Because superfoods are extremely high in micronutrients like vitamins, minerals, antioxidants, phytonutrients and enzymes, these mixes are a great way to help your body thrive.
Related Articles:
Your Super Forever Beautiful Mix Review – As Seen in People?
I hope this Your Super Super Brew Review can help you learn more about this fabulous superfood coffee alternative.  Please leave a comment below how you like it!  I would love to hear from you.
I'm so glad you're here!
Let's Be Friends!
Get your FREE healthy lifestyle checklist. Make healthy living a habit!