Today more than ever, it's important to adapt to a healthy lifestyle. There are many ways to do this. Most recently I had someone ask me "what about healthy eating habits"? This is a topic I would like to focus on today. Some of our eating habits were started during our childhood but that doesn't mean we can't adapt now to a healthy lifestyle. Enjoy these healthy eating habits highlighted below and please comment if you have any experiences of your own to share.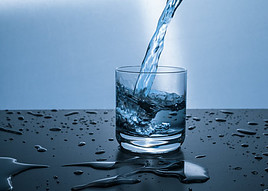 Drink more water-It's important to hydrate and replenish lost moisture in our bodies. The best way to do this is to drink water. But not any kind of water, filtered water is the way to go. The way to get filtered water can vary. Some people have filters built in to their home refrigerators. There are also portable water filters available for purchase. They range from counter top to under the counter.
Sit down at a table and not in front of the TV-Eating in front of the television can cause overeating. It can cause distraction to the point of not realizing your eating because you're paying more attention to the TV. A suggestion is to try creating a set meal time with a friend or family so you're not tempted to plop in front of the TV.
Quit fad diets-Fad diets are not the best when it comes to a healthy lifestyle due to its usually sudden radical change to the body. It's best to find a healthy well-balanced meal plan that becomes a habit. Once it becomes a habit, it will be easier to stick to it everyday.
Consume fresh and UNprocessed foods-Processed foods are generally found in the center of your grocery store. If you can focus on the outside perimeter of your grocery store then you will be able to focus on the more healthy selections like fruit, veggies, wild caught fish, and fresh baked goods. You can also visit an online store like Thrive Market that focuses on healthy organic selections delivered to your front door.
Eat 3 well-balanced meals per day-Be sure to not skip meals. Some people rush through mornings and don't eat breakfast. It's important to eat a good breakfast to help start your day. I suggest pre-planning the week of meals so you're sure to eat healthy during the week. Try buying some grab and go items in case you're running late. I also have enjoyed baking on the weekends so I have some homemade baked goods handy during the week. If you need some help with eating healthy consider a plant based diet which leads to better health and please visit Food Revolution Network.
I hope my list of the 5 tips to healthy eating habits helps you improve your lifestyle.  Afterall many people are asking what about healthy eating habits so follow these tips for adapting to a healthy lifestyle.
As an Amazon Associate I earn from qualifying purchases.  When you use the links on this page to make a purchase I may get a small commission and you may get a great bargain. It's a win-win all around. Full disclosure.