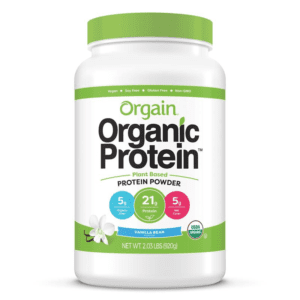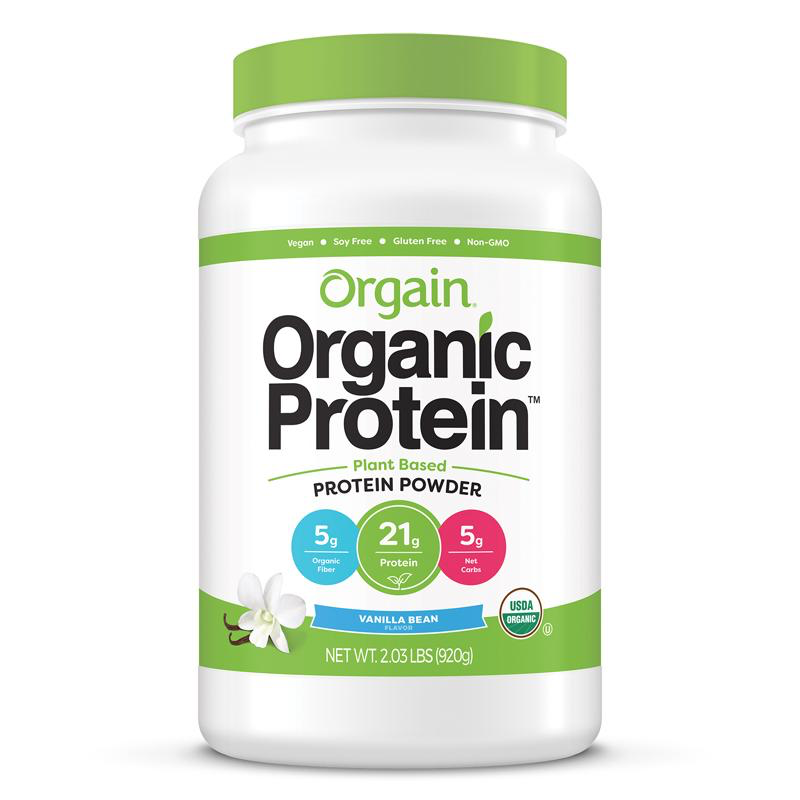 After doing lots of research and tasting many flavors, I think the best organic plant based protein powder is here. It's from a company called Orgain and it's made in the USA. The name Orgain was derived from Organic + Gain due to its ORGANIC ingredients and the opportunity to GAIN health, energy and life through clean wholesome nutrition. The company was founded in 2008 by Dr. Abraham a physician and cancer survivor. I'm going to specifically review the plant based protein powder but there are many different products available from Orgain.
Price: $24.99/$36.99
Sizes: 1lb or 2lb
Guarantee: 100% money back guarantee if not satisfied
My Rating: 9 stars

Product Overview for Organic Plant Based Protein Powder
The flavor is outstanding and not grainy. I've mixed it in my Vitamix with almond milk, veggies and/or fresh fruit. My favorite recipes are mixing the protein powder with banana and peanut butter or with strawberries and banana. There are many flavors available but vanilla bean is my favorite.  Store the protein powder in a dry, cool place, such as a closet or pantry. Do not store the protein powder in the refrigerator or freezer as moisture can shorten the shelf life.
Some of the nutritional benefits of the vanilla bean flavored 1lb sized plant based protein powder are:
5g of fiber
0g of sugar
21g of protein
150 calories
100% vegan and dairy free
Soy free
Gluten free
Non-GMO
Ingredients for Organic Plant Based Protein Powder
The protein source in Orgain Organic Plant Based Protein Powder consists of organic pea protein, organic brown rice protein, and organic chia seed.  The creamer base consists of organic acacia, organic high oleic sunflower oil, organic rice dextrin, organic rice bran extract, organic rosemary extract, organic erythritol, organic natural flavors, organic acacia sea salt, organic stevia, organic guar gum, xanthan gum, natural flavor.
I hope you enjoyed my review and if you have any questions about Orgain or want to leave your own personal review, please leave a comment below.  Be sure to use discount code healthyfoodieonline when purchasing Organic Plant Based Protein Powder.
As an Amazon Associate I earn from qualifying purchases.  When you use the links on this page to make a purchase I may get a small commission and you may get a great bargain. It's a win-win all around. Full disclosure.