It's nice to have a bit of healthy homemade flair when cooking in the kitchen.  I've been trying out different recipes for a good homemade pasta sauce.  So how do you make fresh pasta sauce?  I finally found a good combo of healthy and homemade.  It's my solution to easy homemade pasta sauce and it's here for you to try!
Easy Homemade Pasta Sauce Ingredients
Pasta Choice (I use gluten free Rotini)
4 Tablespoons Olive Oil
1 Large Onion (split for sauce and meat-diced)
8 Garlic Cloves (split for sauce and meat-pressed with garlic press)
1 lb Organic Ground Beef
8 oz Diced Tomatoes
12oz Crushed Tomatoes
Oregano
Thyme









Kitchen Gadgets I Used and Recommend:
Ingredient notes for Easy Homemade Pasta Sauce
Omit the beef if you prefer vegan or vegetarian option
Add protein powder such as Super Greens from yoursuper to get some added protein
Add veggies such as zucchini, broccoli, red or green pepper
Add additional spices to adapt to your liking
What is a good substitute for marinara sauce?
I've made a substitute by combining fresh tomatoes with water and tons of italian spices.  Simmer for 30 minutes so the flavors can combine.
What is the difference between marinara sauce and tomato sauce?
Marinara sauce is thinner in texture and has a simpler flavor.  It's best for tossing with pasta.
Tomato sauce is usually a more involved process with pureed tomatoes and more spices such as carrots, onion, celery, bay leaf and thicker consistency.
Pasta sauce is usualy mixed with ground meat, sausage or veggies.
Step-by-step instructions for Easy Homemade Pasta Sauce
Heat the olive oil in medium size pot over medium heat for sauce
Add garlic and onion and saute for about 10 minutes and until onions are soft
Add fresh Roma tomatoes, diced tomatoes, crushed tomatoes, oregano, fresh basil (I use from my indoor garden), thyme and dash of salt & pepper to pot for sauce.
Bring to a boil and simmer for 10 minutes.
In separate skillet add garlic, onion and seasoning of choice and brown organic beef
Add ground beef to sauce
Simmer for 10-15 minutes to let flavors blend
How to Make Homemade Pasta Sauce:
I separate meat and sauce so that if someone doesn't want meat they have that option.
Recipe Tips and Variations
Let flavors combine before adding too much salt
Sugar can help balance flavors if the sauce gets too acidic
Easy Homemade Pasta Sauce Nutritional Info
Prep Time: 15 minutes
Cook Time: 45 minutes
Total Time: 1 hour
Makes about 6 servings
Calories: 283
Enjoy this fabulous homemade pasta sauce!  It's wonderful.  Please leave a comment how you like it.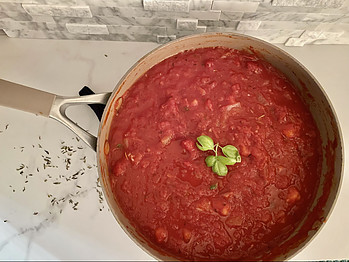 Easy Homemade Pasta Sauce
It's nice to have a bit of homemade flair when cooking in the kitchen. I've been trying out different recipes for a good homemade pasta sauce. So how do you make fresh pasta sauce? I finally found a good combo of healthy and homemade tasting pasta sauce. It's my solution to easy homemade pasta sauce and it's here for you to try! Learn How to Make the Easiest Homemade Pasta Sauce
Equipment
Garlic Press

Cutting Board

GreenPan Cookware

Sur La Table Wooden Spoons
Ingredients
4

tbsp

Olive Oil

1

large

Onion

diced

8

cloves

Garlic

pressed

1

lb

Ground Beef

5

Roma Tomatoes

diced

8

oz

Diced Tomatoes

12

oz

Crushed Tomatoes

Oregano, Thyme, Salt, Pepper
Instructions
Heat the olive oil in medium size pot over medium heat for sauce

Add garlic and onion and saute for about 10 minutes and until onions are soft

Add fresh Roma tomatoes, diced tomatoes, crushed tomatoes, oregano, fresh basil (I use from my indoor garden), thyme and dash of salt & pepper to pot for sauce.

Bring to a boil and simmer for 10 minutes.

In separate skillet add garlic, onion and seasoning of choice and brown organic beef

Simmer for 10-15 minutes to let flavors blend