As the luck of the Irish might say your health depends on luck.  But Healthy Foodie would not agree. Having a healthy lifestyle is a choice for most people as to how they spend their days and what they consume in their body. This is why I've chosen to share with you the Best Healthy Charcuterie Board. I've gathered healthy ingredients that are of course mostly green. Have fun making this one on March 17th for St. Patrick's Day or any other holiday!
Patrick's Day is celebrated annually on March 17, the anniversary of his death in the fifth century. The Irish have observed this day as a religious holiday for over 1,000 years. We celebrate with green decorations, fun parties and of course wearing green. If you don't wear green, you will get pinched but I hope not too hard. Let's celebrate this year with a healthy St. Patrick's Day Charcuterie Board.
Ingredients for the Best Healthy St. Patrick's Day Charcuterie Board
This board is a bit unique compared to the others I've made because it doesn't have meat. I wanted to try some different cheeses and fresh fruits. And I had to find green items. So have fun with it and choose what you think will taste great together. The crackers were a great choice because they went well with all the other ingredients. I just needed a second bag because many of them were broken and too small to display. The fruit went well with the cheeses and so complimentary of each other.  Choose a good cheese knive like any of the ones here.
Cauliflower Crisps (Gluten Free from Trader Joe's)
Green Granny Smith Apple
Green D'Anjou Pear
Avocado
Edamame
Swiss Cheese
Gorgonzola Cheese
Gruyere Cheese
Goat Cheese with Herbs (From Trader Joe's)
Step-by-step instructions for the Best Healthy St. Patrick's Day Charcuterie Board
Gather all the ingredients of choice (I chose to do a healthy St. Patrick's Day Charcuterie Board)
Decide on one focal point (I chose the Goat Cheese with Herbs)
Only cut a couple slices of each otherwise cheese can get dried out
Cut the fruit and veggies last so they look the freshest
Display on the board with complimentary items near each other
Learn more in my video here:
St. Patrick's Day Charcuterie Board Facts and Nutritional Info
Prep Time: 10 minutes
Design Time: 5 minutes
Total Time: 15 minutes
Makes about 4 servings
Calories: 403
Best Holiday Charcuterie Boards: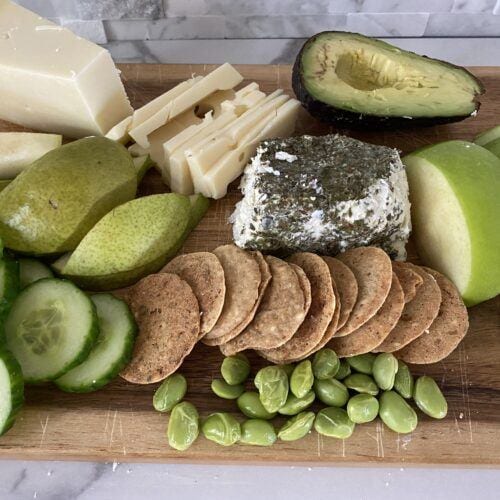 Healthy St. Patrick's Day Charcuterie Board
Try making this healthy charcuterie board in honor of St. Patrick's Day. It's easy and fun to make.
Ingredients
10

Cauliflower Crisps

(Gluten Free from Trader Joe's)

1

Granny Smith Apple

1

D'Anjou Pear

1

Avocado

20

Edamame

6

slices

Swiss Cheese

1/4

cup

Gorgonzola Cheese

3

slices

Gruyere Cheese

3

tablespoons

Goat Cheese with Herbs

(From Trader Joe's)
Instructions
Gather all the ingredients of choice

Decide on one focal point (I chose the Goat Cheese with Herbs)

Cut the fruit and veggies last so they look the freshest

Display on the board with complimentary items near each other