Do you need ideas how to celebrate this Valentine's Day?  How about a delicious and healthy charcuterie board? Charcuterie boards have become popular at parties and special occasions. With Valentine's Day quickly approaching, try making my best Valentine's Day Charcuterie Board. One of these festive boards is super easy and fun to make. Enjoy with friends or that special someone on Valentine's Day.
Why Are Charcuterie Boards So Popular?
Charcuterie boards first became popular in France in the 15th century. These decorative patterns of fancy meats and cheese have become increasingly popular on social media. From holidays to weddings to office parties, charcuterie boards are great decorative appetizers that satisfy all guests. These combination platters are great for bigger groups as well as to split between two people!
Charcuterie boards have also become more and more popular for their aesthetic value. Many people enjoy putting these platters together as a crafty and fun do-it-yourself project. They have also become common pictures to post on social media because of their attractive and artistic nature.
How Do You Make a Healthy Charcuterie Board?
I had a lot of fun making this super bright and festive Valentine's Day charcuterie board! There are so many different things that you can choose from when it comes to making your own board. When putting my Valentine's Day board together I made sure to pick a couple options from the different types of foods that can go onto the board. My number one goal was to choose flavors that worked well together with a good balance of spicy, sweet and savory options.
Get Your Supplies! – The best part of making this Valentine's Day board was getting creative with my decorations! One essential part of making these platters is to make sure you have a large enough board to create on. I used a circular wood cutting board but there are platters and trays specifically designed to be charcuterie boards of all shapes and sizes.
12 x 6 Marble Slate and Wood Charcuterie Board from CTFT
Check Best Price Here on Amazon >>
---
15″ x 12″ Real Bamboo Wood Charcuterie Board
Check Best Price Here on Amazon >>
---
12 x 16 Marble Charcuterie Board from Homeries
---
13 x 13 Bamboo Charcuterie Board from Boltlink
Check Best Price Here on Amazon >>
---
16 x 11 Bamboo Charcuterie Board from Pandpal
Check Best Price Here on Amazon >>
---
To add some extra decoration, I bought lots of heart shaped add-ons to place around the board. For example, here I used some heart-shaped cookie cut-outs, heart-shaped bowls, and heart shaped stickers.
Meats – One of the main ingredients you'll see on charcuterie boards is different kinds of sliced and cured meats. I decided to use pepperoni and salami for its minimal cost but there are a wide variety of meats you can use. Prosciutto, sopressata, pancetta, and other similar options can also be used to add flavor and variety to your charcuterie.
Cheeses – It is very rare to see a charcuterie board that does not have cheese on it. There are so many great cheese options that it was almost hard to pick from! For my board though, I decided to go with one soft cheese and one solid cheese. I used a log of garlic and herb goat cheese as a savory option and slices with cranberry cheddar which was a little bit sweeter. Other well-known alternatives are variations of brie, camembert or cheddars, parmesan or manchego.
Crackers – Crackers are great foundational pieces for your board. They can be paired with your meat and cheese or dipped in hummus. I went for a gluten-free option and mini whole wheat toasts. I laid the slices of meat, cheese and crackers out along the outside of the board and tried to put each specific flavor next to foods that might pair well with one another!
Fresh and Dried Fruits – Fruits are a great, healthy addition to a charcuterie board too! For Valentine's Day, I chose strawberries for their vibrant red color and grapes to pair with the cranberry cheddar and add some sweetness. Dried fruits also work well on charcuterie boards! For this one I used dried apricots and put them into one of the heart-shaped cookie cutters. Dried peaches, figs, or tomatoes can also be great additions.
Vegetables – Although I didn't have many vegetables on this particular board, they can be great with the soft cheeses and dips. I used black pitted olives and mini sweet peppers as a sort of substitute. Carrots, celery, cucumber or even small pickles can do the trick.
Dips and Extras – For my Valentine's Day charcuterie board I used roasted red pepper hummus. I scooped this into a shallow heart-shaped bowl at the top of my board. You can also use a balsamic dip or a grainy mustard if you'd like to switch it up. Some other additions to the board are trail mix or nut mixtures or candy. I used dove dark chocolate as a pop of color and a healthier alternative to milk chocolate.
How Do You Make a Cheap Charcuterie Board?
Overall, I was very happy with the way my board turned out! But, although it was perfect for me, everyone has their own specific tastes and budgets. The great thing about these boards is that you can be as creative and selective with your ingredients as you'd like!
For cheaper options you might consider looking for fruits and vegetables that are currently in-season. Although I felt that strawberries and grapes would add that bright red for Valentine's Day, you can substitute them for sliced apples or other more inexpensive fruits.
One thing that I found to be a bit pricier when buying the ingredients for my platter were the meats and cheeses. Don't let this scare you away from making your own board! Feel free to shop around for a price that works for you or take out the meat altogether. Some cheeses are also much pricier than others. Often times different types of cheddar or parmesan tend to be on the less expensive side.
In terms of crackers also, generic brand crackers can be a great substitute. Just be sure to check the nutrition facts to make sure that you're getting the same value out of both! I hope this was helpful and I strongly encourage you to try making your own charcuterie board. I had so much fun making and eating it.  It's definitely worth making for a special Valentine's Day treat!
Check out my other Valentine's Day article Best Healthy Valentine's Day Gifts for Him and Her
How To Make My Simple Charcuterie Board
Ingredients for My Valentine's Day Charcuterie Board
Wood board or Marble Board
Small decorative dish
Several sizes of Valentine's Day cookie cutters
Various stickers for decorating
8 oz Pepperoni
8 oz Salami
8 oz Cranberry Cheddar Cheese block
4 oz Garlic and Herb Soft Goat Cheese
4 oz Mini Whole Wheat Toasts
3.5 oz Gluten Free Seeded Round Crackers
12 oz Dried Apricots
1/2 lb Fresh Strawberries
1/2 lb Grapes
10 oz Mixed Nuts lightly salted
10 oz Hummus
6 oz Olives Black Pitted
8 Red Sweet Peppers
8.87 oz Dove Promises Dark Chocolate Hearts
You can find most of the items above at Thrive Market
For other grocery suggestions, check out my article Online Grocery Delivery
Directions for My Valentine's Day Charcuterie Board
Choose a wood or marble board from my list of 5 Best Charcuterie Boards of 2023 above
Place larger items like containers, cookie cutters or ceramic bowls
Add cheeses and crackers to create design
Add fruits and veggies around larger items
Add all extra items like nuts and olives
Use this photo below as guide if you want to copy my board: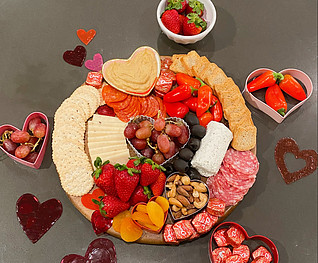 If you prefer to buy a charcuterie board ready to go, be sure to try Gourmet Gift Baskets or Harry & David
All charcuterie boards have the option to be vegan or gluten free.  Stay tuned for future articles on vegan and gluten free charcuterie boards.  But to explain, just swap out meat, cheese and crackers or bread.
Check out my my Easter Charcuterie Board
Check out my Healthy St. Patrick's Day Charcuterie Board
Have a Happy Valentine's Day with whomever you choose to celebrate with.  I hope you have enjoyed my Best Valentine's Day Charcuterie Board and be sure to look for future creative boards coming soon.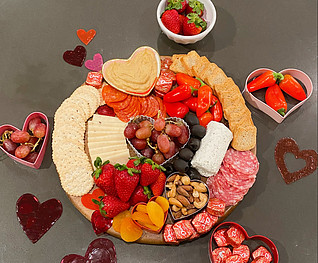 Best Valentine's Day Charcuterie Board
Charcuterie boards have become such a popular trend at parties and for special occasions. With Valentine's Day quickly approaching, try making my simple Valentine's Day Charcuterie Board. 
Created especially for you from Alyse @ Healthy Foodie
Equipment
Wood or Marble Board

Decorative dish

Valentine Cookie Cutters
Ingredients
8

oz

Pepperoni

8

oz

Salami

8

oz

Cranberry Cheddar Cheese

sliced

4

oz

Garlic and Herb Goat Cheese

4

oz

Mini While Wheat Toasts

3.5

oz

Gluten Free Round Crackers

12

oz

Dried Apricots

.5

lb

Fresh Strawberries

.5

lb

Seedless Grapes

10

oz

Mixed Nuts

10

oz

Hummus

6

oz

Black Olives pitted

8

single

Sweet Peppers

8.87

oz

Dove Promises Dark Chocolate Hearts
Instructions
Choose a wood or marble board from my list of 5 Best Charcuterie Boards of 2021

Place larger items like containers, cookie cutters or ceramic bowls

Add cheeses and crackers to create design

Add fruits and veggies around larger items

Add all extra items like nuts and olives
Notes