What is a clean eating grocery list? A clean eating grocery list is a list that supports clean or organic food choices. It involves choosing minimally processed foods that are ethically raised and provide maximum nutritional value. It's important to eat a clean diet so that you can have the best lifestyle possible.
Eating clean provides the health benefits of the nutrients we need to fuel our bodies. There are many ways to eat clean from buying organic, starting a food garden at home, buying only foods that are not processed, and many more. I recommend having a balance when you begin to start eating a clean diet and have fun with it. Once you have a concept of how to eat clean then you will be ready to make the clean eating grocery list.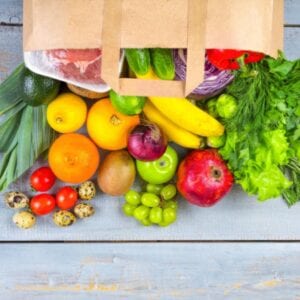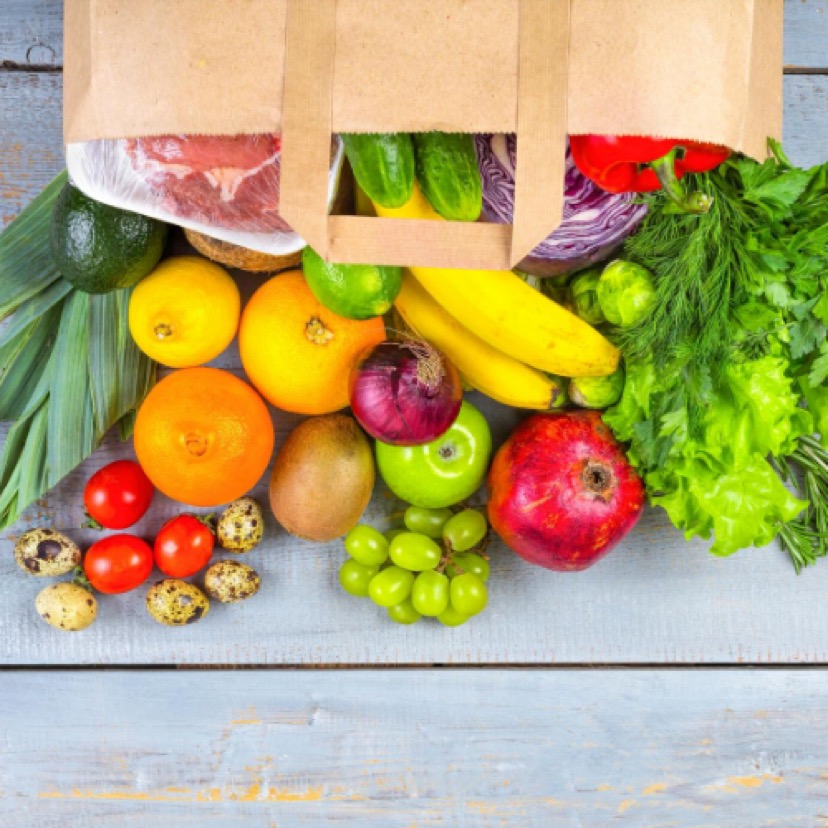 What is Clean Eating?
Clean eating focuses on foods that are minimally processed, organically grown, rich in nutrients and of ethically raised standards. Basically it's foods low in salt and sugar, foods with limited ingredients on the label, and foods without ingredients that you can't pronounce. Some examples are fresh fruits and veggies, whole grains, beans, nuts, seeds and lean proteins.
9 Tips to Clean Eating
Limit processed foods-usually loaded with preservatives and no nutrients
Eat more fruits and vegetables-considered whole foods with lots of nutritional benefits
Read labels-the packaging might claim "natural" or similar term but always check ingredient labels
Avoid vegetable oils and spreads-usually highly processed and linked to causing disease
Lower sugar intake-can be added in excess to foods and addictive to some people
Limit alcohol beverage consumption-excessive drinking of alcohol is linked to higher risk of disease
Avoid packaged foods-packaged foods are high is processed ingredients and not nutritional
Enjoy a glass of water-always choose a glass of water before any other high sugar drink
Choose from farms using ethically raised animals-some people would agree with this but vegans and environmentalists will not
If you can't pronounce it then don't eat it
Eating clean is not a diet-it's a lifestyle
How to Make a Clean Eating Grocery List?
First of all, I recommend to start organizing your list by aisle. This way everything will be organized when you go down each aisle. Just a heads up, the center aisles of the grocery store usually have the most processed selections. So if you focus your attention to the outside perimeter of the grocery store, you will stay clear of most of the processed foods. The list can be broken down into categories which will usually fall into aisles. Categories can include: vegetables, fruits, beans, grains, protein (dairy, eggs, meats), nuts/seeds, pantry items, baking supplies, and healthy drinks. Check out the article for my healthy college grocery list here.
The below list can serve as a guide and to help with ideas when you are getting ready to go shopping. If you plan to shop online then it will also provide guidance when you're still learning which foods are clean. A suggestion would be to decide what the dinner plans are for the week and then use the list as guide of what foods items are clean.
Sample clean eating grocery list: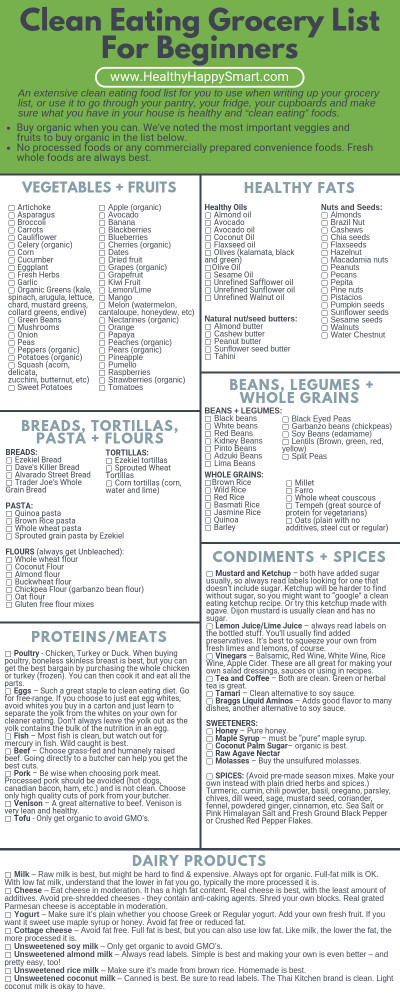 Limit sugar and salt consumption
Be aware of the dirty dozen list of produce that should always be bought in organic. This list of produce has the highest pesticide residues. Here is the list: Apples, Peaches, Kale, Strawberries, Spinach, Pears, Potatoes, Nectarines, Cherries, Grapes (imported), Celery and Tomatoes.
Simple washing does not remove all pesticides
Check out my article How to have a Healthy Relationship with Food
Weight loss is sometimes a goal when improving your diet. It's important to note weight loss is 70% diet and 30% exercise. When we are exercising, we are burning more calories so its wise to eat healthy. If we don't choose our food wisely it can result in gaining weight since exercise increases appetite. I hope this information helps you to learn more about clean eating and how to make a clean eating grocery list. Please comment below if you have any experience with clean eating.
Are you looking for some support to help you learn more? Check out this article and review for Trifecta Meal Plan which has a clean eating meal delivery program.