No carbs? Well then, what can I eat? It is true, the ketogenic diet can feel very restrictive to anyone who is used to having carbohydrates as a regular part of their daily meals. The common misconception about keto is that you just end up eating the same meal day after day but there are actually more healthy options than you might think. Tips, tricks and recipes are all great tools to help you loose weight and get creative when it comes to making meals on keto. That's why I found the Best Keto Cookbook for 2023 that helps promote a healthy lifestyle!
I've also created the 7 Day Keto Meal Plan to assist you and a variety of Keto Recipes that you can find here.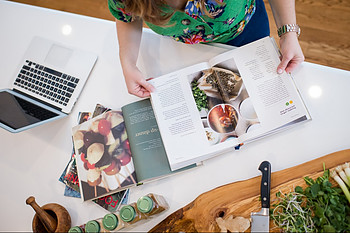 As an Amazon Associate I earn from qualifying purchases. When you use the links on this page to make a purchase I may get a small commission and you may get a great bargain. It's a win-win all around.
Support my page and I can continue to provide great tips, recipes, reviews and lifestyle advice. Ask me how by clicking here!
What is the Best Keto Cookbook to Buy?
The good news is, there are so many cookbooks and recipes that are built around the ketogenic diet! Many of them have breakfast, lunch and dinner recipes that are perfect for keeping your body in ketosis while still allowing you to eat a meal that is filling and flavorful. One cookbook that comes highly recommended for anyone doing the keto diet in 2023 is Keto Meal Prep by FlavCity. With over 125 low carb recipes, this cookbook was a #1 Best Seller in Heart Healthy; Health, Fitness, and Dieting; Macrobiotic Nutrition; and Food Allergies. The authors, Bobby and Dessi Parrish, create a collection of easy, yet tasty meals that are keto-friendly and full of flavor.
Keto Meal Prep offers a variety of simple keto meal prep recipes including breakfasts, lunches, dinners, tasty snacks, and low-carb desserts. With each recipe, the cook includes detailed macros and carb counts to help you track your calorie and carb intake while you mix and match their meals. You can also find an allergen index for food sensitivities such as nuts, dairy, and eggs as well as a section for Paleo designation. This keto cookbook is perfect for any one who is having trouble finding keto-friendly replacements for their usual meals and makes such a restrictive diet seem much more accessible! And help you loose weight!
What is Dirty Keto?
Dirty keto, sometimes referred to as lazy keto, is geared toward convenience instead of looking for healthier alternatives to carbs. Essentially, the guidelines for dirty keto would be the same as those for a standard, or clean, ketogenic diet but replaces nutritious foods for more foods that are more quick and processed. For someone who is practicing the clean keto diet, they will tend to focus on higher quality foods that are generally packed with essential proteins and nutrients. Their meals would limit the need for processed or high carb foods in order to meet their goals.
Dirty keto, on the other hand, allows for the consumption of any and all types of food as long as you stay within the limit of under 50 grams of net carbs per day. What this typically means is that your diet mainly consists of processed foods that tend to be high in sodium. In most cases, the foods contain several additives that can be detrimental to your health and lack essential vitamins and nutrients that your body needs to replenish those that are lost from the lack of carbs. More often than not, this form of keto is what causes long-term health issues and should be avoided if possible. From my experience, non-starchy vegetables and whole foods from quality organic sources are the most effective for anyone who is hoping to see the most improvements in health and weight-loss.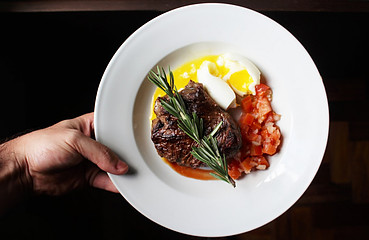 Best Keto Cookbook List for 2023
Healthy Foodie's Top Pick of the Best Keto Cookbook for 2023
In order to help you get a better picture of what a clean ketogenic diet looks like, I published an article in which I outlined a 7 Day Keto Meal Plan! I highly recommend trying those meals out to see if keto is a good fit for you. For even more keto-friendly options, here is my 10 Best Keto Cookbook List for 2023!
These cookbooks are full of recipes, tips, and ideas for people in all stages of the keto diet. Each of them contains great and, most importantly, clean keto choices that are easy to make, mix, and match.
---
As I mentioned earlier, the Keto Meal Prep cookbook by FlavCity is a book full of low-carb recipes for meal preps and recipes designed to help you lose weight without sacrificing taste. This best-selling cookbook includes over 125 recipes for keto breakfasts, lunches, dinners, snacks, and desserts that are flavorful and clean. Each recipe also gives you the precise nutrition facts to help you keep track of your carb and nutrient intake throughout the day.
Pros: Gives carb count, includes snack and dessert recipes, includes pictures of meals, wide variety of recipes
Cons: Slightly confusing layout and font, ingredients may be difficult to find
---
2. The Wholesome Yum Easy Keto Cookbook
The Wholesome Yum Easy Keto Cookbook is a USA Today best-seller and was named one of the best cookbooks of the year by Buzzfeed. This clean keto cookbook contains a variety of 100 simple, low carb recipes with only 10 ingredients or less. The author, Maya Krampf offers a way for those that are on the keto diet to still eat their favorite foods by making them adhere to the proper low carb protocol.
Pros: Includes pantry-stocking tips, 10 ingredients or less, guide to keto dough, wide variety of recipes
Cons: Some recipes have multiple parts, more recipes on her website
Check Best Price Here on Amazon >>
---
3. Simply Keto: A Practical Approach to Health and Weight Loss
Written by Suzanne Ryan, Simply Keto describes Ryan's own journey with the ketogenic diet and explains how she lost over 100 lbs in just one year. Speaking from personal experience, she offers helpful advice for beginners, grocery shopping tips, as well as over 100 easy recipes and several other tips. More than simply a cookbook, Suzanne Ryan gives details of how keto changed her life and relationship with food.
Pros: Guide for starting keto, grocery shopping tips, keto FAQ's, includes 30-day meal plan, relatable weight-loss journey
Cons: Some complex recipes, more beginner info than recipes
Check Best Price Here on Amazon >>
---
4. The Complete Keto Diet Cookbook
The Complete Keto Diet Cookbook contains 500 of author Dave Pine's low-carb, high-fat ketogenic recipes.
These recipes are meant to be easy to follow and are geared toward helping you lose weight quickly while still feeling satisfied. Pine's tasty breakfast, lunch, dinner, snack, and dessert recipes are full of flavor and make the seemingly restrictive keto diet that much easier to maintain.
Pros: Wide variety of recipes, easy to follow/read, includes 14-day meal plan and shopping list
Cons: No substitutions for food allergies, repeats recipes (slightly modified)
Check Best Price Here on Amazon >>
---
Southern Keto is a cookbook dedicated to maintaining flavorful comfort-food based meals with a low-carb twist, making them perfect for the keto diet. Author, Natasha "Tasha" Newton explains her own health struggles and how the ketogenic diet helped was instrumental in her weight-loss transformation. This cookbook gives over 100 flavorful
recipes with multiple theme menu ideas and a grocery list to help you get started.
Pros: Theme menu ideas and grocery list, comfort food recipes, relatable weight-loss journey, additional tips and tricks
Cons: Some net carb counts are inconsistent, mainly for beginners.
---
The Easy Everyday Keto cookbook, by America's Test Kitchen, focuses on easy, yet flavorful meals that are naturally keto friendly. The goal of this cookbook is to show how everyday meals can be keto-friendly without needing all the gimmicks. Most recipes take less than an hour and are easily prepared with plenty of variations to mix and match the routine.
Pros: Naturally keto dishes, shopping list and tips, weekly meal plan/meal prep
Cons: Problems with book binding, no low-carb substitutes for carbs (bread, dough, etc)
Check Best Price Here on Amazon >>
---
7. Squeaky Clean Keto: Next Level Keto to Hack Your Health
Squeaky Clean Keto's unique approach to the ketogenic diet focuses on entirely clean eating within the bounds of the ketogenic diet as it provides a 30 day meal plan. The goal is to begin the weight loss journey so that after 30 days you can begin to slowly and carefully reintroduce foods to help you determine which potential problem food is stunting your weight loss. The book also contains 130 flavorful keto recipes that promote results.
Pros: Faster weight loss, reduces inflammation, helps identify the "offending" foods, 30-day meal plan
Cons: Recipes mainly call for pork and shellfish, occasionally hard to find ingredients
Check Best Price Here on Amazon >>
---
8. Carb Manager's Keto Diet Cookbook
The Carb Manager's Keto Diet Cookbook includes 101 delicious recipes that connect to their app through QR codes that can be scanned to determine and track your carb count as you go. The recipes are friendly to beginners and range from easily frozen meals for meal prep to 30 minute dinners as well as snacks, treats, and desserts.
Pros:Wide variety of recipes, QR codes help count carbs
Cons: Problems with book binding, need app to track carbs
Check Best Price Here on Amazon >>
---
9. The Keto Bible: More Than A Keto Diet Cookbook
The Keto Bible includes 1000 tasty and satisfying keto recipes that are easy to follow and can generally be prepared in 30 minutes or less. The wide variety of recipes include everything from breakfast to lunch to dinner as well as snacks and desserts. The cookbook also offers a 28-Day meal plan challenge with tips and motivational comments.
Pros: Most recipes, 28-day meal plan, daily tips and weight loss motivation, keto crash course
Cons: No reference photos, mostly beginner/basic info, no meal suggestions with 28-day challenge
Check Best Price Here on Amazon >>
---
The Mexican Keto Cookbook applies a cultural spin on over 100 keto recipes. Author, Torie Borrelli, is an integrative holistic nutritionist who provides recipes for Mexican-American cuisine that is widely enjoyed in a way that is easy to follow and accessible for those on the keto diet.
Pros: Merges Mexican cuisine with keto, provides health info and benefits of keto
Cons: Limits to just Mexican food, some meals aren't keto friendly, doesn't offer nutrient/carb breakdown
---
I'm sharing one of my keto recipes here for you Cauliflower Chicken Curry. Please watch my video, like, subscribe, comment and share as much as you can. It helps so much!
If you are interested in the keto diet please remember to follow the guidelines suggested. If you want to learn more about starting the keto diet and follow a specific program, Sign up for Real Plans today! Real Plans is a keto meal planner app that creates custom weekly menus to make planning, shopping, and cooking much easier. Each week, Real Plans generates a completely personalized meal plan that's based on your family size, dietary restrictions, and preferred schedule.
I hope this list of the Best Keto Cookbook can help you be confident and smart when starting the keto diet. Be sure to check with your doctor when starting a diet plan.