Some think it's a fruit and some think it's a vegetable. I consider it another great plant based superfood that I could eat for breakfast, lunch and dinner everyday. It's one of my favorite choices when choosing something healthy. But what are the professionals saying about what is avocado-a fruit or vegetable?
One of the top purchased items on Prime Day 2019, avocados rank up there with many of the most popular items last year.   Let's do it again and make avocados among the top purchased item of 2022.  Click here to go to some popular avocado items and take advantage of Prime Day.  Click here for my article on Prime Day!
I always thought it was a vegetable due to the way its consumed and it being not so sweet like a fruit. According to the USDA, its classified as a vegetable due to its common usage. But due its large single seed, fleshy pulp and botanical criteria like that of a berry, it's considered a fruit. Like the banana, the avocado is a climacteric fruit, which matures on the tree, but ripens off the tree. It has a savory nutty flavor and is a highly nutrient fruit. Avocado is classified as a flowering plant called Persea americana and in the family Lauraceae, a tree likely originating from south-central Mexico.
History of Avocado
There are lots of facts about avocados which are more widely grown in Mexico and California. My favorite is the Hass avocado which is named after Rudolph Hass. He was a California postman that patented the avocado in 1935. Native to California, the Hass avocado is also grown in Mexico which is the worlds largest producer of Hass avocados shipping 1.7 billion pounds in 2017 all over the US. For more great information about the California avocado visit: https://www.californiaavocado.com/ for nearly everything you would want to know about it.
Before that in the very beginnings of the discovery, Spanish explorers arriving in Mexico during the 16th century survived on avocados and were the first Europeans to consume them. As a result of the Spanish Conquest, avocados spread to South America and Central America. Martín Fernández de Enciso (circa 1470 – 1528) was the first European to describe avocados when he mentioned them in a book he wrote in 1519.

Favorite Avocado Dishes
I eat avocados almost everyday. When I need them to ripen quickest I store in a brown paper bag overnight. Some people say you can store in the brown paper bag with an apple or banana to help ripen quicker.
Always buy organic
Here are some of my favorite uses:
Breakfast: I love avocado toast. Usually I have gluten free bread (but its also amazing on sourdough) and add some type of seasoning on top like pepper, salt, basil or tomatoes.
Lunch: I love the bowls from Daily Harvest. They have some with avocado that are so good. If you want to try any of the Daily Harvest bowls use this code here and at checkout use 8MLLDB9 for $25 off. Here is the ingredient list for the one they call Beet and Avocado Poke: organic chioggia beets, organic avocado (organic avocado, organic lime juice), organic buckwheat, water, green onions, macadamia nuts, organic tamari (water, soybeans, salt, alcohol [to preserve freshness]), organic tomato paste (organic tomato paste, citric acid), organic toasted sesame oil, garlic, ginger puree, organic lemon juice, organic white sesame seeds, organic apple cider vinegar, organic dulse powder, gochugaru chili flakes.
Try this recipe for healthy Quinoa Avocado Feta Salad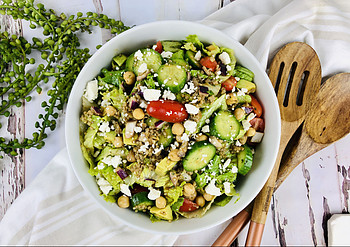 Dinner: Of course, guacamole. My daughter makes the best guacamole for our family taco night. She mixes them with garlic, salt and adds pepper. It doesn't sound like much but when you love avocado there isn't much extra needed. Amazing! There are many other uses of avocado for dinners like stacked on a burger, topped on a salad, added inside a taco or burrito. My favorite is fresh guacamole and chips!
Health Benefits of Avocado
Below are some health benefits of avocados that contain over 20 vitamins and minerals.
Lowers cancer risk-Due to the folate levels there are studies proving lower risk of prostate and colon cancers.
Improves blood pressure-Due to its high potassium which is more than a banana.
Reduces arthritis-There are limited studies on this but the oil extracts from avocado can help due it containing vitamin E which is an anti-inflammatory.
Helps with weight loss-Due to high fiber avocados can help contribute to weight loss. Click here for my article on fiber.
Lowers inflammation-Due to its high mono-unsaturated oleic acid which is a heart healthy fatty acid and it has Vitamin E and Vitamin K.
Controls blood sugar-Since avocado is low in carbs it helps maintain blood sugar levels.
Improve eye health-Due its powerful antioxidant properties including lutein and zeaxanthin.
Check out my article here on anti-inflammatory foods for more facts about the health benefits of avocado and other nutritious fruits and vegetables.  If you want to learn more about another beneficial superfood called spirulina, go here.
Originally known as an ALLIGATOR PEAR
Can be substituted for butter in recipes
Be aware of allergic reactions to avocados if you have a latex allergy
Nutritional Value of Avocado
Does Avocado have Protein?
I'm including this chart on avocado nutritional values. Avocado is naturally gluten free, cholesterol/sodium free and high in fiber. In each medium-sized avocado there is a large healthy dose of mono-unsaturated fats. Mono-unsaturated fats are known as the healthy fats. Some examples of mono-unsaturated fats besides avocados are olive, canola, peanut and sesame oil. Mono-unsaturated fats are usually in liquid form except obviously for the avocado.
One medium-sized avocado contains:
227 calories
4.6 g Protein
12g Carbs
21g Fat
9.2g Fiber
Potassium
Folate
Vitamin C
Vitamin E
Vitamin K
It also contains small amounts of phosphorous, copper, iron, magnesium, manganese, zinc and vitamins A, B1 (thiamine), B2 (riboflavin) and B3 (niacin).
LOW IN CARBS AND HIGH IN FIBER
I hope this information can help you better understand WHAT IS AVOCADO-a fruit or vegetable? I always thought it was a vegetable but it makes sense since it grows on a tree that it's a fruit. Please comment below and let me know your thoughts about avocados.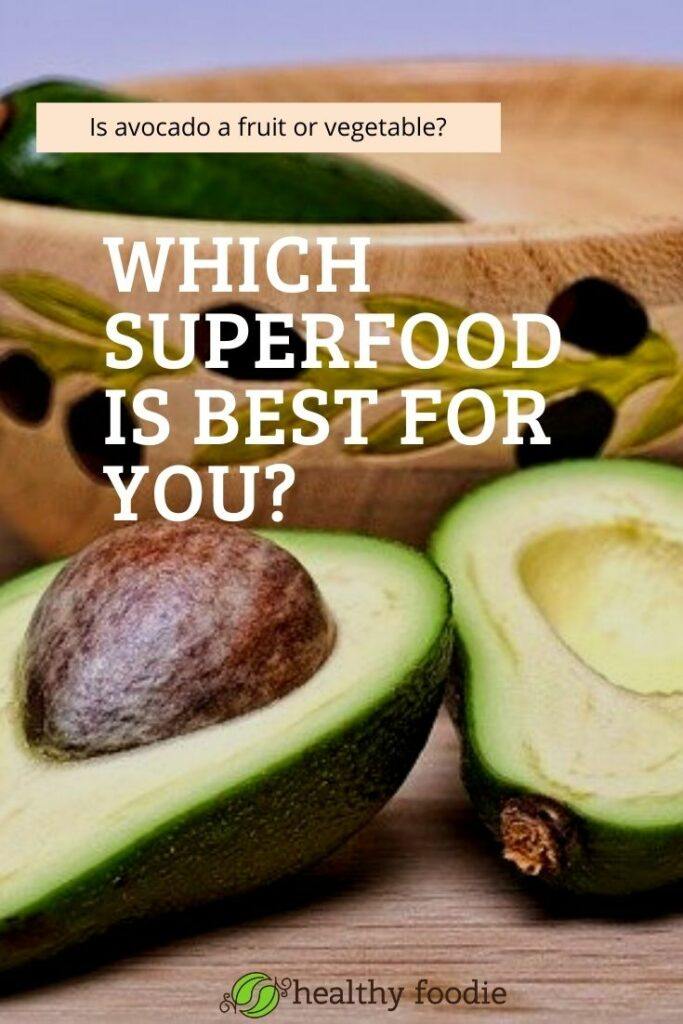 As an Amazon Associate I earn from qualifying purchases. When you use the links on this page to make a purchase I may get a small commission and you may get a great bargain. It's a win-win all around. Full disclosure.  The information contained in this website is for educational and informational purposes only and is not intended as health or medical advice. Always consult a doctor.
How To Fix Gut Health-Find Out How Here
I'm so glad you're here!
Let's Be Friends!
Get your FREE healthy lifestyle checklist. Make healthy living a habit!